Please see my vacation review for a discussion of the Marriott Waikiki Beach Resort where I actually stayed. These hotels I "inspected", meaning I told the front desk I was a travel agent and they gave me keys to various rooms to look at on my own.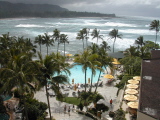 The first resort I visited was the TURTLE BAY RESORT on the North Shore of the island. It's a lovely resort, very upscale even though it's older. I got a chance to view an "Ocean View" room and the "Pikake Suite". Ocean View is the cheapest room type at the resort, with the rack rate being advertised at $400 per night. I was actually quite impressed with it and wouldn't see any need for someone to stay in a more expensive room unless you're celebrating a honeymoon or something and wanted the extra space of a suite. There is a $14 per night resort fee…common at Hawaiian hotels, although I didn't ask what it was at any of the other ones.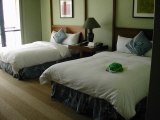 TURTLE BAY has it's own secluded beach area, which was swimmable even when the regular beaches were red-flagged. It also has beautiful views from all sides, a great tropical pool area, and luxurious room amenities. To stay on Oahu, but get away from the hustle of Waikiki, I'd give it really high marks. (Photo of Turtle Bay Ocean View room at the right.)
SHERATON MOANA SURFRIDER was the first hotel I inspected along Waikiki Beach in Honolulu (besides my own Marriott of course). I was the most impressed with this hotel of all the Waikiki ones, and I'd suggest it for a great stay along Waikiki Beach.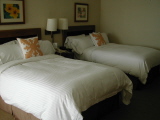 The SURFRIDER has a lower-rise older section, and a much newer high-rise tower connected on next door. The room I got to view was a Deluxe Ocean (Tower) room and it was FABULOUS. The view out to Waikiki Beach is awesome, as there is a curve in the beach there and you get an unobstructed view down the beach without having to look at other high-rises. The rooms were big and the amenities were very nice as well. There were down duvets on the bed and plush robes in the closet and it was just heavenly. I get the impression that these tower rooms are larger than the older rooms, so even if you go for a partial ocean view for price savings, get the tower if you can.
THE ROYAL HAWAIIAN is the famous pink hotel that has been there longer than the others. The Mai Tai drink was invented/refined there. It's very nostalgic. The ornate, solid wood, seemingly hand-carved hotel room doors were truly fabulous. Folks staying there for the history and the nostalgicness thought it was great. I overheard many comments about how wonderful an experience it was. I thought it reminded me of my grand-grandmother's house. Sorry, it's really old. I would prefer modern and plush, but it's definitely got it's spot among many hearts and along Waikiki Beach. I had an opportunity to view a Garden View room (truly impressive gardens by the way) and a Royal Ocean view room, which was nice, but very old. This hotel also has a 'tower', which I'm sure is newer and some of the room photos I've seen definitely don't look like what I viewed. I'm guessing they were taken in the Tower Ocean Front rooms. If you want to try the history and nostalgicness of THE ROYAL HAWAIIAN, but want something a little more modern, get a tower room. Expect pink sheets, pink towels and pink bathrobes when you're at the Royal Hawaiian!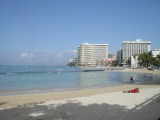 One of the different things about THE ROYAL HAWAIIAN is that it's been there so long, it's really set back from the Waikiki Beach strip of road that everything else is built up on. Basically, you can walk to THE ROYAL HAWAIIAN hotel itself through the Royal Hawaiian shopping center that lines the street, or park in the parking lot for the Sheraton Waikiki, it's sister property next door. (The Sheraton had no rooms available that I could view.) However, you can't really "see" the hotel from the road. It really stands out down the beach though! See the pink between the towers?
The next hotel I visited along Waikiki Beach was the HYATT REGENCY WAIKIKI RESORT & SPA. I'd give this one nice marks as well. There are two towers, of which I toured a few rooms in the "Ewa" tower. I thought they were very well appointed. The two towers are in an octagon/circular type shape, so it's really obvious which sides are the full ocean view, the partial ocean (front), the city view (low) and the mountain view (back). I got a chance to look in an ocean view and a deluxe ocean view (think ocean front…facing Waikiki Beach). The towers are tall enough that you definitely see the beach from there, although down low in the hotel your view is blocked by another hotel or shopping at the street. (Those ones are called the city view.)
The HYATT REGENCY WAIKIKI RESORT & SPA is a great, feature-filled 4 star resort that is easy to recommend. The rack room rates are $275 per night city to $545 per night for a Regency Club Ocean View. They also have some really big suites, but I won't list the prices for those. They have a couple of floors at the top of the Diamond Head Tower that are "Regency Club", giving you extra amenities like concierge services, continental breakfast, afternoon snacks and refreshments, evening cocktails and hors d'oeuvres and a couple other "special amenities". Maybe extra nice bath products or something. The entire floor is this way, so you can get a mountain as well as ocean view in Regency Club if you'd like to have those perks.
I next toured the RESORTQUEST WAIKIKI BEACH TOWER, a luxury condominium resort. If you've got a family, then a condo is very popular and these are a great choice. Very nice location near the heart of everything at Waikiki. I had a chance to look into a Deluxe Oceanfront 2-BD condo. What was interesting about it is that all the living areas were towards the front, with the ocean views, but the bedrooms were toward the back with really bad city views. But anyway, are you really going to spend a lot of time in your bedroom looking out the window anyway?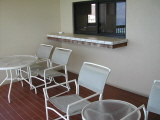 There was a great, spacious lanai with a sitting table and a great pass-thru from the kitchen for food. The view from the lanai was great. And the hotel itself was very nice. They have a great walkway leading you from the sidewalk on Kalakaua Avenue to the front door of the tower. One bedrooms start at $505 per night rack rate, and premium ocean front two bedroom models go for $775 per night. Of course, there are a few super suites as well, and these are rack rates again, so specials are likely to abound and you'll probably never pay these prices. Don't get confused when you hear "Resortquest". They are a HUGE hotel chain in Hawaii and they have many properties, all different. These properties used to be called "Aston" properties, but the "Resortquest" company bought them. If a friend says they stayed at the "Resortquest" you need to know which one! And don't think they're all timeshares and condos because of the name. They're mostly regular hotels. They often have great specials going on, like buy 5 get one free night, or something, so be sure to ask us before just booking with the hotel directly. Using an agent like me could really save you some bucks!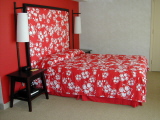 The end of the Waikiki day of touring hotels for me ended at the RESORTQUEST WAIKIKI BEACH HOTEL, which coincidentally was just across the street from the Waikiki Beach Marriott Resort where I was staying. The RESORTQUEST WAIKIKI BEACH HOTEL is an older property, but a great value property. The room décor is very obnoxious Hawaiian floral print bedspreads that match swaths of padded headboards that go all the way up the wall to the ceiling. Different rooms have different colors. Very aloha!! feeling. I was fascinated by the closet areas, which were 70's style beaded curtain things that when hanging down undisturbed showed a print of a Hawaiian hula girl. Some balconies (lanais) at the RESORTQUEST WAIKIKI BEACH HOTEL were true places to lounge, as you'd expect, but others were just narrow strips of concrete where you could step out and check out the view only. I thought that was interesting. I found that in the partial ocean view rooms. The full ocean view that I looked in had a normal balcony.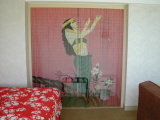 There are lots of room categories at the RESORTQUEST WAIKIKI BEACH HOTEL, ranging from "standard" at $255 rack rate, to Junior Suite at $450 per night. I'm not sure if I'd go for the Junior Suite at that price. I think if I were going to pay that much, I'd stay in a nicer property at a regular room. The charm of this resort is its good value for folks on a budget. The location was great, right across the street from a nice part of Waikiki Beach. And one really cool thing they did there was give everyone a standard rectangle "cooler bag", and then they offered breakfast out by the pool that had a bunch of stuff in little containers that was easy to pack into your bag so you could take your breakfast over to the beach. What a novel idea!
For reviews of Kauai hotels see my Hawaiian vacation review, and my more Kauai hotels page.
Please remember to contact me, Suzy, if you're interested in booking a vacation to Hawaii. Not only do I write detailed reviews, but I take care of all the details when I book your vacations as well. Please hit "Contact Us" at the top of this page for personal service, or just go to our main Vacations page and click on "Book your Dream Vacation" for live online booking!