Cruise Line: Princess Cruises
Ship: Sun Princess
Sailing Date: May 10th, 2002
Itinerary: San Francisco, Victoria, Vancouver, BC Canada
Review of Sun Princess 3 night cruise - San Francisco to Vancouver, BC Canada with a port of call stop in Victoria, BC Canada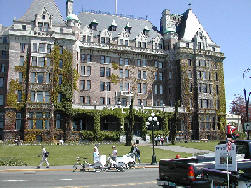 I chose this repositioning cruise mainly for its itinerary. I live in the San Francisco bay area, and wanted to get on a ship here to see how that was. I also love riding the train, so I specifically wanted to cruise up the coast and then take the train back… making more of a unique adventure. Lots of ships from different lines make this itinerary or something similar in May, and do the reverse in September as they are repositioning for the Alaska season. We had just one port call, in Victoria, BC, Canada.
San Francisco / Embarkation:
The Pier 35 cruise terminal in San Francisco (SF) is nothing to write home about. The cruise ships use the old industrial docks with warehouses on them as SF hasn't yet built a high-class cruise terminal. And if your are getting on there and can't walk far - take a taxi to the terminal. They had the strangest arrangement there - no parking anywhere near the dock for passenger cars, but they had a huge area roped off where only taxis could go right in front. One thing that was nice about it though was that the cruise dock was in a very convenient location within SF. It is right next to Pier 39, a big tourist draw, and has easy access to Grey Line Tours.
I had entered all of my personal information online and my cruise tickets came pre-printed, which qualified me for Express Check-In. The Express Check-In line was shorter than the regular one, but it still took a half hour. It was a much more pleasant experience than my first cruise though, where we stood in line for hours. [This is my second cruise, the first one was on Carnival in 1999.]
An embarkation tip I learned from a friend after my first cruise proved to be our true savior - forget about the posted embarkation time on the ticket and show up early if you can. The posted time on our ticket was noon, but we showed up at 11 and were in line by 11:15. We were on the ship in time for noon lunch in the dining room, while we heard complaints from many passengers at dinner saying they had been in line for 3+ hours that afternoon!
Be prepared for a rough ride if you come or go through SF also. I had two friends who had cruised out of SF before and both said it was a bumpy ride. We were not left wanting, our boat was rocking and rolling pretty good out of SF and up the coast the whole night. I was glad I put my SeaBands on as soon as I got onboard.
Food / Personal Choice Dining:
I thought the food was most excellent. I enjoyed every meal in the dining room, both for the food and the service. I thought the Horizon Court 24-hour buffet left a little to be desired, but it was ok in a pinch. I ordered room service continental breakfast both days, which was very nice. (And the only way to get coffee in the room in the morning.) Rather than making a secret of the fact that room service was a dining option, we had a breakfast order door hanger delivered to our stateroom each evening. The room service was also very prompt.
I learned a big lesson about Personal Choice Dining on the very first night. The way Personal Choice (PC) works is that they have one dining room for fixed time sitters and one for Personal Choice. Supposedly you can just show up at the PC dining room anytime between 5:30 and 10pm and be seated for dinner. If you want to have a particular meal time and want to guarantee yourself a table, you can make a reservation in advance.
On my cruise, we shoved off from SF at 5:30pm or so on the first night. Apparently, everyone rushed straight down from the bon voyage festivities to the dining room when it opened and packed it. Then, those of us who took time to go back to our cabins and dress for dinner showed up after 6 and 7pm and were told that the dining room was full and we had to wait until after 8 to eat. On the following two nights, a day at sea and a long day in port at Victoria (the ship wasn't leaving port until midnight), there was no problem. We walked right up and were seated.
The next time I cruise Princess (next month actually) I am going to hazard a guess that I should have a dinner reservation on the days the ship has ports of call that depart around 4 or 5pm. My guess is that after long days in port, the dining room will have the same early rush as we did on the sail-away day this time.
Cabin:
I traveled on this cruise with my fellow female cousin, as a girls outing. So, naturally we had the beds in the twin configuration. We had an inside cabin and were expecting to be cramped in only 140 sq ft, but were not. The built-in hair dryer was sufficient, so there is no need to take your own. Unfortunately there is only one electrical outlet, so if you want a clock to stay on all the time, be sure you have one with batteries.
Interestingly, the way they do the quick change from one cruise to another is that they make the bed up for the next cruisers while you are at breakfast, but that's it. They don't bother any of your stuff though, so its comfortable for you to leave everything, and then go back and take your time packing your final toiletries before going up to wait for disembarkation.
Anyway, the interesting thing was they switched our room from a twin configuration to queen while we were at breakfast, so we could see both. Both of us agreed that we would not have enjoyed having the inside cabin with the queen configuration. Whereas we had the beds on the sides of the room and lots of space for walking and changing clothes in the center of our room, in the queen configuration the bed takes up the whole room! There was only a small walking space around the bed, and neither one of us thought that would have been comfortable for changing clothes, etc.
We loved the décor in our room, and felt the bathroom was quite spacious. We also liked the fact that there was a vanity table with a mirror outside the actual bathroom so two of us girls could get ready for dinner comfortably without tripping over one another. We also thought they did a great job with giving us lots of closet, drawer and shelf space in all different sizes and shapes. We seemed to have a perfect spot for everything!
The Sun Princess: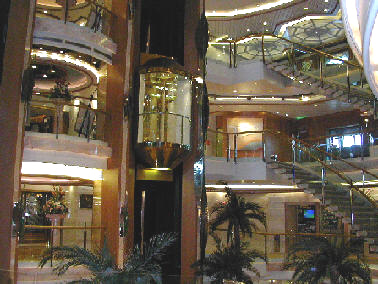 My cousin and I are both young professional women, she is 29 and I am 33. Both of us had cruised once before on Carnival, and both of us felt that Princess was more our style. Whereas Carnival was loud and bold in décor and activities, Princess had a lot of glass and wood and more of a warm feeling. However, its not stuffy. There were a lot of activities onboard, quite a few kids and teens, and a lively nightlife. We thought the stage show was fun.
Of course the multi-story atrium at the center of the ship takes your breath away when you enter, and I thought the ship layout was very easy to navigate. I highly recommend the Sun and its twins - Dawn, Sea and Ocean Princess.
Victoria, port-of-call:
I don't have much to write home about on the port.. we didn't do any excursions, but decided to just walk around and shop on our own. There is a shuttle that is very convenient from the ship's dock to downtown where you can explore the Empress Hotel. The shuttle cost $5 roundtrip. If you want to pay the price, you can have high tea at the Empress for $39CAN or so, but you need a reservation.
If you like wildlife in general, or whales in particular, I would strongly suggest one of the whale watching tours. There are a lot of companies right there in the inner harbor where the shuttle drops you off, but, again, I suggest a reservation. Last year I took a whale watching tour from the Vancouver side of the Strait of Georgia and it was absolutely fabulous! We were in an open zodiac boat and the killer whales were all around us. There are resident whale pods that circle Vancouver Island, so the whales you see out of Victoria are the exact same ones I saw. Also, all of the whale watching companies communicate with one another and alert each other as to the whereabouts of the whales at that exact moment - so you will get a chance to see the whales no matter which company you choose. All of the different companies end up in a big group together!
The Spa:
My cousin and I spent a lot of time at the spa. She had four different treatments, and I had a scalp and shoulder massage two days in a row. (It was so wonderful, I had to go back for seconds!) The staff was friendly and courteous, and we gave high marks for all of them.
I found out something that I'm passing on to everyone I see - they gave discounts on the spa treatments on port days! According to the brochure, in port is 1 hour before we dock to 1 hour after we leave port. Most of the bigger treatments were $20 off. My head & shoulder massage was $29 regular and $15 in port. (This is why I couldn't resist another one!)
I didn't participate in any gym activities, but they have a decent selection of stationery bikes and other aerobic machines. Be prepared to pay if you want to take a class with an instructor in the aerobic studio though - I saw Yoga and a couple other classes listed for a fee.
The web:
My cousin and I had visions of sending our boyfriends back home "wish you were here" emails, but decided to pass once we saw the price. For 15 minutes on the web - $7.50. Yikes! It's no wonder we couldn't find the price anywhere in the brochures or pre-cruise information Princess sent us.
Tipping:
Forget about instructions as to how, when and where to tip - and people walking around with hands outstretched. With personal choice cruising it's all automatic. You will see on your final bill $6.50 per day for the food staff and $3.50 per day for the room steward. If you want to give more or less, you just let the purser know. It was a very pleasant experience.
Disembarkation:
As I mentioned previously our room Steward (who was wonderful by the way) made no attempt to push us out of our room before we were ready. Nor were we asked to sit in a particular place on the ship awaiting disembarkation. We gathered our stuff after breakfast and found a comfortable spot to sit in one of the higher levels of the atrium area.
Exiting in the Canada Place terminal in Vancouver was not things dreams are made of, however. We were a later group, so the line was very long heading through customs and they didn't control it well. The line snaked though the baggage that was all over the floor in groups, so it was a massive struggle to find your bag, then find the end of the line. Everyone was tripping over one another. Be prepared for the inconvenience if you get off in a later group. I presume it's much better if you get off in an early group when the line is short and not yet near the baggage, but that's just speculation of course. One good point… they have free carts you can use to wheel around and pick up one bag after another without having to haul them.
There was also a long line for a taxi once we got through customs, and a big crowd near the elevators for those not needing a taxi. I think patience is the key here, because I don't know how they could possibly do it better. There were two ships disembarking at once and that's four thousand folks!
In Summary:
I loved my cruise. I love Princess, it's the right level of price and service for me. I loved the food. My room steward was great. The ship was gorgeous and clean and well laid out. Getting on and off the ship wasn't difficult. And I can't wait to go on my already planned trip on the Star Princess next month in Alaska!!!
Please remember to contact me, Suzy, if you're interested in booking a cruise. Not only do I write detailed reviews, but I take care of all the details when I book your vacations as well. Please hit "Contact Us" at the top of this page.