Hawaii, Tahiti & Samoa Cruise - 28 days Round-Trip Los Angeles
on Emerald Princess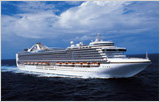 Hibiscus scented air, palm lined beaches and volcanic fireworks make Hawaii & Tahiti cruises a dream come true!
Witness the Big Island's mesmerizing Kilauea volcano, experience the drama of Pearl Harbor on Oahu and hear the plaintive conch welcome the brilliantly colored sunset. Add snorkeling, scuba diving, deep-sea fishing and glass-bottom boat tours to your long list of Hawaiian and Tahitian cruise vacation memories. Depart from Los Angeles and relax with
...

ABOUT PRINCESS CRUISES
One of the best-known names in cruising, Princess Cruises first set sail in 1965 with a single ship cruising to Mexico. Today, the line has grown to become the third largest cruise line in the world, renowned for innovative ships, an array of onboard options and an environment of exceptional customer service. Princess carries 1.7 million guests each year to destinations around the globe ranging in length from three to 114 days, allowing them to
...
This is an Exclusive Offer

Ask us for a specific quote for you!