10 Night Tahiti & French Polynesia Cruise
on Pacific Princess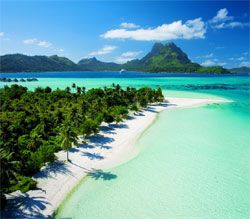 For all their take-your-breath-away beauty, these idyllic islands are a fragile, finite Eden where bigger is not necessarily better. Explore more cultural diversity and see great totems on this wonderful cruise around French Polynesia.

This is just one of three great itineraries on the beautiful Pacific Princess. Be sure to look for the specials on the other two as well! And let us know if you would like a quote on a date not listed for this itinerary.
Family Vacations
Romance and Honeymoons
Safari, Animals, and Wildlife
Spa and Fitness Trips
Sun and Sand

ABOUT PRINCESS CRUISES
One of the best-known names in cruising, Princess Cruises first set sail in 1965 with a single ship cruising to Mexico. Today, the line has grown to become the third largest cruise line in the world, renowned for innovative ships, an array of onboard options and an environment of exceptional customer service. Princess carries 1.7 million guests each year to destinations around the globe ranging in length from three to 114 days, allowing them to
...
This is an Exclusive Offer

Ask us for categories not listed
This is an Exclusive Offer

Ask us for categories not listed