Cruise Line: Holland America
Name of Ship: Amsterdam
Sailing Date: April 22nd, 2003
Itinerary: Coastal Repositioning
The Cruise Itinerary:
My cruise on the ms Amsterdam was a 3-night Pacific Coastal repositioning cruise. The ship embarked in Los Angeles and sailed up along the California coast to Vancouver, BC, Canada. No stops. Just two sea days in between the start and the finish.

Embarkation in LA:
This cruise was very very unique. The Amsterdam docked in LA after completing its big World Cruise on a day the LA Port folks aren't used to having a ship. They were a little disorganized in the whole process, and we didn't even begin lining up until 1pm. We were probably onboard by 2pm, but there were no numbers given out, no priority for Mariner members, nothing special. Since it was definitely a "one off" cruise, this embarkation can't be compared to HAL's norm.

The Atmosphere:
This cruise was completely unpromoted by HAL. It was literally not even listed on their website. I live in California and like to hop on the Coastals when I can in the Spring and Fall. For this reason, I did big research to find out which ships were going to be doing Alaska in the Summer, and then dug deep to find out how each and every one was getting to Vancouver or Seattle.

HAL embarked 130 new crew members, and tons of Alaska merchandise in LA. Basically, they seemed to want to use this cruise to prepare for the big Alaska season, and that's why they weren't promoting it. The gift shop was closed much of the time with boxes piled everywhere. You could see new crew members getting trained and getting tours at various times. My cruise had only 150-160 passengers.. on a ship with a stated capacity of 1300!

The ship had a few holdovers from the World Cruise, plus some of us who were cruising just for that one 3-day jaunt. The passengers were probably 50% Canadian, which was fun. When I had requested a brochure, it was difficult to get, but when I did finally get it, I got a Canadian version. Regardless of country, everyone was very friendly on this cruise.

The Amsterdam:
The main purpose of my cruise was to get away for a couple days, but also have a chance to try out HAL. I had never sailed on her, and thought a 3-day would be a good test run for trying out a new line.

The ship is very beautiful and well-maintained. She is 61000 tons, which puts her midsized in my mind. There is one two-story showroom at the front of the ship, and one two-story dining room at the aft. Both are beautifully decorated.

In between, on the two main public decks, the lower promenade and the promenade, they have the usual complement of beautiful lounges, a sports bar, casino, gift shops, library, card room, & puzzle corner. Most of the lounges had small dance floors.

In the center of the ship they have an Atrium with a large clock that is many stories tall and does many cool things. Off this center clock, you can find the purser's desk, the shore excursions, and the officer's offices should you need to talk to the guest relations manager or the hotel manager or something. They also had an electronic world map that you could light up with the current itineraries of all of HAL's fleet. That was pretty neat.

On the high deck forward they had the Crows Nest lounge, which was beautiful, had a large dance floor and was too smoky for me. I'm sure it was smoke on one side, not on the other, but in an enclosed space the smoke didn't seem to have anywhere to go.

The ship had two pools. There is a nice central pool with the famous two bears sculpture. This is under a roof that opens and closes, and has lots of deck space around it. Also, on the aft there is a smaller pool out in the open with a large deck around it. Next to the main pool there were two whirlpools.

For the outdoors lovers there was an enclosed tennis court and volleyball court, plus the usual shuffleboard. The spa was big and wonderful, with complimentary sauna and steam room. I didn't get any treatments, but they seemed to be the exact menu as all other cruise ship Steiner spas.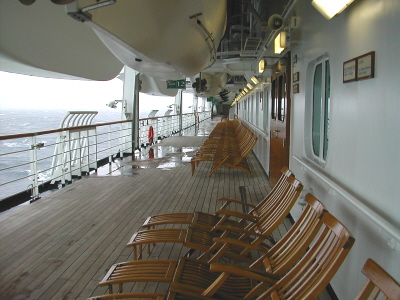 One thing I really loved about the Amsterdam was the wrap-around Promenade. I loved the teak deck chairs and the red plaid blankets you could use if you want to lounge out there in the fresh air with a book. Also, on the last day I found a great quiet and warm place at the extreme aft of the promenade. If you go back there, you will find some deck chairs, a couple tables and a great place to see and hear the wake. Further, there is a little flight of stairs that will take you down one deck. Hidden on the back of the main deck they have a couple more deck chairs and it was very quiet and not windy there. A great place to hang out.

The ship overall had lots of wood and glass and brass. Very tastefully decorated. Of course, the bathrooms have actual washcloth "towels" for you to dry your hands on, so some folks make a big deal of that. It was novel, but I don't mind the paper towels on other lines. ;)

The Cabin:
I had an interesting situation. I got to see two cabins. I had booked an inside "K" guarantee, and been "upgraded" to a category "I" on the extreme aft of the lower promenade deck. So, when I boarded the cabin I3422 was made up for me. This cabin had a bed, and a couch with a table and a sitting vanity across from it. The bathroom had a counter / vanity and a TUB with a shower. What's interesting is that the brochure considers this the highest category "inside", but it was actually a fully-obstructed view outside cabin.

I was very concerned about the motion of the ship going northbound along the coast (against the current), so I wanted to be closer to the center. Therefore, I spoke to guest relations and got myself moved back down to the centrally-located Category K inside.

The Category K Room 2566 was fine. It has the same amenities as the I, except there was only a shower without a tub. There was only one power jack, at the vanity, in the whole room. The built-in hairdryer in the bathroom lacked power and couldn't even dry my bangs. Be sure you take your own if you go on this ship.

The cabin had a safe, but no refrigerator.

The Dining:
Because of the lack of passengers on our ship we had a rather unique dining schedule. However, the service and the food would be the same regardless of when you ate, so I think my experience is still representative of HAL overall.

I tried room service once, for breakfast on disembarkation day. The food arrived early, as most lines seem to do. They didn't have everything I ordered (no bacon or sausage to go with the eggs), and the omelet was undercooked. I wasn't impressed. However, I DID get fresh-squeezed OJ as I requested, which made my day.

On the other two days I had breakfast in the buffet. (The dining room wasn't open for breakfast or lunch on our cruise.) I thought the food was OK, but nothing to write home about. The service level is great, but I'd prefer less. How do I explain it…. At the buffet you told someone else what you wanted and they filled your plate for you. This doesn't give you the chance to decide on your portions or pick out exactly what you want. Also, the beverage servers were very attentive, however, they didn't ever put the coffee / cream mixture the way I liked it. I would have preferred to do it myself. They have a greeter at the start of the buffet line that greeted you by name every time you went in, THAT was pretty neat.

In the afternoons they had a burger/hotdog grill open out by the pool, plus some pre-cooked pizza and fries. Of these, the pizza looked not too appetizing to me, so I skipped it. I ordered a hot dog and a cheeseburger and the cheeseburger wasn't good. The hot dog and fries were fine.

On one day, to celebrate the pacific coast cruise, we had a salmon bake on the pool deck. Now THAT was awesome stuff. They also had crab there, which looked fine but I didn't want any. To go with the salmon they had some salads and potatoes for you to choose from. Don't miss it!
I didn't have a complaint about the desserts. As a matter of fact, they were just awesome. The ice cream in the buffet was just absolutely fabulous so I had some both days. They have multiple types of cones you can have, as well as bowls, and many flavors each day.

For dinner, we had "open time seating" from 6pm – 7:30pm every night in the dining room. We still had an assigned table and dining partners, but could show up anytime in this window to be seated. Since there were so few of us on the cruise, this satisfied both the folks that were reserved for early and late seating I guess. I thought it was a little strange since not everyone at the table was going to be at the same spot in their dinner at the same time. We used just the upper level of the two-story dining room.

Of the three nights, I thought the main course was good two of three nights, and ok on the third night. I didn't think the veggies were particularly good on any night. The soups and desserts were always good, and the service was fabulous. The waiters didn't do any singing or dancing for us. I don't know if that is a HAL thing, or just because of our cruise.

They also had tea in the dining room both afternoons. On the first sea day it was "high" tea, and there were lots of little pastries offered with the tea. I attended that and had a great time meeting some new folks. On the second day it was just plain "tea".

The Amsterdam has a fabulous-looking "pay extra" restaurant called the Odyssey that I didn't use. I'm not sure if it was open on our cruise, but it probably was. I just didn't notice. I personally don't see any reason to pay extra for food on a cruise. To me, it should be included in the price.

Entertainment:
Every evening after dinner at 9pm we had "Showtime" in the show lounge. We had a comedian on the first night, a production show on the second night, and a combo act on the third night. The combo act was a Hispanic guy juggling in the first half and a singer doing a lot of Judy Garland songs in the second half. I wouldn't consider any of them really great, but for free entertainment it was fine. The balcony was closed for our cruise, so we all had to sit in the lower level.

I went to bed right after Showtime all three nights, so I can't tell you how the lounge DJs were. I know there were various performers on various lounges at various times. The ones that played during the day were fine, but I didn't hang out and listen to any of them. I mostly heard them as I passed by.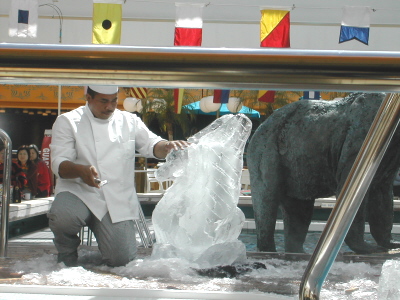 Since we had two sea days, midday activities were important. I would give HAL an "A" in this department as there were lots of planned activities. There were multiple bingo sessions, table tennis and golf putting contests, an ice carving demonstration, and some other things. I was more interested in relaxing and reading my book, so I did that most of the time. The library is very nice.

For the world cruise there were lots of bridge card games posted (I saw them on embarkation day). I was interested in playing pinochle in the card room one of the days, so I asked the cruise director to put it in the schedule for the second sea day. He said he would, but in the end didn't, so there were no card games going on. I was disappointed he forgot my request when he printed the daily schedule.

Onboard payment & tips:
Unlike most lines that have you give a credit card at embarkation, on HAL you had to go to the purser's desk AFTER embarkation to give them a credit card to charge all your purchases to. If you didn't, you would be expected to "settle up" with cash or travelers checks with the pursers desk at the end of the cruise.

Disembarkation:
The final daily program for us said we should be out of our rooms by 9am, and that they expected disembarkation to begin at 8:30. However, with only 150 of us, we were cleared for disembarkation in Canada around 8am, and they were making the "final call" at 8:20. Since I hadn't planned on leaving my cabin until after 8:30 I was very stressed and rushing. I didn't enjoy that experience of feeling like I am being kicked off the ship.

We were the only ship disembarking, so it was a breeze. To learn more about a normal day of disembarkation at Canada Place, please read my Star Princess review from June, 2002.

To conclude:
I thought HAL was a fine line. "Fine" is really all I can say about it though. No huge complaints, but no huge happiness and gushing about it either. No cruise is bad, you know?

I think they could have done better as far as PR with me. First, when I wanted to be moved to a more centralized location, they wouldn't upgrade me for free down the hall from where I was already located, even though the ship was mostly empty. I had to downgrade myself back to my original category a deck down to get back to center. Also, they aren't good with their record keeping, as they had my sign & sail account hooked onto the I3422 cabin for most of the cruise, so I had to constantly be remembering both cabin numbers.

Also, I am used to having a complimentary bathrobe to use on a cruise, and HAL didn't offer that to people in the lower level cabins at that time. [They have since been offering them as they've been changing their ships and policies in 2005.] I specifically requested it, and was refused. I find this amazing from a line that touts itself as so "high class". I could get a robe by request on Royal Caribbean! I'm sure HAL thinks RCL is "beneath them", but I beg to differ.

I have sailed Carnival, Royal Caribbean, Princess and now HAL. By far, Princess is my favorite. The service is great, and they want to please their customers so they will be repeat passengers. What a concept! For my money, if Princess has a ship side by side with all these others, I would choose it every time. If RCL or HAL had an itinerary I liked and Princess didn't offer, I would go on them again. As I said, they are just "fine".
Please remember to contact me, Suzy, if you're interested in booking a cruise. Not only do I write detailed reviews, but I take care of all the details when I book your vacations as well. Please hit "Contact Us" at the top of this page.

Happy sailing!