Canadian Rockies Tour taken August 11 - 17, 2011 - Part 1
Before you even book this tour with Globus: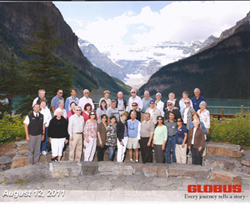 Go to the Fairmont Hotels Website and sign up for the Fairmont President's Club. There are many perks to be had for President's Club members and membership is free. If you're sign up before you book your vacation, your number should automatically hook to all your hotel nights at the three Fairmonts this tour uses. If you book your tour before you sign up for your President's Club number, you'll need to give that number to each hotel as you're there. Even giving it to the Tour Director doesn't help. She submits it, but they ignore it. https://www.fairmont.com/fpc/

You might also want to sign up for the Starwood Preferred Guest program that relates to the Westin Calgary night, but that is less important as there are no specific perks at the Westin for new SPG members. http://www.starwoodhotels.com/preferredguest/index.html


Who "we" and "I" are for reference - I am "Suzy Cruisy" Poulter, turning 43 during the tour and the travel professional trying only my second escorted land tour, and my first with Globus. My husband Charles, 42, is also along with me. We decided to do the tour for multiple reasons - professionally for me to try an escorted tour on Globus for a point of reference. Personally though, I always wanted to see this area, I was looking for a vacation getaway for my birthday somewhere, and Charles could only get away for 7 days so this one was short enough!


Day 1 Thurs - Fly to Calgary AB and stay at Westin Calgary. Cocktail party 6pm we missed because our flight landed after 6pm.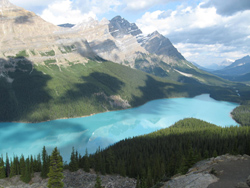 At check in we got a welcome packet with the daily schedule for Friday, our two breakfast vouchers for Friday am, and our room keys. Everything was very organized.

As soon as we got to our room and read the packet, we called our Tour Director, Joyce, and let her know we were in but late. She was right in the lobby just about to leave us another pack of info about the first few days of our tour, a list of optional excursions, and a form we needed to fill in for her listing any special requests, dietary needs and post-tour travel arrangements. She was also making dining reservations for Friday and Saturday nights, and needed to fit us into her reservations schedule.

The Westin Calgary was very nicely appointed, as Westins always are. Complete with heavenly beds, nice new furniture, and Starbucks coffee in the room and also a full Starbucks store down by the lobby. The only drawback was that our #420 room was very small as the hotel seemed older but renovated with the original walls. The bathroom was VERY small, with only a shower, not a tub. We learned from others on the tour that this was NOT a normal bathroom, so try to switch out of this number if you get it. We learned in our POST tour hotel night back there that they call these room "rainshower" rooms. You should specifically request NOT to have one of these.

Also beware of the Westin Wakeup Call! They have a pre-recording that plays when you pick up. They apparently want you to hear all or most of it, because if we hang up quickly it rings again! We got nabbed with this irritating feature on our first night as well as our post night. (You would think we had learned our lesson, huh?)

Also note that one of the group members informed me during the tour that the cost for a taxi was less than the Globus transfer cost x 2, so don't prepay those transfers with Globus. They only give you a taxi voucher, so you're overpaying by using Globus pre transfers if you don't do Globus air with the free transfers.


Day 2 Friday - Calgary to Lake Louise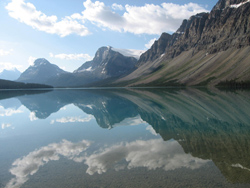 Our day started early with a 6am wake up call. Bags had to be out the door by 7:45 and the bus boarding was 8:50 for a 9am departure.

Our first part of the day was a city tour around Calgary. We had a chance to stop and take photos in the Calgary Stampede grounds quickly, but mostly we just looped the city with a great narration by our Tour Director Joyce.

Right outside of town is the Calgary Olympic Park, sight of the 1988 Winter Olympics. Our guide gave us a rundown of the optional tours in Jasper and Banff on the bus with instructions to turn in our forms to her immediately after the stop. Nevertheless, we had about 40 minutes to walk around the facility and view the ski jumps and bobsled run and shop, etc. During the Summer there are a lot of mountain bike trails, bike rentals and daredevils zooming down the areas that are ski runs in the Winter.

We continued along the highway then, towards Lake Louise, with the Bow River on the right side and the mountains on the left. There were great views from both sides of the bus. Remember that Globus does seat rotation in the bus every day, so the same people won't have the front every day, etc.

We had a quick stop for photos along the way, but mostly drove direct the two hours to Lake Louise on this day. Upon arrival around 12:45pm, we were given direction to have lunch on our own (most of us at the deli) and then we had to meet up with the group again at 2:10pm for a group photo on the terrace with the Victoria Glacier view in the background.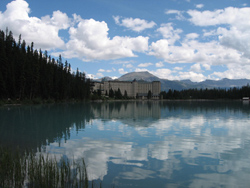 In the short break between lunch and photo we walked along the lake on a smooth easy walk with a great view. We had a half hour or so to spend, but it was great as you can't get the whole Chateau Lake Louise in one photo shot without getting pretty far away from it. We had success with absolutely beautiful photos from the trail.

Immediately after the group photo we all went back to the bus for an included tour to Moraine Lake. This was NOT in our Globus official documents. The documents said free time all afternoon, but that was not the case. You wouldn't want to miss this, even though you COULD stay at the hotel. We left for the lake about 2:30 and then it was a windy steep drive to Moraine Lake. Once there you could shop in the gift shop, or take a few different quick walks or hikes. We hiked up the rock pile, which was a very short (.7 mi) distance, but pretty steep. We were also at high elevation, so it was very aerobic, but it felt great after the time on the bus. This area is still frozen with the road closed in May, so to make sure you get to see this you will want to book this tour mid-June or later.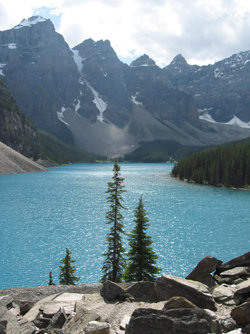 Moraine Lake is very blue green colored. It is beautiful in its difference from Lake Louise, which is very green from the glacier runoff. Its truly amazing how each lake is a different shade of blue or green from every other one.

We got back to the Fairmont Chateau Lake Louise around 4pm and had free time the rest of the evening with pre-scheduled dinner. The way dinner works is each resort gives Globus a certain number of 4-top, 6-top, whatever tables in various restaurants within each resort. On the first night at the cocktail party she takes your requests for dining times. If you miss the cocktail party, then you only get whatever dining slots are left.

So, our group was divided amongst three different dining rooms, with seating assignments already made. If you wanted something else, you could always ask the dining reservations folks at the Fairmont for other options once you arrived, but no space was guaranteed. The tour includes a multi-course dinner, but every dining room is different. We were assigned the Tom Wilson dining room, which was a buffet. However, others got the other two 'order from the menu' places. Those folks got a three-course meal included. We didn't think the food quality in the buffet was all that great, so given the chance try to get the Fairview or the Poppy restaurants.
Be aware that the biggest perk of being a Fairmont President's Club member on this trip is WiFi Internet access is free for all President's Club members. You could access it by putting in your room number if your President's Club number is properly hooked to your booking, or just putting in the President's Club number as you log in. Once you do it the first time, you generally stay logged in for your stay.


Day 3 Saturday - Lake Louise to Jasper

We started the day with another 6am wake-up call. Bags out by 7am, and buffet breakfast included for everyone. Again, we dined in the Tom Wilson dining room, so it was a buffet breakfast. We had a few minutes to grab a bottle of water and our carry ons in our room and one last fresh air walk before getting on the bus for departure at 8:30am.

We spent all morning driving along the Icefields Parkway in the Banff National Park. We made numerous short stops with great views and short walks to lakes and glaciers. Along the route there were many glaciers to view on the left side of the bus, and fabulous green trees everywhere. Wildlife are possible here, but we had great weather instead. (Our guide said most of the animals stay in the shade when its sunny, so you normally either get great views or animals, but not both!)

One animal you'll for sure see more of than you ever wanted was the mosquito. They were thick at Lake Louise and then all through our day in Banff National Park. Be sure to bring bug spray on your trip.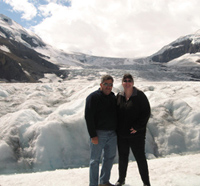 At almost noon we arrived at the Icefield Center in Jasper National Park. Here we had about an hour to have lunch on our own (think snack bar food and cold sandwiches), view interesting exhibits about the Columbia Icefield, buy gifts, and take an awesome included tour. Any gawking about you want to do, you have to do before your included tour. After the included tour, you just take a quick stop at the washroom and then on the bus to continue.

We got on some transfer busses that took us from the Center across the highway to the actual Athabasca Glacier. Here we got on special snow busses and rode down onto the glacier itself. They have a road and a parking / turn around area where we got to get off the bus to wander around on the ice for about a half hour.

One of the highlights of walking on the glacier is getting a chance to take empty water bottles with you and fill pure melting ice for drinking. Now THAT is what I call fresh! We enjoyed it all the way to Jasper on the bus.

In the evening we had reservations at Cavell's, the fine dining steakhouse within Jasper Lodge. We HIGHLY recommend this one if you have a choice. Again, it was pre-assigned tables and times from the tour guide that were signed up for at the initial cocktail party. The group was spread between Cavell's and Moose's Nook.
A Jasper Lodge quirk – since the cabins are all spread around there are no central ice machines and ice is no longer provided free automatically. If you ARE NOT a Fairmont President's Club member, you would have to pay $5 to have ice delivered. If you ARE a member, then you can just call and have ice delivered by one of the bellmen for free.
Also note that the WiFi signal was spotty in the room, but pretty good in the main lodge. So, if that is important to you, realize it gets better in the large lodge with lots of great seating areas.
Click Here to automatically be taken to Part 2 of the review