Southern Caribbean – Round trip from San Juan, 7 nights
Itinerary: San Juan, Dominican Republic, Sea, Barbados, Dominica (originally Grenada, but changed due to hurricane damage to Grenada in the summer of 2004), Antigua, St. Thomas, back to San Juan
Written by Joyce Verette, Suzy's client and friend
Photos by Joyce and Rod Verette
Review of Celebrity Constellation Thanksgiving Cruise - 11/20/04
This was my 12th cruise and my first cruise on Celebrity Cruise Line. I just turned 50 and my hubby is 46. Our past cruises include one on Carnival, two on Royal Caribbean and the rest on Princess. We wanted to try Celebrity for some time and this itinerary had what we were looking for.
Booking a cruise during Thanksgiving week enabled us to enjoy a 7 day cruise and only use 3 vacation days off work. The down side of this plan was that we were unable to spend any time in San Juan pre or post cruise. We flew a red-eye at Saturday morning from SFO to Houston and then connected in Houston to San Juan. A real plus for us on these long flights was that we were able to fly first class using our frequent flyer miles on Continental. We were definitely more comfortable and able to hang out in the Continental President's club during our lay-over in Houston. Our flight from Houston to San Juan was delayed a bit and we did not arrive in San Juan until on Saturday.
Day One – San Juan
We bought Celebrity ground transfers and their representatives were at the airport waiting for us. I think I'll hire a cab in the future because you don't have to wait for them to get a whole busload of people before you can go. It did go smoothly and pretty fast. Embarkation was a breeze; there was no one at all in the Concierge Class line. Our check-in time took about 3 minutes!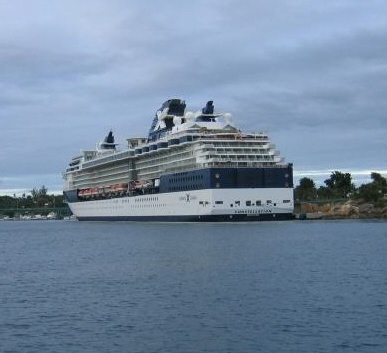 The Constellation is a beautiful ship; our first impression was a classy feel with the glass elevators, golden drapes in the atrium, etc. I thought the champagne handed to you as you enter the ship is a nice touch. We quickly found our cabin and our room steward was there to introduce himself almost immediately. Our steward's name was Fredy. He was excellent and always pleasant and accommodating throughout the cruise.
Our Concierge Class cabin (9051) was very pretty. The balcony was about the size we have had on other cruises, but the furniture was nicer. The table is a larger round table which is big enough to eat on (for 2 people) and there is a smaller table too. The two chairs are cushioned and sturdier than we were used to. This balcony on the Sky Deck was completely covered.
Fresh flowers and a bottle of Champagne awaited us in our room. There was a pillow menu where you could request isotoner, goose down, body pillows, etc. I'm allergic to feathers, so we asked for the isotoner pillows. The bed with duvet and pillows of our choice turned out to be very comfortable for us. There is a stocked mini bar refrigerator (not free) which I would have preferred to be empty. I would rather have the use of the refrigerator for my own soft drinks and wine. The sitting area has a loveseat and a table that had a fresh fruit bowl that was refilled each day.
[note from Suzy: Concierge Class was only on one deck for 2004 sailings. It turned out to be such a popular option that they've expanded the service to be the most of TWO decks for 2005. Celebrity has re-arranged their cabin categories, so be sure you're looking at a 2005 deck plan when planning your cruise.]
The bathroom had fresh flowers (roses), plush towels and matching rug (pink one day and sea foam green the next). The shower was good sized and we found the water pressure to be really good – I like a hot and powerful shower. (One thing about the shower is that it is too narrow and the shower curtain kept clinging to the body while showering.) There is a built in hairdryer which worked quite well and room for all of our toiletries. They supplied conditioning shampoo, body lotion, shower cap, q-tips, cotton balls, and a mending kit. Also, 2 plush robes were in the closet for our use.
Once we unpacked everything it seemed we did have ample room for it all. We had brought snorkel gear and 2 cameras with equipment – so I wondered if it all would fit – but it did. Our large suitcases fit nicely under the bed and out of the way. All in all the room was comfortable, but I think the mini-suites on our recent Princess cruises are a bit more spacious – we found we did run into each other and there wasn't much room between the end of the bed & the wall.
Once we checked out the room, we joined some of our cruise critic friends at the Mast Bar for a drink. The people that showed up were the main core people from our thread, and we met and then ran into each other several other times during the cruise. Next we headed to the Spa to make appointments. I booked a facial for late afternoon the next day and we booked a couple's massage for Wednesday. Next, we decided to head to the Martini bar and try the Martini sampler that they were offering. We met the famous Constellation bartender "Sudi" who really is talented and fun to watch. We were pretty exhausted at this point (and a bit tipsy), so we skipped dinner and hit the pizza/pasta bar for a snack before the lifeboat drill. After the drill at , we didn't last too much longer. They had a Bacardi Mojito Sail Away Party on Deck, which I heard was really fun, but we were just too tired. My husband went to bed and I visited the casino for a little while and then joined him.
Day Two – Casa De Campo, Dominican Republic
We had signed up for the beach break that was originally offered at a private resort in the DR, but leaned that it was cancelled. At the last minute we booked a beach excursion to Catalina Island. After breakfast at the buffet we left the ship around and boarded a catamaran/ferry to take us there. The boat had its own crew, but there were also Celebrity staff onboard. The ride took about ½ hour to get to the island and the crew sold soft drinks and the local beer on the way over. It was $3 for a local beer, and it was a tasty pilsner type of brew. Upon arrival at the island there were beach chairs, umbrellas, etc. available at no charge, but we tipped the attendant who set us up. The Celebrity staffers set up a bar and wait service on the beach. There were also some locals with shops selling jewelry, crafts, beachwear, etc. The only negative was that there was NO food available at all. We stayed at the beach, which was very nice, for about 3 ½ hours. I'm glad that we had breakfast first, or we would have been starving!!
I visited the Spa for a late afternoon facial – which was wonderful. My husband visited the sushi bar on Deck 10. He had a nice pre-dinner sushi snack waiting for me when I returned to the cabin. We found the sushi to be quite good and enjoyed it several evenings on our balcony with a glass of wine.
We got off to an unfortunate start our first night going to late seating dinner. I couldn't find the card that was in our room with our table assignment – so we went to the dining room and they had to look it up. This made us late for dinner and we were properly scolded by our new table mates and our waitress had even cleared our table settings away! Even so, we were extremely fortunate this cruise and had a great table; Pat and Elaine from Boston and Mark & Leigh from New York with their son & Leigh's mom. We all got along well and had a lot of laughs. Our lovely waitress was Ansolette and she did a great job – we even celebrated her 25th birthday with her and shared her birthday cake at our table the last night. Dinners were very good with lots of variety. I ordered fresh berries and they were made available to me every night.
Following dinner our whole table went to the show together. Paul Boland "The Man of A Thousand Voices" was really good. He is a singer/impersonator and does a show similar to Danny Ganns in Las Vegas. I loved it – I laughed so hard at times that I cried! After the show we went to the casino for awhile. I found the casino staff on the Celebrity to be a really fun group of people. Overall I did pretty well there. I was a bit upset when I got a 4 of a kind playing Caribbean Stud Poker and the dealer didn't qualify! I won $227 instead of over $900. But, hey, I still won!
Rod and I decided to order room service for breakfast on our sea day. I wanted fresh fruit and eggs benedict – so we just wrote on the card exactly what we wanted. We hung it on the door and hoped for the best!
Day Three – The only Sea Day
Our Steward Fredy called first to see if we were ready for our breakfast. He set it up for us on the balcony – linen tablecloth and all. It was awesome!! We ate sat out there in our robes and had a nice leisurely meal. The eggs benedict was very good!
Celebrity hosted a Cruises Critics Connections Party for us on the sea day at 10AM in Michael's Club. Not too many others showed up, but it was nice. They served coffee and tea and the ship's photographer took our picture. We met the social hostess and assistant cruise director. This was nice, but I think some people didn't make it because they had spa appointments or didn't want to give up their chairs by the pool!
Rod and I decided to check out the Thalassotherapy pool area. Wow! This was probably our favorite spot on the ship! It was quiet (no children allowed), with wonderful teak loungers, spas, the Spa Café, etc. The food at the Spa Café is the best. Rod wanted salmon and they grilled a huge steak for him. I tried the vegetarian tostadas and fresh fruit plate. It was so yummy! The pool is a trip with a wave action type of thing going on. We hung out in the pool for awhile and then got in a spa. It was very relaxing.
Next on the agenda for us was the blackjack tournament in the casino! I lasted 3 hands. The dealer had a 6 showing and I doubled down on a ten and got 15. He made a hand and took all of my money! I still had fun. Rod did better, but was still eliminated after the first round.
We decided to get dressed for formal night and then visit Sudi at the Martini Bar. We ordered caviar with all of the fixings and Cristiana Vodka (Sudi's recommendation) on the rocks. It was so good! I honestly can't remember what was on the menu for dinner – I should have taken better notes or drank less vodka. I do know that dinner ended with my fresh berries and a wonder crème' brulee that was to die for!
Day Four – Barbados
It's raining! We booked a 4X4 Adventure with Paradise Beach through Celebrity. I had contacted the 4X4 people on my own and they told be I could only book through the cruise line.
This was a really fun excursion and it didn't matter that we had rain. The 4X4 was covered and the sides were zipped up. We drove through the countryside and sugar cane fields to Bathsheba where we took a break and enjoyed some rum cake and rum punch then headed to the other side of the island to Paradise Beach. It was raining, but some folks decided to swim anyway – we passed on this because we didn't want to ride back to the ship all wet. This excursion was fun, but if you are there on a good day I would also recommend the 5 Star Catamaran to see all of the beautiful beaches. I did this on a previous visit to Barbados.
We had time to go back to the ship for lunch and then headed out for our Snuba excursion. We have snorkeled quite a bit and have done resort scuba dives a couple of times, so we thought snuba would be fun. It turned out to be rainy and cold out on the boat and it was warmer once we were in the water. Some of the people on this trip really enjoyed it, but others just were not comfortable with the whole thing. For me it was OK, because I had used a regulator before, but I did have some problems getting my ears to clear, so I only went down about 10 feet the whole time.
After another nice dinner, we retired early because we were pretty worn out from the day's activities.
Day Five – Dominica
Dominica is a beautiful lush island, but there's not much in the town. We decided not to go on an excursion here, as I was just in Dominica in April and saw the Falls and Emerald Pool on that trip. We had another nice breakfast on our balcony – I tried the French toast fingers with honey marmalade butter – very yummy!
We spent some time on our balcony taking pictures of the island from there. Rod spotted a turtle right by the ship, but missed getting a picture. We decided to get off and walk around for a little while. It was a quick trip. In a very short time we were approached several times with adults and children asking us for money. This pretty much turned us off, so we went back to the ship.
They were having an Italian themed lunch at the buffet, so we had some pasta, minestrone soup, etc. It was very good. The meat sauce had a good flavor and was almost as good as mine! We had a quiet afternoon reading on deck. I went to Bingo and didn't win anything, but ran into my tablemates and hung out with them.
We got ready for dinner early and went to the early show first. It was a comedian named Jeff Nease and he was very good. After the show we headed to Oceanliners for dinner. It was a wonderful dining experience. We had the sampler appetizer, Caesar salad (the real thing made right at the table), Rod had fish and I had beef. We decided to try wines by the glass as suggested by the wine steward – we enjoyed it all – but the bill for the wine ended up being $130. Ouch! I would definitely recommend dining at Oceanliners one night during your cruise.
Day Five – Antigua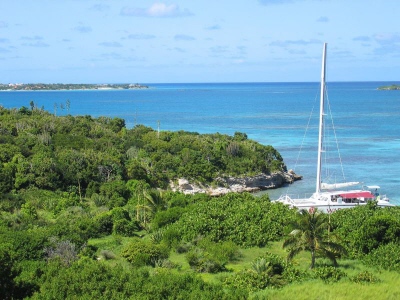 For our day in Antigua we signed up for Eli's Ecotour on the internet. Eli had been recommended to us by our fellow cruiser TexEd, so we decided to give his tour a try. It was a wonderful day. Eli takes about 20-25 people on his boat, so it's a small group. We started out by passing a lot of resorts like Sandals, enjoying the beautiful beaches and gorgeous blue water.
The weather was perfect, blue skies & warm. Our first stop was at a little island where we hiked to the top and could look out on the other side to the Atlantic Ocean. Next we visited Hell's Gate where you could snorkel, swim and hike through a cave. Lunch was BBQ chicken, salads, fried plantains – very tasty. After lunch we cruised through an area of salt water mangroves. Eli was very informative and shared with us a lot of information and history regarding the island. I would highly recommend this tour – it was a great way to spend our Thanksgiving Day.
Thanksgiving was our second formal night. We donned our fancy clothes and went to our tablemate's suite for cocktails. They had been upgraded to a suite, so we got a chance to see one. It was really nice. They had a huge deck with a Jacuzzi, formal dining room, living room, bedroom, huge closet, and awesome marble bathroom. Wow! Their butler provided appetizers and wine – I sure could get used to that every evening!
Dinner was great; they had turkey on the menu and also lobster and prime rib. Most of us had both turkey and lobster! They also did a Baked Alaska parade, which was fun and lively! We decided not to go to the show and went to bed early. Le Grand Buffet was Thanksgiving night at 11:45, but we were not hungry and were too tired to even go take pictures!
Day Six – Saint Thomas
This was probably our fifth visit to St. Thomas, so we decided to go sailing for the day. We booked with Fantasy Daysail via the internet for $120 each. We took a cab from the pier over to Red Hook where Capt. Brian met us with his dingy and took us to the Fantasy. There were 2 other couples that joined us. We sailed over to St. John and anchored at an area that had a resort with a beautiful beach. Brian provided us with floats to wear and we snorkeled around the rocks and over to the beach. The snorkeling was good – we saw a stingray and some turtles. After relaxing on the beach for a while, we swam back out to the boat. A lunch of chicken, rice, salad and cookies was provided – along with beer or rum punch. It did rain a bit on the way back to Red Hook, but overall it wasn't too bad. I would recommend a sailing trip like this if you want to have a relaxing day and not be with the crowds!
This was our last night on the ship. Boo Hoo! I hate packing! We got back early enough from sailing that I was able to do 90% of the packing before dinner. We went to the Martini Bar to see Sudi one last time. After dinner, I visited the Casino to try to win big one last time. It didn't happen!
Day Seven – Back in San Juan
We didn't get up early enough to go to the dining room for breakfast, so we went to the buffet. By the time we had breakfast and returned to the room for our stuff – our color was called. Disembarkation was very smooth and we were at the airport in no time. San Juan has a President's club, so we hung out there until time for our flight.
In summary, I will say this was one of my favorite cruises to date. We really enjoyed everything about Celebrity – the food, service, ship, etc. was all top notch. We will definitely cruise with Celebrity again! Visit my webshots link below to see some pictures of our cruise.
[note from Suzy: The Constellation and Summit have new Cirque entertainment now mentioned in this review.]
Please remember to contact me, Suzy, if you're interested in booking a cruise. I take care of all the details when I book your vacations with me. Please hit "Contact Us" at the top of this page.
Joyce's Online Photo Albums - Constellation and other cruise pictures!