Donna has written some general "notes" about the ship and cruise overall, and then a detailed review of the ports and her excursions separately. I've pasted them here together, but you'll be able to see the difference in the two sections. Both are good, but her port reviews are exceptional.
SuzyCruisy.com posts this for informational purposes only and does not endorse any specific tour operator noted. Suzy's official company line is that you should book excursions through the cruise line.
Sailed October, 2007
Notes:
Embarkation:
Not as bad as some, long drive out from Bangkok, roads are not the best, and crowds were pretty heavy, even though we arrived later in the day. Not much going on in the way of 'expedited' boarding for Platinum and Elite passengers. Luggage arrived promptly.
Cabin: We booked one of the fabled aft corner cabins on Caribe deck – C748. Cabin size is typical of a BB balcony cabin, balcony size is somewhat larger, views from the balcony were nice, but the cabin had significant vibration during certain maneuvers and some engine noise as well. Bottom line – not sure what the fuss is all about and we won't be trying that hard to get another aft balcony cabin – it is a long long way from everything!
Passenger Mix: Far fewer North American/US passengers than is usual with Princess. Large groups from France, Germany, and Russia, less than 45% US/Canadian. Relatively fewer Platinum/Elite than might be expected on such a long and exotic itinerary. Mostly 40ish and up, not many children or family groups. Labeling in the buffet given in English, German, and Russian. Announcements were given in English, sometimes but not always repeated in German.
Entertainment: A few newer shows – a couple we hadn't seen, including Ports of Call, and the older Piano Man, which we had somehow missed on prior cruises. Usual mix of magicians, jugglers, hypnotists, singers, with the additional attraction of a children's acrobatic troupe in Shanghai and a group of entertainers that included a wide range of talents representing the various cultures in Singapore – from a plate spinning Chinese acrobat to an Indian snake charmer. Local shows were by far the most entertaining and interesting.
Daily activities: The usual mix of bridge, bingo, arts and crafts, lectures, port talks, trivia – mostly too cool for pool games, etc. Library is a bit small and under-supplied for a ship this size, but the passenger exchange section had quite a range of selections in multiple languages. Evenings included the usual round of tv game-show look alikes, talent shows, and lounge acts.
Other offerings: The Hong Kong tailors came on board mid-cruise and were there doing measurements and fabric selections for delivery in Hong Kong or by mail. Hyping on the in-room tv and by announcement did get a bit tedious, though, and prices were significantly higher than those in Bangkok for similar quality.
Shore Excursions: The excursions desk was somewhat more helpful to independent travelers than is sometimes the case, and port talks were generally good to excellent, with good availability of the port lecturers for questions at regular intervals at the excursions desk.
Internet: The internet café redesign is a marvelous improvement and service was, for the most part, good. Charges for internet for Platinum and Elite passengers seems to have reduced the crowding and we very rarely saw a line for terminals.
General Notes on Sapphire Princess made during the cruise:
Incongruous in an otherwise largely Asian 'look' or theme ship is the 'cowboy' carpet at the aft elevators on Deck 7 and the western themed Club Fusion, which has replaced the Vista Lounge. Updated in look and feel, with multiple screens rather than unobstructed stage views that characterized the old Vista Lounge. Club Fusion serves as the bingo venue during the day and a range of entertainments in the evening from the contests such as Princess Idol to combos and lounge acts, Country and Western Night. The oddly positioned Wake View Bar is reached by spiral staircase more or less behind the stage/dance floor and is arguably the best kept secret on the ship. Cozy and leather bound, but also western themed, this small bar is a cozy hide away even during very busy evenings in Club Fusion above. Club Fusion entertainment is shown in the bar on closed circuit TV screens.
Sabatinis – well worth the extra charge, Sabatini's – a signature Princess venue is located near the photo gallery and adjacent to the much improved, expanded Internet café. Particularly noteworthy are the excellent tomato and seafood soup, perfectly prepared crisp and tender calamari, and heavenly coffee flavored crème brulee. Service is extraordinary, attentive without being oppressive, and the entire menu is delightful. Excellent entrée choices include the veal chop and the lobster tail. Try for a table by the window for a people watching opportunity along the outside Promenade deck.
Sterling Steakhouse – so so – set up evenings out of part of the Horizon Court – surprisingly effective as it looks good, but the steaks aren't as good as I remember them from other ships – filet is pretty good, but DH's rib eye was virtually inedible. We did get that meal comp, so no harm done, but it should be better
Pacific Moon, Savoy Grill, Sante Fe - personal choice dining rooms. The new design has cut up the large dining rooms into smaller, more intimate and restaurant like rooms, with more small tables – twos and fours and much lower noise levels. Service seems to have also improved in the new settings, perhaps due to the smaller table sizes or other changes in the patterns of staffing. Specialty restaurants – originally conceived as having totally separate menus, have been reduced to a specialty dish, verbally announced, in keeping with the restaurant theme, with the balance of the menu continuing to be the 'standard' Princess offerings. Pacific Moon's specialty is a seafood noodle stir-fry, Santa Fe's is a chicken, beef, or combo fajita, and Savoy's is a grilled pork chop. A new fund raising effort is the offering of bottled sparkling or still water in lieu of 'regular' water. It is not always announced that these choices carry and extra charge, and this can be an unpleasant surprise at the close of the meal. Coffee specialties such as espressos and lattes, previously offered for free in the dining rooms, are now also at extra charge, but this is listed on the menu.
The International Dining Room is the traditional fixed seating venue, and Vivaldi's is a 'split' between early seating, as a fixed seating venue, and open personal choice after .
Horizon Court – during the day, both sides offer buffet breakfast, lunch and dinner, later in the evening, one section converts to the steakhouse – Sterling, an extra cost venue, offering grilled beef, chicken and seafood, but generally this has been a high quality beef lovers venue, with traditional sides like baked potatoes. The use of curtaining and table linens makes the conversion surprisingly successful, and the look and feel of the Sterling Steakhouse is quite nice. The tenderloin filet in two sizes is one of the better choices, and a steak ordered rare is more likely to come cooked that way than in the dining rooms.
The Wheelhouse Bar, a Princess staple, has been relocated to a position formerly occupied by the Sterling Steakhouse restaurants and the Internet cafes on most of the Grand class ships. The look and feel is the same, warm dark woods and leather, nautical prints and artifacts. The Princess Theater access is on the starboard side of the Wheelhouse, and there is no hallway along the port side. This tends to make the Wheelhouse a thoroughfare during the exits from shows.
The small Writing Room, adjacent to the Future Cruise Desk and the Library on the other side, it is open to the atrium area on deck 5, and not particularly quiet. There are games and puzzles available at the writing room, the library, and Wheelhouse Bar. There is no card room on the Sapphire. Bridge lectures are held in one of the specialty dining rooms, and card players find locations throughout the ship – principally the Wheelhouse, the tables around the Calypso Pool and in some of the other lounges. The Library is a bit small and restricted for the size of the ship.
Typical sea day activities include morning and afternoon trivia and bingo, two or more 'Scholarship at Sea' lectures and activities, a port talk, a movie, paddle tennis, shuffleboard, or other competitions, as well as line and ball room dance classes, food and beverage department demonstrations of everything from cocktail mixing to sushi making to ice carving. Staple evening entertainments include passenger participation takes on popular television shows – Princess Pop Star, Ballroom Blitz, Peer Factor, Crazy Cases – a take off on Deal or No Deal – and Princess "Jep-R-Dee, 'Scarey-oke' and the usual Passenger Talent Show.
In the absence of the Vista Lounge, movies for both afternoon and evening are shown in the Explorer's Lounge, open to the light and traffic passing by. Princess Theater is the venue for the production shows, as well as most of the headliner acts, with the Wheelhouse, Explorer's, and Club Fusion hosting some of the individual performers, the dance combos, games, competitions, and musical variety acts. Churchill's is a smoking lounge; Skywalker's is the disco as well as a nice place to get away to during the day. Crooner's Lounge is the piano bar. Featured "nights" include Country and Western, the usual Island Night, and special holiday events should one occur on a given cruise. Typical ones would include Halloween trick or treating and costume contests, Easter Egg hunts, and the like and the Food and Beverage Department goes all out for decorations as well.
Other offerings include one or two extra cost wine tastings, longer cruises may also feature a special 'higher end' tasting with more expensive wines and food pairings. Culinary demonstrations are also offered throughout the cruise. Standard to all cruises is the culinary competition – typically a comic presentation – followed by the galley tour.
The ever-present art auctions are held either in the gallery itself, or in the Explorers Lounge
Production shows – newer shows "Do you wanna dance," "Ports of Call," are less dependent on props and scenery changes than the older "Words and Music". Piano Man was also shown during this cruise. Pleasant and lower key, with good singing and dancing. Sophisticated lighting and simplified stage props, together with costume changes are emphasized instead. 'Do you wanna dance' is very high energy, with many types of dance featured from fifties rock and roll to waltzes and other ball room dances, to a 'Riverdance' tribute, good dancing and singing and gorgeous costuming.
Wheelhouse Bar – something is 'off' as far as the sound system or acoustics, as the music always seems to be too loud for the size and style of the room. Live and piped in music are both too loud to allow for comfortable conversational levels. However, dance enthusiasts seem to enjoy the floor and the live music. Daytime uses include trivia and other game activities, as well as 'special interest' meetings some of which connect passenger professionals with their on board equivalents-one example being a meeting of engineers which featured some of the ship's engineering professionals who generously answered technical questions about the functioning of the ship in several areas.
Combos in Club Fusion do not always attract the audience they deserve. Recently the excellent Jamaican vocalist/combo Deep Blue played to nearly empty rooms, perhaps because the venue is hard to figure out. Participation in the games is also lower as it is hard to engage people in a setting that seems more designed to facilitate conversation at round or semicircular table/sofa/chair sections many of which face away from the stage area. Theoretically, they can follow the action via the many television screens, but this doesn't seem to work very well.
We were on back to back so didn't disembark in Beijing, although we did have quite the adventure. We were the only in transit passengers on board, and had arranged our own excursion to the Forbidden City and the Great Wall through Beijing Service – great tour, wonderful guide (Cindy) and all was going well until the return trip when we encountered a traffic accident. We did have the contact information for the port agent and wonderful Cindy immediately got in contact with them to let them know what was going on, and the immigration folks waited a few extra minutes for us to return. We made it back, as it turned out, with time to spare as far as the ship's departure time, but without Cindy and the ship's agents assistance, we would not have been able to clear immigration and would have been left on the dock – as happened to an artist who was joining the ship, and who didn't catch up with us until Shanghai.
Disembarkation in Bangkok at Laem Chabang was pretty quick, but we did have an issue with the tour we had booked, and ended up not doing it, as our guide never did show up. Our driver was there on time, though, and took us to the airport Novotel hotel, which was a nice stay with a shuttle in the morning to the adjacent terminal.
Ports and Tours~
Singapore: The ship docks in a container port about 40 or so minutes by bus from downtown. A free shuttle takes you to the DFS Center on Scotts Street, but shuttles don't begin running right away, so if you are planning a private tour, you might want to schedule it for about an hour and a half after the listed arrival time, to be safe. It didn't appear that local tours or taxis were being allowed at the pier, and our driver met and dropped us at the DFS shopping center shuttle stop both times. While we had the same actual hours in port, functionally, the first stop was longer, as the ship departed at 6:00 PM. Whereas the second stop, departure time was at 5:00 PM, and, since the effective start times, once the shuttles started and we were able to meet our guide, were pretty much the same, we ended up with an extra hour.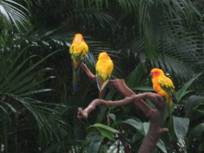 Singapore is a beautiful, clean, modern city with well thought out green spaces, gardens, and outdoor attractions such as the Botanical Gardens, the Orchid Gardens, the famed Singapore Zoo, the Jurong Bird Park and some reasonably well preserved historic ethnic districts such as Chinatown and Little India, as well as venerable historic districts and hotels such as Raffles.
Our tours here were both with 2006 Singapore Tourism Authority Taxi-Tour Host of the Year, Albert Tan (Contact: benden@starhub.net.sg). The price is based on an hourly rate, and we shared with another couple. The cab was tight for a total of 5 people, but transits between attractions were relatively short, so it wasn't too bad and we took turns with the middle of the back seat. Hourly rates are set by regulation, and for a taxi tour host are $45/hour Singapore dollars, with a three-hour minimum. We found Albert to be resourceful, informative, and an excellent driver, with good suggestions and ideas about the areas we wanted to explore. He was also a nice companion throughout our tours, handling the financial transactions, even bargaining in the markets for us. I highly recommend Albert, and he was also very good about finding colleagues to provide a tour for others in our touring group.
Our first tour, for which we had a longer time in port, featured the Jurong Bird Park, Little India and the Sri Marimamman Temple, Chinatown and a fascinating museum of Chinatown life, the old wharf area, which is reminiscent of Copenhagen, and got a Singapore Sling at Raffles Long Bar. Unfortunately the day started rainy and we ended up in the mostly outdoor Jurong Bird Park in a pouring thunderstorm. We did the available indoor attractions, including the nocturnal bird exhibit and the penguins, then moved on, but the Park is probably a wonderful excursion on a nice day. The rest of our tour was in and out of drizzle and downpour, but we particularly enjoyed the Chinatown Museum and the wharf area, and our travel companions were thrilled with a very pink, and very pricey Singapore Sling in the Long Bar at Raffles.
On stop two, with a shorter time ashore, we visited the deservedly famous Zoo and the Botanical Gardens and world-renown Orchid Garden. At the zoo, we were able to catch two of the shows, featuring sea lions and elephants, both interesting and educational, and to see many of the open exhibits with exotic animals like the white tigers, pygmy hippos, a large baboon troop, and various other primates. Then it was time to move on to the Botanical Gardens and the large orchid collection. Like the zoo, the botanical gardens are considered among the best in the world and the displays are breathtaking, especially the orchids some of which are shown in very naturalistic settings, as well as in some structured and beautiful displays. On both tours, Albert took us to food courts mostly patronized by local residents for our lunch stops, giving us the chance to sample some delicious, inexpensive local meals.
Vung Tau: Vung Tau is a tender port, with the ship anchoring off the PTSC pier – a petroleum depot. In other years, the ship has anchored off or sometimes docked at the flour dock. In this case, tendering was accomplished with the assistance of a local hydrofoil, which was much faster and smoother than the ship tenders. The hydrofoils also provide roughly hourly service to Ho Chi Minh City (Saigon), but may not be completely reliable, according to some reports. People on our cruises did take the hydrofoils into Saigon, reducing the trip to approximately an hour and half, from the two and hours required for the road trip. The hydrofoil leaves from somewhere in Vung Tau, however, not near the pier where the tenders dock, so those wishing to do this trip (cost around $10 US) would first have to take the free shuttle into Vung Tau and then locate the dock.
On the first stop, we toured Vung Tau and the surrounding area, which is interesting in its own right. After a bit of confusion and a fairly long delay in connecting with our guide due to a failure of communications between the home office and the tour guide and driver, we had a good day touring the Vung Tau vicinity, including the summer home of the last king Bao Dai, and the usual temples and local market. We were lucky enough to run into a colorful local wedding at one of the temple, and, also, we were welcomed by the temple's resident monk. Much shopping and a good lunch at a water front restaurant were also part of the program, part of a two day program booked through Asia King Travel, contact Mr. Ha, ( contact information:
ASIA KING TRAVEL.,CO.,LTD. 85 Truc Bach, str.,Hanoi, Vietnam Tel: ++84 4 7151639 Fax: ++84 4 7151675 Hotline : ++84 989291913 E-mail : Backup email : Web Site: www.asiakingtravel.com)
for a total of $95 US per person for the two days, Vung Tau and Nha Trang.
Our second tour from Vung Tau was a trip to Ho Chi Minh City (Saigon). We had a bit of difficulty with Princess in terms of getting an early tender, after they changed the general tender availability from 7:00 AM, which it had been on our first stop, to 8:45 AM, but a request to Passenger Services for our group of 14 resulted in our being included in the disembarkation with the other groups on board. This may have been a result of having registered with Group Services initially, for the roll call group, although it wasn't clear to me exactly why we were allowed to get an early tender. In any event we were grateful, and started out bright and early for our long trip to Saigon. We heard of some folks who took the $8 US one and half hour trip by hydrofoil, but having heard some stories about the reliability of these craft, we opted for the longer bus trip. It was about 2.5 hours into Ho Chi Minh City, and we toured the Reunification Palace, saw the Water Puppet show, which was an indoor theatrical production, arranged specially for us by our tour provider Thi Hoang of Smile Travel (contact information). We did photo stops at Notre Dame, the Post Office, and the Rex Hotel, had a good and inexpensive (not included in the price) lunch at the "President's Noodle Shop" – so called following a visit by Bill Clinton in 2004 – and, of course, the obligatory market place shopping stop. This tour was notable principally for the Water Puppet Show at the Golden Dragon theatre.

Perhaps it was because it was one of the last tours on this itinerary, but Ho Chi Minh City was not one of our favorite stops, and the two and half hour plus bus ride through fairly uninteresting terrain each way did not help. In addition, the group that has the 'concession' for port activities for the cruise ship is essentially extorting small operators for a $20/person "license fee" to come onto the pier to pick up their passengers. This brought the price of our day long tour from $47 per person to $67, which was still significantly less than an equivalent Princess tour, or even the "HCMC on your own" which was essentially a bus ride into town, and was priced at $79. On both of our stops in Vung Tau, we left somewhere around , waiting for Princess tours to return from Ho Chi Minh City. Our guide for this tour was Tu, and the tour was arranged with Thi Hoang, (contact information:SMILE TOURS SERVICE Int. Co. Ltd
Add: 483A, Laïc Long Quan, P. 5, Q. 11, TP.HCM, Vietnam Tel: (84 8) 2654401 Fax: (84 8) 2654402 Website: www.smiletourvn.com Email: info@ smiletourvn.com
thi_travel@ yahoo.com ) Thi was terrific to work with and went beyond the call to arrange for the special water puppet show at the Golden Dragon. She also recommended Mr. Dung at Nha Trang River Tours for our Nha Trang tour.
The hydrofoil 'tender' continued to run until well after on our second stop. If your objective is to have maximum time in Ho Chi Minh City, it might be best to sign up for a ship's tour. Otherwise you might want to consider the charms of Vung Tau.
Nha Trang: The other tender port on this itinerary, Nha Trang's anchorage is about a 20 minute tender ride from the pier which is adjacent to the Oceanographic Institute – a small facility with some tanks and aquaria and a few exhibits. Unfortunately, there is no hydrofoil to help out on this tender run, but it is pretty smooth. The gate is clearly visible from the tender pier, perhaps a minute or two walking. However, we understood from our second tour provider that the concessionaire was also trying to drive independent tour providers from the immediate area around the gate, and we were hustled quickly through the grounds of the Oceanographic Institute to where the bus was parked on the other side of the building. Local vendors will set up a mini-version of the Dam Market in town, just in case you forget to get something while you are in town! The local politics aside, Nha Trang was perhaps the 'surprise' port of the trip. We enjoyed both of our tours here, which were surprisingly different given that it is a small place.
Our tour with Mr. Ha was oriented to the 'traditional' attractions, and it seemed that he had less trouble than Mr. Dung of the Nha Trang River Tours. We toured the Oceanographic Institute, the Ponagar Cham Tower, Hon Chong Promontory, Long Son Pagoda, and the embroidery workshop. A nice lunch at a seaside restaurant was included, as was the obligatory stop at the marketplace. This was included in the price for two days of touring at $95 per person, bundled with Vung Tau. The majority of our tour was taken in a drizzle, occasionally strengthening to a downpour which made footing a little difficult particularly at the Ponagar Cham Tower, but most of our party ended up purchasing the $1.00 plastic ponchos that were hawked at each of our stops, and everyone ended up with something from the embroidery workshop.
On our second tour, through Nha Trang River Tours, we had a completely different experience, with only the embroidery workshop and the marketplace repeated. This tour allowed us some insight into the daily lives of average Vietnamese people and was among the most interesting and enjoyable tours of our back-to-back voyages. We visited craftspeople in their home based work areas and saw and participated in the making of woven mats, the production of rice papers, used in the making of spring rolls, and visiting a back yard bakery making marvelous French bread. As we were a bit late, we missed the conical hat manufactory, and the making of the clay ovens that are used in most Vietnamese households, but these are regularly included in the tours offered by Nha Trang River Tours ( Contact Information: Mr. Dung Pham, www.nhatrangrivertour.com , )
The embroidery workshop, which was included on both our tours, is a stunning display of artistry in embroidery, a traditional art form in Southeast Asia. The prices are absurdly low for the quality of the workmanship and articles of clothing, linens, and art pieces ranging from traditional florals and scenics to haunting portraiture are made and sold here. Art pieces can be purchased framed or unframed, with discounts for unframed pieces. There is similar work available in China, but it tends to be more standardized looking and the prices are significantly higher. We felt that the workmanship, creativity and quality were better in Vietnam, and certainly the prices were much less. This day, in contrast to our first stop, was sunny and warm and the $1.00 purchase of choice were post cards and conical hats.
Hong Kong: Back in the container ports again, but at least docking in an area where private tour providers were allowed, Hong Kong was an easier port than those in Singapore and Vietnam. On our first stop, we took the ship's tour to Macau, which started with a shuttle ride to the ferry, and about an hour's ride on the high speed ferry, followed by a tour of the historic sites including the single standing wall of the cathedral from the period of Portugal's domination: an ancient temple, dedicated to the goddess of the sea; and a quite good multi-ethnic buffet lunch at Café 360 at the Macau Tower. While not scintillatingly exciting, this was a pleasant enough tour, considering that we were scheduled to do a 'traditional' city tour on our return visitWe enjoyed the trip back and forth on the ferry, and particularly enjoyed the Macau Tower and the lunch, but would have liked the chance to at least see one of the famous casinos. However, time is very limited for the Macau tour, in part because of the extensive time it takes to go through the customs and immigration formalities coming and going, if you don't carry a Hong Kong, Macau, or mainland Chinese passport. Because of these formalities, unless you are familiar with the area, just taking the ferry over by yourself might be daunting. Our guide was kept busy shepherding folks into the right lines, and making certain everyone had and filled out the proper forms.
A huge highlight of the Hong Kong stops was the after dark Sail Away, through Victoria Harbor. This is not always possible so it is not an "advertised" element of the itinerary, but it was magical, starting with a brief description of the various notable buildings, followed by a well selected musical track, piped out over the P. A. system on the open deck, as we slowly made our way from the container piers past all the lighted skyscrapers along the harbor. It seemed that most of the passengers and quite a few of the crew were at the rails on the open decks, alternately taking it in and snapping pictures or video as we moved among the dinner cruise boats and other harbor traffic past the beautifully lighted buildings along the Harbor. We were really blessed to have this experience twice.
On our second Hong Kong stop, we had a traditional city tour, with the requisite temple tours, trip to the top of Victoria Peak and tram ride down, visit to Stanley Market, a sampan ride through the floating city of the Aberdeen fishermen, and lunch at the Jumbo Floating Restaurant. This tour was arranged through Polly at China Highlights, ( contact information: Polly, Asia Travel – Hong Kong Office, Room A, 7/F., No. 6 Knutsford Terrace, Tsim Sha Tsui, Kowloon, HONG KONG Tel: (852) 2736-0922 Fax: (852) 2405-0922 Office hours (HK time):09:30-18:00hrs (Mon to Fri); 09:30-13:00hrs (Sat) Closed on Sundays and public holidays Website: http://www.asiatravel.com/hongkong.html Email: ) and cost $76/person, prepaid by credit card for a group of 14. Our guide had a good sense of the group and balanced 'tour' with free time very well, although one of our number went missing when the rest of us did the sampan ride, and didn't catch up until the middle of our group lunch, giving our guide no amount of extra anxiety. Still, she remained cool and handled the situation well. This was an excellent tour and China Highlights did a very professional job handling the administrative details.
Keelung: The ship docks in a downtown location, albeit in Keelung, when most of the passengers want to tour Taipei, which is about 40 minutes or so away. The train station is within easy walking distance of the dock and trains run regularly, although schedules may not be accurate, on which more later. Taxis are readily available, and private tour providers are allowed on the pier with no problem. On both stops, we used Alido Travel, contact Michael Yau (Contact information: Michael Yau ALIDO Travel, Taiwan phone: 886-2-25683829 mobile: 886-953-721480 Website: http://www.alido.com.tw )
On the first stop, we toured the area around Keelung, in what is titled the North Coast tour, going to the Yehilu Ecopark, which features unique and beautiful rock formations such as the Queen's Head, in a seashore setting, and to the picturesque and interesting Gold Rush town of Chiufen for a walking tour of the old sections of town and the marketplace, and a visit to a beautiful Taoist temple. Our guide Jeff was, on this tour, pleasantly informative, giving us lots of time on our own. An apprentice guide, Angela, accompanied us. She was delightful, speaking excellent English, and having a good command of the tour informational content as well. She will be a real treasure when she completes her training, which should be in 2008.
On our return to the pier, the tourism bureau had arranged for a dragon dance troupe, which was a great treat, very colorful and fun to watch. This was also the port where some people were left on the pier, having misjudged their return time on the local train, which was running later than advertised. Be aware that this is not uncommon, and if you take the train into Taipei, make sure you allow ample time for the return. The people who arrived 15 or so minutes late at the dock were able to catch the pilot boat to the ship, and then had to ascend via a pretty scary looking rope ladder, but we also heard that the pilot boats are less and less an option for passengers who miss their ship, due to liability concerns. As our Cruise Director Sammi Baker said repeatedly, know your M.O.E. – Margin of Error - and plan accordingly!
Our second tour was a standard city tour, including the Chaing Kai Shek Memorial, the beautiful and impressive National Museum, the Martyrs Memorial Shrine for the changing of the guard, a Confucian and a Taoist temple, and Taipei 101, currently the tallest building in the world. Of the two tours, we found the first more interesting. Jeff was again our guide, but on this tour was much more controlling and seemed to have a need to provide more information than the group was interested in having, and the pacing of the tour, particularly in the National Museum, left much to be desired. The Taipei tour was pretty much the same as that offered by Princess and very standard. Museum enthusiasts would do better to spend more time in the National Museum and less in the other venues. Those with less interest in museums might want to consider alternatives such as the North Coast tour, or some of the other options offered such as the aboriginal village tour.
Okinawa: The ship docks, as usual, out in the container ports, about a thirty-minute bus ride from the center of town. Private tours and taxis are allowed on the pier. On our first stop, we just took the free shuttle into town, walked around the shopping street, and returned to the ship, but on our second stop, we had a wonderful private tour with Yukari Marsh, a lovely lady who also teaches English. (Contact information: Marsh Communication Network, Yukari Marsh e-mail: Website: http://www.marshcnet.com)
We took in the huge limestone caves and the craft demonstrations at Okinawa World. The Eisa Dance was colorful and entertaining with beautiful costumes and lively action. The craft demonstrations had an interactive component, allowing those who wanted to, to participate in pot throwing, glass blowing, weaving, and papermaking. Gift shop goods were above average in quality and there is also an exhibit dedicated to the unique Okinawan poisonous Habu snake, which is also featured in a local specialty sake, which has a preserved snake bottled with, or in, it. It is know as "Okinawan Viagra" and samples are offered. While sometimes characterized as 'touristy' we found Okinawa World both entertaining and educational and we enjoyed it thoroughly. We had toured the castle on a previous cruise, and were looking for something different, and Okinawa World fit the bill.
Shanghai: The ship docks at a container port, at a pier usually used by automobile carrier ships. It is a solid two-hour bus ride into Shanghai, more when the traffic is heaviest. Tour buses and licensed private tour providers are allowed on the pier, but taxis are not.
Tour number one was a ship's tour to Zhujiajiao, a town once known as the Venice of the East. The vast majority of tourists both here and elsewhere in China are mainland Chinese, able for the first time in a generation to afford travel in their own country, and, after the suppression of the Cultural Revolution, clearly fascinated with their own past. People watching was, frankly, more interesting than the rather pedestrian exhibits in the Post Office and the Rice Museum. Our guide was intent on making sure we covered the required elements of the tour, and did not allow much time for just wandering and taking in the atmosphere. The town itself is attractive with white washed buildings with black tile roofs and numerous bridges over winding canals. The tour includes a brief ride in a gondola like craft, and an obligatory lunch visit to a government owned and operated silk factory. Lunch was fair, but the silk factory visit was very interesting, showing the spinning of silk from the cocoons, the creation of silk comforters, and featuring a large selection of silk goods from linens and bedding to traditional and contemporary clothing items. We returned to the ship following the silk factory stop, but, as there were two buses on this tour, and some of the passengers wanted to stay in Shanghai and take the shuttle back, the tours were 'shuffled' with one group returning to the dock, and the other going to the shuttle stop at the Julong Silk Factory in the downtown area.
On our second voyage, there was a medical emergency on board requiring a revision of the itinerary, skipping Nagasaki and including an overnight stay in Shanghai. This allowed us to take the shuttle into the city in the afternoon, visit the silk factory, and walk along Nanjing Road. It took about two hours in horrible traffic to get into town and nearly two and half to get back. The next day, we had our tour of Shanghai, arranged through Beijing Service, and visiting the Pearl tower for amazing views of Shanghai, the Bund, the French Concession, the Jade Buddha Temple, the Yu Gardens and the market. Our guide hit a nice balance of tour and free time and was sensitive to the groups' interests and pace. (Contact information: Website: www.Beijingservice.com Email: , or 

Tel: 008610-87630208/ 51667026, Fax: 008610-87638057/ 51667036
 Emergency call: 0086 13661092071
 Address: No.46, Puhuangyu Road, Beijing, China. Post code: 100078
On both stops, Cruise Director Sammi Baker arranged for an on board show in the evenings (two showings at 6 and 8 PM) from a local school of acrobatics. These talented young people perform amazing feats of flexibility and balance, although not on the same scale as the professional show that is featured in Shanghai. If you wish to see that show, it is easier to do so through the ship's tour office, as the end of the show and the last shuttle back to the ship do not necessarily co-ordinate well and taxis are not allowed past the security gates into the port facility. The walk from the gate to the ship is between three quarters and a mile, assuming the ship anchors at the same location, although it is well lit and there are sidewalks.
Nagasaki: One of a very few places where the ship docks down town, and also the home of Mitsubishi Shipyards, the builders of the Sapphire Princess. As a result, the Sapphire is greeted as a family member arriving home and there are usually ceremonies for the ship involving gifts and plaques, and some kind of community recognition such as bon dancers or taiko drummers when the ship departs. On our first – and as it turned out – our only – visit, we expected that we'd be coming back and planned to do the walking tour of the town, the Glover Gardens, and so forth. We decided that, as the first call was the longer one, we would take the ship's tour to the Shimabara Peninsula to visit the castle, and its adjacent preserved Samurai Village which has exhibits showing the lifestyles of the various classes of samurai warrior, and the village that was inundated by an ash flow from the local volcano. We enjoyed the tour, and wish we had had the opportunity of a second visit as had been planned. By all reports and based on the look around we did have on the way in and out, Nagasaki is an easily navigated port with much of interest in easy walking distance.
Beijing: The ship anchors in Xingang, which isn't close to much of anything, and a solid 2 to 3 hour (depending on the insane traffic) ride from Beijing. Friends took the train from Beijing to the area of the port with some success, but allow plenty of time to get from the train station to the terminal in the port – at least an hour to allow for traffic. Our guide informed us that the train is scheduled to be extended to the port area in the next year or so, so this merits checking, as the train is faster and doesn't have to contend with the road conditions or traffic. Driving in Beijing is like nothing we've seen anywhere else and not for the faint of heart. Drivers lean on their horns, mostly, it seems, to warn other drivers that they are coming up alongside, frequently from the shoulder, which is used as an extra lane or half a lane. Weaving in and out is the norm, and there doesn't seem to be much enforcement of any of the posted regulations. Many of the signs are in English, presumably in preparation for the Olympics, although wording is sometimes quite odd, but it doesn't matter, because the drivers ignore them anyway.
We decided to try and see both the Forbidden City and the Great Wall in our one-day. As the ONLY transiting passengers on the ship, there were no ship's tours offered, but we were allowed to get off quite early – and at 7:30 AM we were escorted off the gangway, at first, with no passports, as we'd been told that as transiting passengers we didn't' need to go through immigration. Thankfully, we were met by what appeared to be an official of some kind who asked if we had our passports with us. When we said no, he said we would, in fact, have to go through customs on our return. The security officer with us then called back to the purser's desk and our passports were delivered to us at the gangway, and off we went for our Beijing adventure. We had to wait about half an hour for our tour guide and driver from Beijing Service to arrive, which should have alerted us to things to come, but off we went. The drive into Beijing wasn't bad, as it seemed we were more or less in the 'counter flow' direction, and it took about 2.5 hours to arrive into the city, and our first stop at Tiananmen Square. This was much larger than I had expected, and was surprisingly uncrowded.
Our guide, Cindy, had given us a general briefing during the drive to Beijing about the history, the buildings we would see in the Forbidden City, and about life in contemporary China. Cindy is a charming young woman from the northern provinces and was quite a delightful and informative guide whose only flaw was a tendency to get ahead of us in the large crowds that we shortly encountered in our walk through the Forbidden City. We were able to see quite a bit, in spite of the scaffolding around some sections of the compound and were able to see some 'before and after' contrasts in the buildings that were undergoing significant upgrades and refurbishment for the upcoming Olympics. After a couple of hours in this magnificent and enormous area, we had to leave to get on with our tour to the Great Wall. There was also an 'obligatory' lunch stop at a state owned and run factory store – we had encountered this previously with the silk factory in Shanghai – this time lunch was in a jade factory, but Cindy had clearly informed everyone that we were on a tight time schedule, so this stop was quite brief, and lunch was quick, but adequate.
On the road again, we passed by a section of the Great Wall that had been newly refurbished, and I would suggest that anyone else who tries to pack in this much stop here for their Great Wall experience. We bypassed this, however, as Cindy said it was 'Just for the western tourists' and went on to the Badaling section. As Cindy indicated, there were huge numbers of Chinese tourists and we joined them in walking a section of the Wall. It was overcast, and very cold and windy, and, checking our time, we decided to give ourselves an extra few minutes towards our return trip and wrapped up our Great Wall tour with a couple of small purchases at the Olympics gift shop and a stop at the ATM and started back for the ship at around 2:45. All aboard was scheduled for 6:30, and we had been told that we needed around 3 hours to drive back, so we had a cushion of around 45 minutes.
We started out in pretty good form, although traffic moving downhill from Badaling was pretty heavy, and we made it back through Beijing in good time, although the driving style was pretty harrowing, we'd at least sort of gotten used to it and our driver had made it so far with no mishaps. About an hour out of Beijing, toward Xingang and still a good ninety minutes away, traffic suddenly stopped dead, with no movement visible ahead of us. After about ten minutes, our driver got out and walked up ahead to see what he could find out, and returned to tell our guide that there was an accident in front of us. We waited a few more minutes and then started to get really worried. Fortunately, we had thought to get the contact information for the ship's agent in Xingang, and Cindy promptly got on her cell phone and began working her way through the agent's office to, finally, three numbers later, connect with the right person in Xingang. She let them know of our situation, which gave us some relief, but there was no assurance that the ship would wait. Still, at least they knew where we were and that we weren't just flaking out somewhere shopping.
At last, about thirty minutes from when we stopped, cars began moving again, and we started our race for the dock. If we had been under the impression before that our driver was aggressive, we had no idea! He was determined to get us back to the dock on time and started squeezing our car through seemingly impossible spaces between other vehicles and pretty much continuously leaning on his horn. We sometimes just couldn't look as he maneuvered through non-existent gaps and created his own lanes along shoulders and medians. Meanwhile, Cindy was in nearly constant communication with the ship's agent letting them know about every half an hour where we were and how long it would be before we arrived.
Somehow, we managed to get into the terminal building at , shaking, anxious, and frankly happy to be in one piece. A hurried farewell to our amazing driver and to Cindy and we flew into the terminal to find the immigration folks who had packed up all their stamps, but were waiting on our arrival. Two of the officials hand lettered our passports, and then sent us through to the gangway, and we were happily back aboard, and ready for a stiff drink. Then, it turned out, there were a few hundred other folks who were also delayed on their way to the ship, so we didn't leave the dock for quite some time. However, we found out later, since the missing folks were all on Princess tours, and had already been 'processed,' the immigration folks left after dealing with us, and an artist who was supposed to be boarding the ship and who was also late arriving was unable to board. To make things even more complicated, he was sent on to Nagasaki to join the ship there, but, due to a medical emergency in the middle of the night, we returned to Xingang, and thereafter, missed the call in Nagasaki. Poor Mr. Mack finally joined us in Shanghai and we realized that that very easily could have been us! The moral of this story is two fold – one – always take the contact information for the ship's agent with you and two – don't try to do more than you reasonably can and allow plenty of room for error!
That said, we DID manage to see both the Forbidden City and the Great Wall, although we'd have been just as happy with the new section, closer to Beijing! And we had a great time right up until the accident. Moreover, it makes a better story than it did an experience, and it gave us a little notoriety on board as people discovered we were 'Those People' as there were evidently announcements on board during our little drama.
We were more than pleased with our tour provider and guide and driver, and have suggested that others wanting to tackle this demanding itinerary be taken to the closer section of the Wall. Tansy was great with the administrative details and Cindy went well above and beyond the call of duty, as did our driver, in getting us back to the ship in time.
Contact information:
Email: ,
Tel: 008610-87630208/ 51667026, Fax: 008610-87638057/ 51667036

Emergency call: 0086 13661092071

Address: No.46, Puhuangyu Road, Beijing, China. Post code: 100078
Is it better to do Bangkok to Beijing or Beijing to Bangkok? Hard to say. There are differences in the timing in ports, and you should be attentive to the stated times, so that the ports you are most interested in are the ones with the longer stays on your itinerary – Bangkok to Beijing has more time in Nagasaki, for instance, while the Beijing to Bangkok route offers more time in Vung Tau. Bangkok to Beijing has more effective time in Singapore, due to the shuttle and traffic patterns. In either case, you have wonderful beginning and ending ports, both well worth extended pre and post cruise visits. Bangkok may be slightly easier as an embarkation port, and has fabulous five star plus hotels for quite reasonable prices compared to pretty much any other major city in the world. Immigration formalities are handled quickly and efficiently and the new airport is easy enough to negotiate. Bangkok was a wonderful precruise stop for us, with colorful and beautiful temples and shrine, terrific shopping opportunities, and lovely gracious people. We plan to return for a land based trip some time.