Cruise Line: Princess Cruises
Ship: Grand Princess
Sailing Date: December 3, 2005
Itinerary: Round-Trip Galveston, TX to Costa Maya, Belize, Grand Cayman & Cozumel
Part 1...
Review of Grand 7-night cruise - Round-Trip Galveston, TX to Western Caribbean
I chose this cruise because my husband is a scuba diver who always talks about diving in the Western Caribbean, and Galveston is the closest Caribbean embarkation port to California, where we reside. You'll find in reading my reviews that there are many short cruises, cruises I'm taking with the primary purpose of evaluating a ship or a cruise line as an agent, or cruises were seminars or cruise training are the main focus. I can say this is my first vacation cruise for 7 nights I've taken since my honeymoon two years ago, and it was a FABULOUS vacation!
Itinerary:
My reviews generally go in chronological order, starting with pre-cruise and pier comments and then discussing various parts of the cruise, the ship, and the ports. In the case of this particular cruise though, I think it's important to begin with the itinerary and the ports. Even though I had a GREAT time, there are going to be some folks that came off my very same sailing vowing to never sail Princess again. Making comments about how terrible it was, etc. With that in mind, I'll discuss the itinerary and the mind-set needed for this itinerary.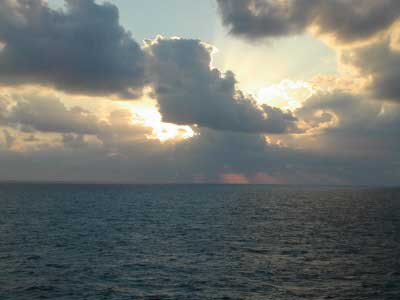 First, I'll start with different cruising mentalities. Being an agent, I generally see two distinctive cruising mentalities – "Ship" people, and "Port" people. This is a gross over-simplification, but just go with me on this. I'm most definitely a "ship" person. To me the ship IS the destination. I'm going on a cruise to be served, pampered, to relax, and to leave my day-to-day work and worries behind. My vacation begins the minute I step foot on the ship, and I wouldn't mind a cruise that had no port stops. I take frequent coastal trips with no port stops to just "get away from it all", and I'm really looking forward to someday going on a specific transatlantic cruise with no ports-of-call. I'm always happy to just sit and read my book, and I love going to the spa. Relaxation, pampering, overall value – that's why I am addicted to cruising.
There are a lot more "port" people out there though. Folks like my husband. He wants to always be on the go, always see something new. He wants a port every day and lots of activities on sea days. To him, the ship is simply a mode of transportation to get to specific ports.
I don't think this itinerary is a really great one for the "port" people, even though the ports are great. The times of them are very strange for this 2005-06 season:
Saturday depart Galveston
Sunday at sea
Monday Costa Maya, Mexico, 10a – 7p (ship docks)
Tuesday Belize City, Belize, 6:30a – (tender)
Wednesday Grand Cayman, 11a – (tender)
Thursday Cozumel (tender due to hurricane Wilma destruction of piers)
Friday at Sea
Saturday arrive Galveston very early, Express disembarkation began , we were the second color group off – about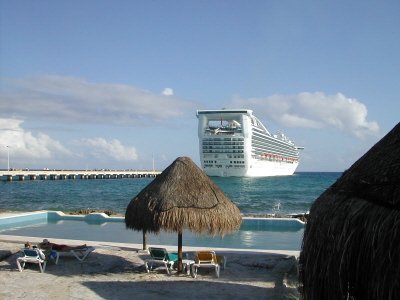 OK, so Costa Maya made everyone happy. The port time was long, we docked, the pier facilities were great (newer), etc. The port times in Belize were short and terrible. You had to get up SUPER early (who wants to do that on a vacation?), and the last tender coming BACK to the ship was . Let the complaining begin! Next was Grand Cayman, where were seemed to be a few moments late arriving, tender operations were slow, there was chaos on the pier, bumper-to-bumper traffic along the main thoroughfare to and from all excursions, and folks generally just said we didn't have enough time there to even enjoy it. We arrived around and the last tender back was . There were SIX ships in port that day, including us. I didn't have time to shop, but I heard wall-to-wall shoppers along the streets made for an unhappy day all around – be it on an excursion (as we did and I'll discuss below), or just off the ship on your own. And our last port was Cozumel where there were four ships floating off shore and tendering in. Even though our technical time in Cozumel was and the last tender was , it was a nightmare again. Folks not on Princess-organized excursions had to get a tender ticket to get off the ship, and the tender ticket numbers went into the thousands! They were still calling numbers at . And imagine the lines to get back on the ship at the end of the day! Just terrible. With super-big ships like the Grand (2,600 passengers) I just think it would be better to avoid Cozumel until the piers are rebuilt.
So, as you can see "port" people were quite unhappy with this whole trip. Tendering that many people just takes too long. Lots of waiting. Frustration. And it makes Princess look bad. If you're a port person, and you don't have a "go with the flow" type of attitude, then it would really be best for you to skip the Grand Princess cruises for the 2005-06 cruising year that goes through April of 2006, and do this sailing in 2006-07 (late 2006 until April of 2007). Amazingly, the 2006-07 cruise has great port times, full, somewhat "normal" full days on an itinerary that only has one port difference – sea, Costa Maya 10-6, Roatan 8-5, Belize 7-5, Cozumel 8-6, sea.
Then again, if you're a "ship" person, like me, you'll have a super time! I loved it totally. The crew on the Grand has a great attitude and the service was great. I thoroughly enjoyed myself! And I stayed on the ship four days and got off at two ports.
And one last comment about the itinerary, that might belong more in the "cabins" section, but I want to be sure folks read it up-front – crossing the Gulf is not a super smooth ride. We had gentle rocking in our amidships cabin, but there were lots of comments from others after the first night of the cruise saying stuff like "Wasn't it rough last night?". My guess is these folks had a cabin close to either the fore or aft. I'd put a little extra emphasis in getting something close to the middle on this ship. (That means middle front to back AND middle top to bottom.) There was a storm over parts of Texas that was giving us a pretty good swell our entire last sea day as well, but we spent most of that in the center of the ship in the public areas.
Pre-Cruise in Houston/Galveston:
Many folks drive to Galveston from various parts of Texas, so you can expect a lot of friendly Texans on this cruise if you go. If you're flying in, realize there are two airports (Bush "IAH" and Hobby "HOU") and Houston is a pretty good haul from Galveston, the quaint island community. It's about 1.5 hours to 2 hours one-way from Bush to the pier and 45 min to 1.25 hours from Hobby.
My husband and I flew down the day of the cruise embarkation and back after disembarkation. This is not the norm for me, as I always preach to my clients to fly in the day before so you don't miss the ship. However, since I was actually flying in same-day, I took the opportunity to test out the Princess transfers. At Bush, a Princess/Carnival rep will greet you at baggage claim and direct you to the shuttle desks. There, you check in and wait for the next bus. They fill one bus at a time, so you might arrive when a bus is nearly full, get right on, and go. We had just missed the prior bus, so we had to wait a half hour for the next one to come along, and then wait for it to fill before we departed. I believe we waited 1.5 hours from touchdown of our plane to departing Bush. The ride is nothing to write home about, so sleeping and reading are good pastimes. ;)
The port of Galveston is quite a disorganized place though. They only allowed two busses to pull up to be unloaded at a time. SO, when we arrived, with the check-in lines and the ship right in our sight, we sat on our bus a full half hour waiting for our turn. And then we waited for our bags to be off-loaded, confirm we had proper tags on them, and then were allowed to leave them with the porters to begin check-in.
I didn't enjoy it at all, and would suggest you arrange for your own transportation with Galveston Limo when you go (they do shuttle transfers for the cruises, not just limos as their name implies).
I also had clients on this same sailing, that took my advice and flew in the day prior and stayed at the Hotel Galvez in Galveston a night. They enjoyed the hotel and the ride over to the pier was organized and delightful on embarkation day. They did say there was some confusion with their private transfer when they arrived at Bush (they had to wait a long time, as we did, to depart – and then Princess ended up paying for a private taxi for them).
Galveston Embarkation:
This was a typical, smooth, Princess embarkation. We had our passports ready, our credit card ready to be imprinted, and our cruise card signature form signed. We had to complete the now-standard "have you been sick lately" form, but everything was very fast. Of course, I'm a Platinum Captain's Circle member, so I got to go in that express line, but even the regular line that wound back and forth seemed to go pretty fast.
We did hit a couple snags once we got onboard that I can give you a heads-up on though. First, we had originally registered a credit card in the online Cruise Personalizer before we left that we later decided not to use on the ship. Right before the cruise, I went into the Personalizer and changed it, and then when we checked in gave the new card also. However, my husband's account was never updated, so he got a notice one day saying is card didn't work and requesting him to go to the purser's desk with a new card. Just remember that the paper you sign when you check in is just paper, and even though it's stupid in the passengers' minds, they are going to keep using that card you registered a long time ago online. If you've changed your mind at all between the original card you registered online and the one you want to use on the ship, I'd suggest you stop by the purser's desk early in the cruise when it's not busy and just make sure they intend to charge the one you want.
Another thing to do early in the cruise is to stop by the purser's desk and make sure they know when you flight is if you've got one out the same day the cruise disembarks, and make sure they know you have Princess transfers if you do. Folks with Princess transfers and folks that tell Princess they have early fights get off first. Since I personally, as an agent, told Princess my flights and I figured they would obviously know I had their transfers, I didn't bother stopping by the desk early in my cruise (even though paperwork I got from Princess as a passenger told me I should). Well, when the disembarkation colors got passed out, I got the standard color for my deck and not the early color to catch the Princess bus. So, we had to go get in the BIG line at the purser's desk the last day and get it straightened out. Charles (hubby) took care of this while I packed, and he said they even had our flights in their system already, but it still took us asking to get the early color. Isn't that something? So, just keep this tip in mind that the trip the purser's desk to remind them of your transfers or flight times early in the cruise, to save yourself standing in the big line later in the cruise.
First time cruisers take note: no matter what the official boarding time is on your ticket, , , whatever, always try to show up at to . Most lines will let you on early. You avoid some lines of those that don't know any better and actually show up at the 'official' boarding time AND you get to get on and start your vacation sooner!
Dining & Dress Code: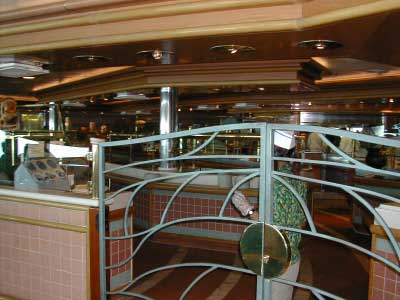 This 7-night sailing has two formal nights, as all Princess 7-night cruises do. The first one is the first sea day, the second night the cruise - Sunday. The second one is still under discussion apparantly. We were on only the second sailing of the Galveston itinerary for this season, and we had our second formal night on Wednesday, after Grand Cayman. This was tough, rushing back from the short and stressful afternoon in Cayman to get dressed up. In the first week, they had the second formal night on Belize Tuesday, since it gives lots of time after that short morning in port to get ready. This upset a lot of passengers apparantly though, as having it Sunday and Tuesday so close together didn't make a lot of folks happy. They thought there should be more of a break between the two formal nights. On a "normal" cruise, the second formal night is usually Thursday if it fits into the itinerary well, but Princess is trying to avoid that Cozumel day apparantly because Cozumel has the reputation of a "party" port and the sailing time is .
We thought the food was excellent. The service was very good (some waiters excellent and others just OK). We had Princess' Anytime Dining, which means we could go to one of two main dining rooms off the atrium any time during the hours it was open and request a table – like dining at home. Evening dining was most days.
We ate breakfast in the buffet all days, and loved the selections. Princess usually has both "sides" of the buffet open for breakfast and lunch, so there is less lines than other ships. Also, they don't have a singular serving line. They have "stations". You can enter the buffet from either end, and head straight to the island with the items you want. You do NOT have to get in a main line for everything. There is a main hot food section of the buffet that can generate a line, but most of the buffet is free-flowing. Folks not used to this can get a little snippety, but as long as you don't truly cut into a line for a specific station, you're in the right! And keep in mind that a line to get a plate is usually not really necessary! Remember there are two entrances to each buffet and two "sides" of the ship that have buffets. If most folks seem to be streaming into the buffet from the center/pool area, and going to the starboard buffet, then maybe the starboard aft entry is better, or go across to the port side buffet and see if the line is minimal there.
Standard stations for breakfast include a center station with cereals, another with juices and milk, one with toast, potatoes and some meats and other things, a center "egg" section that has eggs cooked many different ways, also usually has pancakes and waffles, a section with bacon, sausage, hash, other meats, and grilled tomatoes, oatmeal, grits was offered on our cruise, fruits were at one station, and rolls and dessert type items at another. Then there as condiments in bowls in other sections. (We didn't ever try the dining room for breakfast as we never wanted to take the time or got up too late.)
For lunch, the buffet, the dining room, or the trident grill by the pool that served pizza, burgers and hot dogs were all good. We tried all three on various days. There was different selections in the buffet each day, and, to be quite honest, we didn't have a full lunch on most days. We often had a late breakfast, a small lunch or snack, and then dinner in the dining room.
The Grand has the 'pay extra' ice cream bar near the pool. Some folks have a fit with this, but remember that the buffet serves ice cream as well from to or each day. So, if you really want ice cream, you don't actually have to pay for it. You can get it in the dining room for lunch or dinner, and in the buffet in the afternoon. Keep this in mind when you've got kids! They'll be seeing the fancy "pay extra" ice cream bar, but you can steer them to the buffet for "create your own" that might be more fun! <wink wink>
The unlimited adult soda card was $3.95 per day + 15% tip for this cruise. I think it's a good deal for a soda drinker on Princess, so my husband always gets one.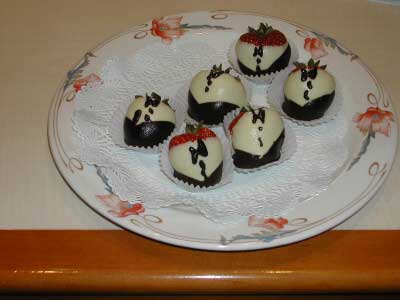 Lastly, as a personal obsession, I nearly always order chocolate covered strawberries for myself when I cruise. I usually have them waiting when I arrive, but sometimes order them once onboard. On Princess, when you order them onboard it takes a day to get them as they make them fresh. I did order mine the day I got on to be delivered the next day, as the next day was formal night. On formal night, berries come decorated with little tuxedos on them, and it just really makes my day! Another good thing about most Princess ships is that the rooms come with mini fridges so you have somewhere to keep them fresh if you don't eat them all (6 for $10) on the day they arrive.
Remember when you're on any Grand-class ship that you need to transverse the ship front to back on Deck 7. You can't go front to back on Decks 5 or 6. If you have traditional dining in the Botticelli Dining Room, you'll need to go down the aft stairs to reach it. And another tip I give for those that have PC or Anytime Dining is that most of the time the Deck 5 dining room, Michelangelo will have less of a wait than the Deck 6 option, De Vinci. Also, remember if you have PC Dining that you can make reservations in advance to save on wait time. (I didn't have to wait once the whole cruise by the way…and I only had reservations four nights, and walked up when I was ready three nights.)
Cabin:
We had a Category BA, Balcony C315 on the Caribe deck, amidships. I often suggest these to my clients, as they have the largest balconies on the ship, but it was my first time trying one myself. I loved it! Caribe balconies are half covered from above (near your slider) for privacy and some shade possibly, and open to the sun near the railing. They have two sitting chairs, a bigger round table, a small square table and two more loungy type chairs (even though they're not full-on flat loungers). Lots of room out there.
The room is a standard Princess balcony, which you can get configured with two twin beds or have them pushed together to make a queen. Most folks complained that the crack between them was terrible and difficult for "togetherness". We had ours in the twin configuration, so we wouldn't know. We tend to be restless with the motion of the ship, and sleep better separately. I also suggest twin configuration if you've got an inside cabin (if you don't mind it). Having the space between the beds makes most rooms seem more spacious.
Upon arrival in the room, we requested complimentary use of bathrobes (all cabin types can ask for this – it's not a benefit of having a bigger cabin or being a past passenger). We also asked right away for our beds to be separated, and asked for "egg crate" foam pads to make the bed more comfy. And we checked the pillows for firmness. On some ships and hotels we stay in, the pillows are too firm and fluffy for us, and we ask for flatter or down pillows. These pillows were actually fine. And even though we told our steward Joel that the second night would be find for room re-arranging and the foam pads, he had it done within hours of our request, along with the robes. I have to say that this is one of the reasons why Princess is where I take my personal vacations and recommend it so much to my clients. Prompt, efficient, service. This is why I take a cruise. And I have really high expectations. Whenever I sail another line that doesn't measure up, I get really disappointed.
Something strange I noted about this cabin was that it had a smaller closet than most Princess ships out there. I've sailed three times on the Star Princess, Grand Princess' near-twin, and toured most of Princess' newer ships, and they nearly all have a closet that goes ¾ across the room, really big, and serves as a divider between the bedroom part of the room and the bathroom area. This closet was actually next to the bathroom, so it was much smaller. It was still fine, but I really like the "other" kind where you have room two walk around and change in the space between the closet and the bath.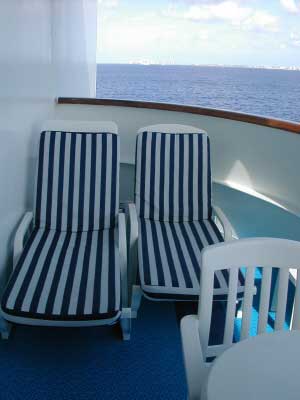 The mini-suites onboard actually do have the "normal" closet configuration I'm used to. Some online friends of mine that I met in person for the first time had the "infamous" E728 on the Emerald deck and I got an opportunity to hang out with them there a little. You'll have to look at a Grand deck plan to see why this cabin is special. It's the last one on the side, toward the aft of the ship, and it had an extra-big balcony that extends (see left). They did say that the sound-proofing is not very good between the Vista Lounge below them though, and they didn't really appreciate the noise that went late into the night. I stopped by their cabin one evening when there was a show going on downstairs, and the floor in the hallway was vibrating with it, so I can't imagine trying to sleep there.
Another gem that I already knew "of" but hadn't viewed first-hand are some inside cabins that are extra-large on the Aloha deck. These same friends had tried one of those, and were saying wonderful things about it so I made a point to stop by and look in on disembarkation day and was very pleased. If you like insides, try to get Category II A516, A508, A517 or A507. Very spacious! You need to be one of the first to book a cruise to nail one though!
Entertainment:
The quality of the entertainment was good. We spent a lot less time at shows and such, as compared to our previous cruises, because we've recently become poker-obsessed. I'll get to that in a minute. We saw the production show "Curtain Up" on Sunday, even though we knew from the first set that we'd already seen this show. It had been a while, and we enjoyed it anyway. We also went to "Magical Showtime" with Chip Romero on Wednesday and he was quite good. He had great magic and some comedy mixed in. Funny, looking back, it was the two formal nights that we ended up going to the main show.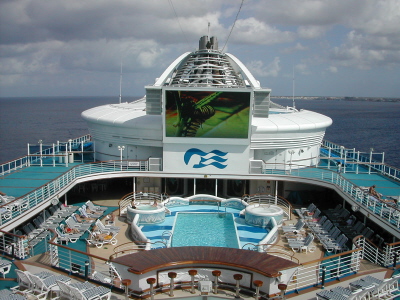 Of course, one of the "big" features of the Grand Princess now is "Movies Under The Stars", commonly referred to online is "MUTS". Of course, I wasn't sure what to make of it until experiencing it myself. They have a big LED poolside movie screen above the main Neptune's Reef pool. They play some movies in the day, some big sporting events, etc. One of the things that worried me when I'd heard of it, was that there would be blaring TV noise all day by the pool. That wasn't the case. As many have said, the sound seems to be contained to that one pool area only. So, you can choose to go there, or not.
In the evenings, they have the true MUTS experience where they put slip-covers with cushioned headrests on the deckchairs, arrange all deckchairs on lower and upper levels in rows pointed toward the screen, rope off the seating area so folks can't walk in front of you, and serve free popcorn. Almost like a drive-in! They also have a blanket on every seat, just in case you need it. They ask that you vacate the area an hour before show time so they can get it set up, and I'd suggest you arrive a half hour to fifteen minutes before show time to get a seat.
The selections during our sailing were new releases mixed in with some nostalgic stuff – college football on Saturday, "Bewitched" Sunday, sing-along with "Wizard of Oz" followed by "Monster-In-Law" Monday, "Batman Begins" Tuesday, "Wallace & Gromit in the Curse of the Ware-Rabbit" Wednesday, "Charlie & the Chocolate Factory" Thursday – which we watched --, and music videos of Tina Turner, Tom Jones and Beyonce on Friday.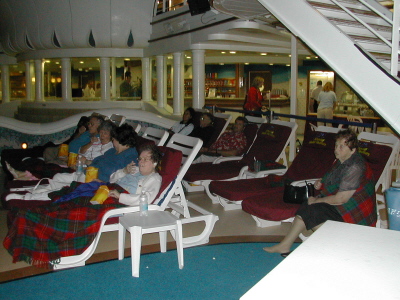 Overall, I really liked it. If you want to try Princess' MUTS, the original ship to have it straight from the shipyard is the Caribbean Princess. Once it was such a hit there, they announced it would go on "all" Princess ships, as they rotate through dry dock, but I'm not sure if they're really going to do that in the end since it's such a difficult installation. So far, they have it on Grand Princess and the Sea Princess.
Daytime activities varied, trivia contests, scavenger hunts, the usual art auctions and bingo, dance lessons, ice and veggie carving demonstrations, etc. There was a lot to choose from for most folks. We chose to do one dance lesson and beyond that just spent our spare time reading (for me) or playing poker together when we were at sea.
The poker lounge:
Just in case you missed it, poker is "all the rage" now, thanks to the televised "World Poker Tour" show in the Travel Channel and the "World Series of Poker" being televised on ESPN. Since then, there are off-shoots of many poker shows on TV, and they've made many poker "wanna bes" out of regular folks like my husband and I. It's our main pastime for leisure now when we're at home (playing online or watching one of these shows on TV), and we're very fortunate to live in California near some of the largest card rooms in the world. We go regularly, and read strategy books to improve out game all the time. (No point in playing if you aren't playing to win!)
SO, Carnival Corporation has gotten the drift of this new trend and has been adding poker lounges to their ships pretty quick. Many Carnival brand ships have them, and Princess has them on three ships so far now – Grand, Diamond and Sapphire. What they've done on the Grand is convert one section of their casino into the "poker lounge" where they offer low-limit Texas Hold 'em if folks are interested in it. They have four tables on the Grand, and they SAY they'll offer limits of $3/$6, $4/$8 and $5/$10 cash play games, but we never saw anything but $3/$6 get rolling on the whole cruise. Folks didn't seem interested in the higher limits. The house takes 10%, with a maximum of $5 and a minimum of $1 from the pot in the $3/$6 game. We frequently had enough players for two tables in the evening.
They had a "side promotion" going on that may or may not always be there. They had some "signature hands" on a board by the wall. If you got one of the specific poker hands on that wall, in either a cash game or a tournament, you won Ocean Players Club "stuff". I hit one and got a floppy hat. I was SO excited. Until I hit the hand, I didn't even pay attention to the sign on the wall about the signature hands! I looked once they gave me the hat though. If I'd made a second one I would have gotten a nice t-shirt, and if I'd hit three of them I'd have gotten a nice denim shirt like the dealers wear. The signature hands were varied – some full houses, four of a kind of certain numbers, and some very specific straight flushes (like 3-7 straight flush would win, but not the 4-8 variety).
They tout a "main event" limit Hold 'em tournament to be held on Friday that is an $80 buy-in ($65 for the prize pool, $15 for the house) throughout the cruise. And early-on in the cruise they have single-table tournaments to enter it. These cost $15 each, and only the winner gets a "seat" into the main event. Doing the math in that, I'd not suggest these. They are taking $15 x 10 people, and only giving an $80 prize with it, keeping $70 for the house. That's not an acceptable ratio in our minds.
On the third night and forward, they had a single-table "sit-n-go" cash tournament at . This costs $30 to enter, 10 people maximum, and if they get a lot of interest, they might have two at once. You can sign up all day on the day the tournament is going to happen, and then you show up at and pay your money to play. The prizes were paid to the top three - $50 for third, $75 for second, $130 for first. On the first night they offered it we both played, Charles eliminated me in fourth and won the tournament himself. He got a silly little Princess metal and the cash. (And much grief from me of course.) After that, we decided it didn't pay enough really, and we stuck to the cash games at . The single table tournaments and satellites are "No Limit" Hold 'em you see on TV most often.
We did both enter the main event on Friday, paying $80 each. Funny, the main event was a LIMIT Hold 'em tournament, much less popular than No Limit is. Anyway, there were 22 total entrants, and, again, it paid the top three. The blinds raise every 20 minutes, with a break every hour. This time Charles got fourth, and I got third. Once we were down to the final four, with us being two of them, we were guaranteed to make a profit overall and were quite pleased. I ended up third. The payouts were 50% for first, 30% for second and 20% for third. I was paid $286 from the prize pool, plus I got a t-shirt that is bright and obnoxious that says "Casino Winner" on it. (I love it.)
Overall, it was a fun time. They are still trying to figure out their procedures and what schedule to have their events and such on in the poker room, but they're working on it. They were much better than the absolute fiasco of poker we experienced on the NCL Spirit last month, but disorganized enough to frustrate someone who regularly goes to top-quality poker rooms where the rules are firm and the dealers are experienced. I'm looking forward to sailing on the Diamond next October, when Princess will have a year under it's belt with poker.
You can find out which ships have poker rooms added by visiting www.oceanplayersclub.com for updates.
This review is continued in Part 2 (a separate page)
Please remember to contact me, Suzy, if you're interested in booking a cruise. Not only do I write detailed reviews, but I take care of all the details when I book your vacations as well. Please hit "Contact Us" at the top of this page.