HEDONISM III – RUNAWAY BAY, JAMAICA
Log and items of note for future trips
Our trip – Friday, June 26 – Monday, June 30, 2003
Flying into Montego Bay, Jamaica
On the plane you will be given an Immigration form and a Customs form to fill in while in-flight. You will need your passport numbers for this, so keep them out and handy – not packed away in the overhead compartment.
As you deplane, you will go down the rolling staircase to the tarmac, and directed to which hallway to walk toward immigration. When you arrive at immigration, skip over the first couple lines that are reserved for the locals, and head for one of the other ones. Apparently lines can form here and the ones furthest from the doorway could be shorter. We didn't have any problems with lines upon our arrival from LA. You will need to turn in the immigration form here.
Next you will proceed downstairs to claim your luggage, and then go thru the customs officers with all your stuff. If immigration takes a while, you might find your bags on the floor near the luggage movers rather than still going round and round them. Don't panic, just look around. (We didn't have problems with this at either, but we had been advised of this from others.)
Once you go thru customs, you will walk out into the meet and greet lobby where a friendly person will ask where you are going and help you find your ride. Just FYI, all SuperClubs transferees are instructed to go to the SuperClubs desk down the hall to the left (it's right there visible – no biggie). Some of the other big resorts have kiosks or little rooms with their names on them as well.
Transfer to and from the resort
The guys at the SuperClubs desk sorted out everyone according to which resort we were going to, and then decided which bus or van to use to transport us. For example, there were exactly 7 of us going to Hedonism III, so we went in a 7-person bus. The ride is very scary, so be prepared. They drive crazy, and on the left side of the road, and if you don't want to watch, I might suggest the back of the bus/van.
You will be expected to tip the guys at the airport who haul your bags 100 yards to the proper bus, and also the driver of the bus once you arrive, as they are not associated with the resort.
When you check in, you will need to turn in a pre-registration form that gives your return flight info. I got mine with my travel documents, but they were also handing them out at the airport to those waiting to get on the busses to the various resorts. Be sure you have this done when you arrive.
The afternoon before our departure from the resort we were given instructions as to how the whole procedure would work to get us back to the airport. Wonderfully, Air Jamaica had an actual airport check-in desk AT our resort. We were instructed to put our checked bags outside our room by X time, and to check in for our flights at another time. When we check in, our bags are sitting there in a holding area and we identify them so they can put our proper airport sticker on them and then we never see them again in Jamaica! Then, we were instructed to catch a bus in front of the resort at a specific hour to take us back to the airport.
The resort works the transfers back like clockwork, completely filling a greyhound-sized bus with folks from our resort and two other SuperClubs along the way. THANK GOODNESS for that Air Jamaica advanced check-in. The line at the airport is longer than I can possibly explain. I feel sorry for those staying at smaller resorts who don't offer the on-site Air Jamaica check-in!
Also of note, when you arrive you only see a very sparse airport with little facilities. When you are departing, there is duty-free shopping and a Margaritaville to keep you entertained in the departure side. Very lively!
Be prepared to possibly pay a departure tax when you check out to leave. We had paid this in our travel package, but I suppose there are some that go that this may not have already been prepaid. I think it was $27.
HEDONISM III
Check-In Day
As previously mentioned, have your pre-registration form ready. Also, if you arrive before , be sure you have your swimsuit or other lightweight wear on under your traveling clothes as you won't be able to get into your room until about . Since we arrived at 7+am, we had a long time to wait in the hot, humid weather with our traveling clothes on. Keep your sunscreen handy too, and then just run off and jump in the pool! The towels are in wooden structures about 3 ft high at all 3 pool areas, and also at the main beach equipment desk.
If you want to dine in one of the reservation-only restaurants, Pastafari or Munahana, ask immediately if there are any reservation spots available. You can only reserve them a day in advance, and they fill up quickly. We didn't learn this until it was too late on our first day.
Once you are allowed to check-in, be sure to ask for the keys to the safes in your room. They have little safes with removable locking mechanisms/matching keys. The keys and locks are free (as long as you don't lose them I presume), but it's better to have these when you head to your room the first time rather than having to go back to the desk for them.
They have a paper that lists all the activities and themes they will give you when you check-in – and it's also posted out in the main patio area. Be sure to check it out when you arrive so that you don't miss an activity you really would like to participate in!
The pools / beaches clothing rules
The main pool and beach area that you see when you arrive at the resort is for folks with swimsuits (like other resorts) and/or cover-ups. You might see a topless person here, but its mostly just regular stuff unless they are having a photo shoot or some other activity. (They seem to do these in the afternoons.) This part of the resort is called the 'prude' area in the list of resort activities.
The most notorious area is the "nude" pool and beach area. Hedonism II has given this section a bad reputation, but Hedo III is a lot less "interesting". In this area no clothes are allowed, so if you go there, expect to strip or be asked to leave. Mostly, you just see a lot of folks sunning without the tan lines! The nude area is pretty small in size, so if you want a deck chair we've been told you have to stake it out early. The nude side is on the opposite side of the resort from the prude side – completely separated. Very easy to avoid if you don't want to deal with that kind of thing.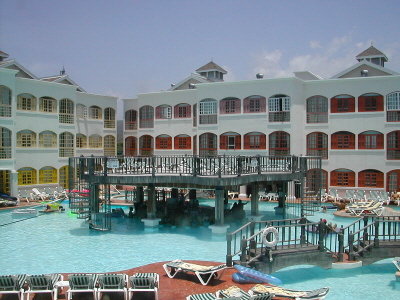 Our favorite pool area is the "quad" pool. Our room was here. There are four sleeping quarter buildings in a square with a very large pool in the center. The pool has a swim up bar that is shaded by a wooden sun deck in one section. There are also lots of little bridges and islands in it, and that makes it fun. The quad is clothing optional, so depending on the mix of fellow guests, you might see lots of nudes or lots of suits! Topless ladies with g-string bottoms will feel very at home here.
All three pools have volleyball courts in them and swim-up bars. The nude side has a grill also, so you can just swim up and eat AND drink there without having to put clothes on to go to the regular buffet. SuperClubs is super-inclusive, including the alcohol, so there are 7 bars on the resort to serve you! And don't forget your own blow-up raft if you want to float in the pool all day.
Water Sports
If you want a hobie-cat ride, or want to check out a kayak, you can do that for free on the main beach. There are also scuba and snorkeling excursions, all free. If you want to scuba, you have to sign up at the beach the day before you want to go. They also had water-skiing and a couple other things, but I didn't try them so I can't give much detail.
The waters around Hedo III were pretty rough, right on the open ocean on the North Shore of Jamaica, so it didn't look too inviting to me. Be prepared for this if you go there, as I don't know if it gets calmer than we saw it other days. From my viewpoint only the scuba diving was a viable ocean activity.
There is a sheltered cove on both the main and nude beaches for swimming. On the main beach it's roped off so the motor boats can't go into the swim area. On the nude side, there are no beach toys so it's just swimming over there.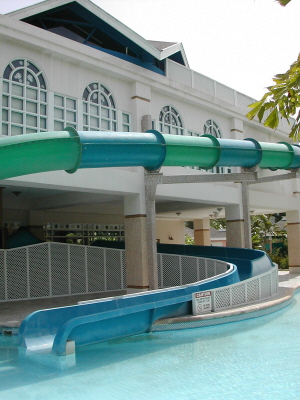 THE BEST thing about Hedo III was their water-slide. This is in the main pool area and is not to be missed. We slid over and over both afternoons we were there.
Excursions
There are lots of excursions you can go to from Hedo III, as it's right by Ocho Rios. There is an excursion desk in the lobby, so check it out when you arrive. We decided not to spend the extra money and just enjoy the resort while we were there. However, horseback riding in the surf, swimming with dolphins, shopping, river rafting, and more is close by!
Dining
The main place to eat on the resort is the buffet. It's open for breakfast, lunch and dinner. The choices are varied and include some American staples as well as some Jamaican ones.
For grill food in the afternoon or evening you can try the Scotch Bonnet on the waterfront. They specialize in Jamaican food – jerked meats are available here. They also have pretty good burgers for those who can't handle the Jamaican spices.
For dinner you can reserve Pastafari or Munahana. Pastafari is a pasta place we heard wasn't too terribly good. Munahana is a Japanese place similar to Benihana in the states. We ate there two nights and it was pretty good.
Entertainment
Each night there will be a "theme" for the dress code (check the daily schedule) and an entertainment show about . Don't expect a 5-star extravaganza, but expect to have fun!
The Octopussy Disco opens at nightly, and is definitely the place to be if you want to see the evening sights and work off all that food! Of course, swimming and hot tubbing are still popular at night also!
Lodging facilities
The rooms are located in 9 "blocks". There are only two room types, as far as size and amenities. There are standard rooms, and suites.
Standard rooms are pretty spacious and have a huge bed, 6 drawer chest with closet space, desk with coffee maker, TV with VCR built-in, am/fm/CD player, digital alarm clock, sitting area with a love seat for two and a coffee table, and a large bathroom with a 2-person Jacuzzi tub with shower above it. The entire room is tiled, so don't forget your slippers! And be prepared for the mirror above both the bed and the bathtub.
Suites are exactly the same except they have a slightly larger sitting area that four could sit in.
The blocks are segregated as such – two in the main area, two facing the nude area, one between the main and nude area, and four making the quad. We had the quad and liked it the best. Block 3 or 4 would be my top choice as they are the two closest to the rest of the resort. However, the whole resort wasn't that huge – plenty big, but you never felt like you were at the other end of the world from anything.
Clothing and theme nights
We were disappointed that the website didn't have the same nightly themes as when we actually arrived. I think I would call the resort and verify next time before I go.
Regardless of the theme, skimpy resort wear would be appropriate. Its hot and humid there, so you don't want to wear anything heavy. There really isn't any indoor areas, so forget your formalwear at home! Take shorts and shirts for men and sundresses for women. Or, go as bare as you dare. Lots of folks wore lingerie in the evening, which always seems to be OK at Hedo III. The nightclub has black lights, so white things are especially neat.
Other facilities / operational issues
The room keys were Ving cards – you know, those cards with patterned little holes. They are slightly narrower than a regular credit card and you always need to be carrying yours around with you. Remember to bring a lanyard or something if you want to.
You need cash to buy things at the resort. Nothing gets charged to you room except the laundry service. We thought this was a pain, but oh well. So take your money with you to the gift shop and to the photo gallery (they took a few photos of us that we could purchase – but not an overwhelming amount).
The laundry service was quite good, we used it. They say to give a 48-hr turnaround time, and they beat that. It was very reasonably priced as well.
They had spa services, which are provided in tent areas with huge fans in the garden area. We didn't use this, but the price list is found in the main lobby area. (There is no type of hotel directory / book in your room.)
They also had a nurse on staff there in a small building in the garden area. The nurses are quite nice and will help you with anything you need. We were instructed to take our used needles (prescription drug required) to the nurse, and we could also get medicine there. Charles sprained his knee dancing the second night and she gave us an ice pack. If you are not feeling well, you can get free Pepto-Bismol and stuff there. Very nice.
Click the logo below to book YOUR Hedonism vacation! Look for "Check Availability/Book" to the right in the offers, or go back to the main Vacations page and click on the "Book your Dream Vacation" box.

SuperClubs offers All-Inclusive Resorts in the Caribbean and South America.