Cruise Line: Princess Cruises
Ship: Star Princess
Sailing Date: June 15th, 2002
Itinerary: Voyage of the Glaciers - Southbound
I will give a review of our total vacation, which was 11 nights. We did three nights pre-cruise on our own and one night post-cruise. I traveled with my boyfriend then (husband now), Charles - just so you know who the "we" is. :)
Hopefully, you will glean many helpful tips from this review. As I start, you can expect this to be long, so be prepared! I will break it down into sections so you can skip what you wish.
5/06 added notes – Some people who have never been to Alaska underestimate the vastness of it. To really see what Alaska has to offer, it's important to spend some time on the land and some time on the sea. Many folks pressed for time fly straight to Anchorage, hop on a bus, go straight to the ship in Whittier or Seward, and cruise southerly away from all that the Great LAND has to offer. Then they get on the ship and hear folks who did the land before getting on the ship are realize what they've missed.
Truly, the best way to see Alaska is to do a cruisetour. This combines an organized tour of the interior, and most importantly Denali National Park far up into the center of the Alaska land part of the state, followed by the cruise south afterwards. This is why the cruisetours are so popular and sell out so fast.
In my review of my 2002 Alaska cruise below, I discuss the cruise and a 3-night pre-cruise I did to one PART of Alaska, the Kenai Peninsula. In August, 2006 I did a land tour only into the interior of Alaska, visiting three of Princess Lodges that are the heart of most of their cruisetours – the Fairbanks Princess Riverside Lodge, the Denali Princess Wilderness Lodge, and the Mt. McKinley Princess Wilderness Lodge. My land tour was just like the land portion of one of Princess' cruisetours, just without the cruise after. Click here for the Alaska Land Vacation Review.
The Alaska Cruise Companion
Before our plane ever took off from our home airport in Oakland, CA, I had already read the Princess-commissioned book "The Alaska Cruise Companion - Southbound edition" by Joe Upton. Rather than waiting to buy and read it on the ship, you might want to do as I did and look for a used copy. It read like a book and was very informative about Alaskan history, culture, personal stories of Mr. Upton (AK resident) and tales of events that had happened in the past. You probably won't have time to read it on the cruise, as you will be busy looking at the scenery. Reading the book really excited me about specific things to see along the cruise journey. I bought mine at half.com. The book comes in a Southbound and Northbound edition that will take you along your journey in order, so get the one that matches your specific cruise.
Also, it has a map that coordinates with it. You can get a new map for free by asking for an Alaska Planning Kit from princess.com. It's best to have both together. (Princess sells them as a set onboard for $25.)
PRE-CRUISE KENAI PENINSULA
Homer
We planned our three-day pre-cruise with my Mom, who lives in Homer, AK. Although the main reason for us going there was to see her, I would suggest our itinerary to anyone looking to set their own pre or post cruise itinerary. We got to see quite a bit of the Kenai Peninsula, which is a beautiful spectacle all by itself.
We flew from our home directly to Homer, AK, which is the town at the far tip of the Kenai Peninsula away from Anchorage. There is a regular small airline (Era Aviation) that does the short hop from Anchorage airport to Homer's.. this wasn't a charter. Era is affiliated with Alaska Airlines and you can buy your ticket to Homer from Alaska Airlines all in one call if you wish. (If you have a map of AK, it might be helpful to look at it to get your bearings here to see where Homer is.) Homer has MANY activities that one could partake in.. many fishing charters, sea kayaking, flightseeing.. and the list goes on. Homer is most noted for its land "spit" that juts out from the tip of the Peninsula, which has a small boat harbor, a fishing hole, a nice restaurant or two, and lots of gift shops and places to charter adventures in the summer. To find out more, visit http://homeralaska.org/about.htm.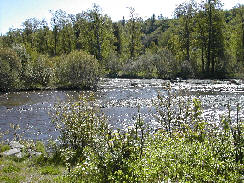 Homer to Seward
After a day visiting Homer and taking in the spectacular views of the bay and the white-capped mountains across the water we piled into our car and headed along THE highway (there is only one) to transverse the Kenai Peninsula. The scenery was spectacular along the entire way, including the Kenai river, beautiful forests and mountains and LOTS of wildlife. There are many places to stop and enjoy the view along the way, so you can set your own pace. Somewhere about halfway to Seward we passed by the Princess Kenai Lodge, which I have heard good things about also.
Seward
It took us about four hours of very slow (our choice) traveling to reach Exit Glacier Road just north of Seward. We turned here as it was the way to our lodging for the evening and our planned afternoon activity. We checked into our lodging which was the wonderful Seward Windsong Lodge (http://www.sewardwindsong.com/). It was very rustic-looking but amenity filled, complete with a nice restaurant. The views in the area were wonderful, as there were many separate buildings that held 10 rooms or so each scattered around a large area that was the lodge. An extra perk of the lodge was that lots of cruisers stay here and the lodge took our luggage from us upon checkout and transferred it to the ship for us - a great perk!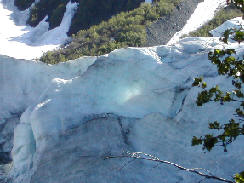 After we checked in and threw all of our luggage into our rooms, we piled into the car again and headed just a couple miles further down the road to see Exit Glacier. Exit Glacier is part of Kenai Fjords National Park, and has one of the only land-accessible glaciers. For only a $5 per car fee, we could park there and enjoy a small building with some educational exhibits and choose our hike of choice to the Glacier. Charles and I chose the very short walk up to the base of the glacier (.5 mi. total) and got a real kick out of seeing the chunks of floating ice in the small river flowing out from the bottom of the glacier. My Mom and Stepdad took the slightly more strenuous loop trail (about a mile walk with some steep parts) and got close to the glacier from the side of it. There is also the super-hiker trail that will take you all the way up to the Harding Icefield that Exit Glacier is flowing out of, that is 3.5 mi. one-way - just FYI. It was great to walk right up to a glacier before getting on the cruise ship and seeing them from a distance the rest of the trip.
After having dinner and breakfast at the restaurant at the Windsong Lodge, we checked out in the morning and headed into the town of Seward for the first time. Seeing the Star Princess towering there was an awesome sight, but we had one more activity planned before embarking on the cruise portion of our vacation.
We spent the morning at the Alaska Sealife Center in Seward. It was a very nice facility. We enjoyed a half hour presentation about whales and thoroughly enjoyed all of the Sealife exhibits there - the water birds, and the puffins in particular, stole the show. http://alaskasealife.org/
The town of Seward is not convenient to the cruise ship dock. If you need to get back and forth to the ship, try finding out how to get on the Shuttle that goes back and forth to the ship for only $2. (See page 82 of the Adventures Ashore book.. this is meant for disembarking passengers, but you can probably use it from town to the ship to embark as well!)
STAR PRINCESS CRUISE
Embarkation
We said goodbye to Mom and breezed onto the ship about 11:45am. There was no line, as most folks arrive for this cruise via Princess bus transfers later in the day. Specifically, you have just a booth to get your cruise card, and then the x-ray machine to put your stuff through and then your are onboard. No customs! No lines! Wonderful! (I highly recommend the southbound rather than the northbound cruise for this reason by the way.)
The Star
Since Charles and I were on so early, we spent the afternoon exploring the ship. She is quite beautiful, and BIG. I don't think people with cabins amidships can quite grasp the hugeness of her like those of us who have cabins on the end. We had a cabin second from the front on the Baja deck and we spent a lot of time walking. I rather enjoyed the exercise, but we had amusement park tired feet at the end of every day!
The atrium is beautiful, and the two dining rooms used by Personal Choice dining right off the atrium are very nicely appointed. We spent a lot of time up in the Skywalker's Nightclub above the aft of the ship because the views were spectacular. Do yourself a favor and figure out how to get there early in the cruise.
Another place that is fun, but not often visited we found, was the front portion of the Promenade. I call this part of the ship "the smile" as that is what it looks like when you see a photo of the front of one of the Grand-class ships. You can promenade the whole circumference of the ship, and this would be the extreme forward part of that circular walk. It is actually on the front of the Emerald deck, but you get there by going up a couple steps leading from the Promenade deck. Great views from there - and not as windy and cold as being up top of the bridge on the front of the ship.
The pool areas are absolutely beautiful, and although we didn't swim, we did try one of the Jacuzzis. Very nice. Don't forget to ask your cabin Steward for a free Princess robe to use while you are onboard!
We did not try some of the unique features of the Star, even though we did gawk at them on our tour. We didn't try the tiny 9-hole mini-golf, the pay-for swinging electronic driving range, or the swim-against-the-current pool. We intended to, but never got around to it.
Dining
We enjoyed the food and food service on the Star. We had a few breakfasts, a few lunches and one dinner in the 24-hour Horizon Court buffet. We enjoyed them all, and liked the quickness of it as opposed to the longer dining room lunches and dinners.
We tried the room service breakfasts the first few days and then gave up on it. This is my second Princess cruise with PC Dining, and my experience this time on the room service was not as good as last time. Since there is no in-room coffee makers, the only way to get coffee in your room is to order the breakfast in. We noted that they always deliver earlier than the time you specify, which can be irritating if you are not yet ready to open the door. Also, we found that on this cruise, they pounded on the door until you opened it… and called you on the phone if you wanted them to leave it outside because you weren't quite awake or dressed! A good tip for you though… if you want fresh-squeezed OJ, specify that on your order and you will get it. If not, you will get OJ from concentrate.
We suggest buying a "soda card" for one member of your party if that person drinks a lot of soda. Tea, Iced Tea, Coffee and water are always free in the dining room and the buffet, but sodas you always pay for. The soda card costs the same for kids and adults - $17.50 for the week. We bought Charles one on the first day from a waitress in the Horizon Court buffet. With the soda card, you can get unlimited amounts of six soda choices - Coke, Diet Coke, Sprite, Diet Sprite, Ginger Ale & Club Soda I think were the choices. Its not good for ANYTHING else.
Formal dining in the PC Dining rooms was nice. We made good use of a tip I had from a prior cruiser.. there are two dining rooms blocked off for PC Diners, and one for Traditional dining. The two off the atrium are for PC Diners.. and most folks head for the one on the 6th floor, as it's the first one they come to after they leave their room. The lines can get longer there than if you just continue down to the dining room on the 5th floor. Same food, less folks at once.
We had lunch one day at the Trident Grill off the pool area. We thought the burger and fries there were quite good and would recommend it. We didn't try the pizza.
After my experience on the Sun Princess last month, I made reservations 3 nights when I knew exactly when I wanted to eat and at which table. (We found a particularly good waiter, so we reserved a table in his area after that.) We walked up the other three nights with no wait at all, but all evenings we actually ate pretty early - around 6pm - so we never encountered crowds. The food was great! And I love eating whenever I want with PC Dining!
We did not partake in the two "alternate" restaurants where you had to pay a fee.. we saw no point in that! We also did not try "Scoops" the ice cream you have to pay for.
For more tips on PC Dining, you might want to read my review of the Sun Princess where I devoted quite a section to the whole PC Dining experience.
The Cabin
On this cruise we had Baja B205, a cabin with a balcony. We loved our cabin and we think Alaska is THE place to have a cabin with a balcony if wildlife viewing is your thing. After spending hours on deck looking for whales as we exited Glacier Bay, we went back to our cabin cold and tired… and finally saw one. Charles saw a full breech by a humpback that made his day (I saw only the splash and the whale's back afterwards).
Comparing the balconies on different decks, we really loved being on Baja. The balcony or the Aloha deck was directly above us, giving us privacy from above. Supposedly the decks below ours on the Caribe and Dolphin had larger balconies, but they jut out wedding cake style and are not private from above. When we stood on our balcony they felt we were looking right at them and moved inside often. (We were watching for whales, not people, but they were uncomfortable.)
Our cabin was very spacious and comfortable and nicely decorated. We did not feel at all cramped, except in the shower. I thought the layout of the Sun Princess' bathrooms to be much better, but I will get into the comparison later. Our cabin steward was ok, but not great.. but as crews change from cruise to cruise, there really is no point in discussing it. Everyone is going to have a different experience.
Our cabin was on the Starboard side (right). There is much debate about which side is better, and I think it's a toss-up. We were actually on this cruise with my Dad and Stepmom, who had a Port side balcony on the Baja deck. Their travel agent insisted they have Port side as they say it's the land side and not the ocean side. Give me a break! We travel in the ocean across the Gulf of Alaska ONE day out of seven. The rest of the cruise is in the inside passage where there is land on both sides! One perk they had, was on Glacier Bay day the ship parked Port side to glacier so they could watch the calving from their balcony. One perk we had was that later in the cruise we could see the moon and moonlight reflecting across the water quite beautifully as we cruised along at night.
Regarding some folks question about being fore / aft / or amidships in cabin choice, we loved our extreme fore location. The cruise was very smooth the whole way and it was very quiet in the front. We were also close to some places we liked to visit often, which were the Princess Theater, the Lotus Spa, and the stairs leading up to the high viewing decks at the front of the ship. My Dad had a cabin close to the aft on the Baja deck and they could constantly feel the vibration of the engines. This bothered Charles a lot on our first cruise, so we were happy to be far from that. (My Dad said he didn't mind it… so it's really just a personal preference.)
Another thing to say about cabins.. is don't worry about it too much. They are all good really. My Dad paid nearly twice as much for his Port side balcony that he HAD to have than we did getting upgraded into ours. They were the exact same size, etc. In our case, flexibility paid!
Wildlife
If you expect to see whales leaping out of the water in clear view near the ship all the time you are dreaming. If you want to see lots and up close, book a whale watching tour. My Dad and Stepmom took the Princess excursion one out of Juneau and really enjoyed it. They got to see Humpbacks up close. Charles and I visited Vancouver last year and did Orca whale-watching there so we skipped that excursion on this trip.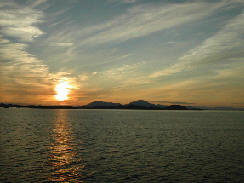 There were a few brief sightings of humpbacks during the northern part of our journey, but I didn't see them. I was never in the right place at the right time. Once down in the inside passage, I think between Juneau and Ketchikan, we took a walk on the Promenade after dinner with our binoculars ready and kept an eye out to the water for fins. Once sighting some, we looked through our binoculars and did see some killer whales in the distance. We saw two pods, including some babies not too far off the ship. They are really hard to spot in the choppy water… they are not jumping, making big curves with their backs or anything that would really catch your eye so you really need to be watching for them. I saw one more then next day from our balcony with the binoculars.. again looking hard for those fins.
Entertainment
Lest you think we completely skipped the entertainment on the ship, we did eventually catch some shows. We really loved DANCE! and Give My Regards was also good, two Vegas-style shows on the Star. The singers and dancers were top-notch and very enjoyable. We skipped "Da Beat", as we didn't want to see the same entertainers three nights in a row.
Maverick the magician was excellent and the comedian Jim McDonald was great too. The only entertainment that was bad at any time was the passengers attempting Karaoke, which was not the fault of Princess!
Be sure to arrive early for shows… most let you sit a half hour before showtime, and some even earlier. We were turned away from the Princess Theater when attempting to see DANCE! on the second night, arriving 15 minutes prior to showtime we were told it was already full.
The two showrooms are very impressive. The Princess Theatre is situated like a normal theatre with rows and rows of seats. Its big and impressive, the stage moves and drops as impressively as any big production stage you would see elsewhere. It is at the extreme fore of the ship.
The Vista Showlounge is at the aft and is designed like a Las Vegas showlounge with rows of little tables for two with chairs next to them. Behind each set of chairs and tables is a cushioned bench seat with more small drink tables. Both venues work well.
The Lotus Spa
I had two treatments in the spa while on the Star. I was very pleased with the standard facial. Upon embarking there was a coupon for $15 off any hour long spa treatment on an in-port day found in my shore excursion ticket envelope. The facial was very relaxing and the lady was very nice.
The other treatment was a head and shoulder massage called Frangipangi Conditioning and Scalp Ritual, found in the Salon brochure. What I found weird about this, is that on the Star they didn't do it exactly as advertised in the brochure. One of the best parts of this ritual is getting your head wrapped in a steaming towel, which they didn't plan to do. Also, rather than just applying massage oil to my scalp to massage it, the lady slopped oil all through my very long hair, which I could NOT get out on my own. She did say I could come back and get it shampood out if I wanted later… which I did end up doing a couple days later. Her explanation as to why the ritual was different on the Star than what I had experienced on another Princess ship is that they do it a little different on every ship. I think that's a lousy policy if they use the same advertising brochure / explanation on all of the ships! I guess I just suggest you ask ahead, because I LOVED this treatment on my last Princess cruise.. its only $26!
Laundromat
On the Star the self-service laundry is not free. You can buy individually boxed soap in a dispenser for $1 each, or a liquid one-dose in the gift shop for a few cents over a dollar. The washers cost $1 a load and the dryers are $.50 a load.. both high capacity. And just FYI.. Princess casino .25 tokens work the same as quarters in the washer and dryer (a great way to get rid of any you find in your pocket at the end of the cruise).
We found the laundry facilities busy all the time and had a hard time getting in. I was quite bummed after hearing that they were lightly used by many frequent cruisers. I ended up doing laundry late at night on the first formal night and during the prime dinner hour a few nights later, as I couldn't get in there during the day. The laundry rooms are different sizes on different decks. We were on Baja, which had the laundry room at the aft (a far hike for us) and with only two washers and dryers on each hallway. The laundry rooms were bigger on the Caribe deck below us, and they were closer to amidships there.
There are free ironing boards and irons in the laundry facilities, but they are also very busy.. especially on the formal nights. Try to plan ahead and go at an off hour if you want to use these too.
Done with the generalities of Star… on to the specific sights and ports!…..
College Fjord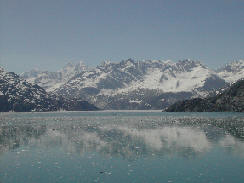 If you are reading this review, you must be a plan-ahead type like me, which is good. Many folks on this cruise didn't seem to realize that the event of the day was going to happen early in the morning on our first day. We went to bed very early on the first night so we could be up on deck ready to enjoy the sights of College Fjord from 6:30-9:30am.
The Fjord is beautiful, with abundant wildlife and many beautiful frozen solid glaciers. It's a great place to learn about tidewater glaciers and see them coming down from their high mountain peaks. However, don't expect to see calving here.. think of peace and beauty, not heavy action. The ship stops and does a slow turnaround well before the end of the fjord where Harvard glacier is. Its definitely worth getting out of bed for! Keep your eyes and binoculars pointed onto the floating bergy bits, there are lots of wildlife sitting on them that are hard to see with the naked eye.
Glacier Bay
Glacier Bay is a full day of cruising down a long fjord with beauty and greenery on both sides. You might catch some whales in view right as we enter it, so be ready for that in the morning around 9:30 or 10am, and then sit back and relax your morning away. The heavy action here is in the afternoon.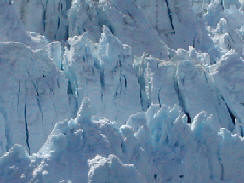 Around 1pm we begin getting close to the glaciers at the end of the fjord and if your cabin is on the Port side, get comfortable on your balcony there. If you are on the Starboard or inside stake yourself out a spot on the port side railing and hold onto it for dear life. The Star headed straight down the Tarr Inlet at the end of the bay and stopped parked in front of the Marjorie glacier for what seemed like hours. Marjorie is the one you see in ALL the postcards and videos of calving glaciers. She is very pretty white and blue.
The calving off of Marjorie was very impressive in the mid-afternoon sun. She dropped some small and big chunks, one after another and it was a tremendous sight (and sound!). As we departed, our naturalist onboard said it was one of the most active days she had ever seen off of Marjorie and we were quite lucky. I hope you get the same show from her!
Skagway port of call
Charles and I didn't plan any hugely expensive shore excursions, or too many of them, as we knew we would need a little breather from all the action. My Dad and Stepmom planned full days though, so I will comment on theirs too.
In Skagway my Dad and Stepmom enjoyed Princess' Excursion "A" in the morning - Historical Skagway & Days of '98. They said it was really fun.
In the afternoon the four of us rode the White Pass & Yukon Railway "G". The views were spectacular, even though it's the same route down as back. The bad thing about it is on one way you are going to get the better view, so if you want that on the way up, sit on the left side of the train. There was a good narrator on the train, plus snacks, sodas and a restroom on each train car. I love trains so I really enjoyed it!
Juneau port of call
In Juneau my Dad and Stepmom went on the Whale Watching & Wildlife Quest "N", which I mentioned earlier. They had great things to say, and I believe sighting a whale is guaranteed on the tour, so that's a great thing!
My Mom, who you know now lives in Homer, used to live in Juneau, so we did the things she suggested. We rode the Mt. Roberts Tramway "H" to the top of the mountain. Supposedly you can get great views of Juneau from there, but the clouds were coming and going so we didn't get any really great views. The good thing about the Mt. Roberts Tramway is it's an unlimited day pass, so you can go up and down as many times as you like. While at the top we enjoyed a short movie about the Tlingit native culture "Seeing Daylight". It was very good. http://www.goldbelttours.com/travel/day_trips/juneau/tram.html
Our second activity was on our own, we visited the Alaska State Museum which was across town, but walking distance for the really able. The museum has many sections talking about the various stages in Alaska history. Of course, there are large sections about the native Tlingit culture, then the Russian period, details about the sale to the US, the Gold Rush era, and current times. There is also a very nice section about the wildlife in the Tongass National Forest. There is a photo of the natural history section on page 27 of the Adventures Ashore book, as that is one of the stops in the larger tour "I".
After touring the museum we were very tired of walking, so we rode the city bus back to the cruise ship terminal. For only $1.25 you can ride the bus to almost any of the sights in the Juneau area from the cruise ships. We found out about it from calling Glacier Gardens, an activity we thought about doing but ended up not. The bus runs in loops, stopping at every stop in town every half hour. To find out more visit: http://www.juneau.org/pubworks/captrans/. There was a stop very convenient to the museum, and cheaper than getting a cab.
Ketchikan port of call
If you plan to shop, this is the place for it. There is shopping everywhere, and coupon books at both the Vancouver and Seward embarkation ports. (Grab the book that says Alaska with a cute sea otter on the front wrapped in plastic.) We picked up our obligatory Alaska souvenirs here… mostly T-shirts.
Our tour of the day for all four of us was the Saxman Native Village & Ketchikan City Tour "B". We thoroughly enjoyed the tour and seeing the natives dance for us. There is also a video to watch and an explanation about carving totem poles. If you want to pay some big bucks (up to $2500 a foot, youza!), you can commission a personally carved pole yourself! Some folks were upset that we didn't see any actual carving in the carving shed, so don't expect that. They told us the chips fly while carving is going on and it's not safe for them to carve in front of a large group wearing no safety goggles.
This is the end of our ports. I strongly suggest that if you are going to do any Princess excursions to book them early online. You can log onto Princess.com in the "cruise personalizer" section about 60 days prior to your cruise to book them. The best tours go early, so this is highly recommended. If you change your mind, you can tell the tour desk you want to cancel them up to 10am the day prior to that port. We did this with no problem. When you order in advance, all of your tickets are waiting for you in your cabin when you embark.
Docking vs. Tendering - general in-port comment
One thing that has to be mentioned when you are cruising in Alaska... there are MANY ships in each port each day. When you are on the Star you are in the biggest, newest and prettiest ship of them all. People on other ships gawk at your ship. Princess has paid for prime parking spots for Star in all three ports, so you don't have to tender. Watching the ships maneuver around each other is very impressive also. RCL seemed to have some prime parking also, but not all of the HAL ships did.
Also, few folks know that if you are in port with another P&O Princess product, you can visit that ship with just your cruise card. I learned this online before leaving and tried it out in Skagway - the only day we were in port with another Princess ship. I took my family on a tour of the Sea Princess, to show them the difference between the Grand and Sun classes.
Cruising the Inside Passage / Casino day
It was nice to have that at sea day leading up to disembarkation in Vancouver… we slept late and spent parts of the day packing and looking at the scenery.
During this day there was a slot tournament and a blackjack tournament in the casino. We had a fun time participating in the blackjack tournament, and my Dad came in third so that was great. The casino on Star is very nice and pretty big, so if you are looking to try your luck it's a fun place.
There was Bingo on multiple days of the cruise, and the biggest day was on this last day. If Bingo is your thing, you won't be disappointed. It was quite fun.. we tried it one day and didn't win. However, my stepmom did win on the last day, which was neat as she loves Bingo (they play frequently at home).
Champagne Waterfall / photos
Princess makes a big deal about the Champagne Waterfall which is done close to the end of the cruise. The Maitre d'Hotel sets up a pyramid of champagne glasses in the middle of the atrium and puts a little bubbly in all of them to keep them from tipping over, and then Princess lets passengers get on a stepstool and pour a drop into the top one. It was my understanding that once the photo ops were over, they actually make a waterfall out of it by pouring liquid into the top and letting it cascade down. NOT! Once everyone is done having their photo taken they disassemble it. Mainly its just another photo op for Princess.
The fun part of this whole evening I now know is that when the guy finishes making the pyramid everyone throws confetti streamers from all of the high railings around the atrium. (Get there early if you want a spot along the rail to participate!) They pass out free champagne during this party, and they play loud music which gives the passengers a chance to dance with each other or the crew in the bottom level of the atrium. That part is quite fun.
Princess charges $21+ for all 8x10 sized photos (all of the formal night photos and the champagne waterfall photos are printed this size). They charge $10 for 5x7 sized photos, which are the embarking, disembarking, dinner table and on deck photo opportunities. There are lots of backgrounds to choose from, so we sat for many photos and ended up getting one 8x10 from each of the two formal nights.
You can also buy "stock" photos and an album in the photo area, which we did. Of course, they have the best shots of the Star in various positions and great glacier shots in their stock photos.. so we got that one night they were having a sale… 15 photos plus the album for $30.
Disembarkation
Star docks on Canada Place, which on every day is a busy place. Three ships docked there the day we were coming in, which made for thousands of folks at once. This is my second experience disembarking here, and I had a much better experience this time. Believe it or not, it was better as far as the baggage and customs go to get off late.
My Dad and Stepmom had purchased a Princess Post-Cruise 3-day, 2-night package to enjoy Vancouver and Victoria, so they were in the last color to disembark. In order to stay together, we had our color switched to be with theirs. Since we got off so late, most of the baggage was gone and it was easy to find our stuff and the customs line was short. I advise you to grab one of those free luggage carts as you are getting off the ship because they are easier to roll than your rolling bags and you can heap all of your stuff together easily.
We didn't disembark until 10am or so, and we passed the time easily in the card room playing games until our color was called. Most folks don't think of this and sit around staring at one another.. we had a great time while others were stressed!
If you need to catch a cab after you disembark expect a really long and nasty line once you get past customs. If you get a package to an off-site hotel for the night, the busses are way at the end of the cruise terminal.. just keep walking. And if you want the best of all worlds… do what we did!
POST-CRUISE IN VANCOUVER
Pan-Pacific Hotel
If you decide to stay in Vancouver one night pre or post cruise, choose the Pan Pacific Hotel if you can. Its not cheap, 5-star, but its worth its weight in gold I think. The Pan Pacific is on top of the front of the Canada Place cruise ship terminal! It was SO nice not to have to take any ground transportation in Vancouver after disembarkation. We just walked straight forward past all of the taxi and bus lines and crowds and turned in our luggage to the bellhop on the cruise ship level. We then proceeded upstairs to inquire about our rooms, but checkout is not until noon and check-in is not officially until 3pm, so we knew chances were slim our room would be ready. (They weren't, but we were happy to come back later to complete our check-in.)
Maybe just our luck, but both my Dad and I got upgraded to superior harbor view rooms, even though they weren't quite ready. I think it's best to inquire early rather than at peak check-in of 3pm. The way we were upgraded, I'm guessing they book all 500+ of their rooms, regardless of the price, and the first to arrive get upgraded. The service in the hotel was exceptional. I had made my reservation online myself last October, and my Dad was on that Princess package as I had mentioned earlier, and we were both treated equally well. Princess had not specified that my Dad wanted a smoking room and the lady at reception worked exceptionally hard to find him a smoking room.
The food in the hotel is very expensive.. we suggest you walk down to the convention level near the street and take the underground walkway into a downtown food court to eat. There is quite a variety there. We had both dinner and breakfast there at very reasonable prices.
Hertz car rental
I had made a reservation online at hertz.com to pick up a car at Canada Place and drop it the following day at the airport. Confusingly though, the Hertz area of Canada Place is a mystery to most. They don't have a booth with the other car rental companies as the cars are there by reservation only. There is a small desk towards the back of Parking level P2, which is only open until about 11am. We had to inquire extensively to find it, but now that we know where it is… no problem. We were upgraded to a Ford Explorer which was great for the four of us.
Vancouver afternoon
Charles and I had visited Vancouver last year and had done a lot of the standard Vancouver things.. like Stanley Park, the Harbor Dinner Cruise, Whale Watching, etc. http://www.vancouverwhalewatch.com/index.htm The one neat-looking thing we didn't have time for then was going up Grouse Mountain to see the city view from across the inlet. http://www.grousemtn.com/. You really need a rental car and lots of time to enjoy it, so that was our activity for the afternoon.
We enjoyed driving across the Lions Gate Bridge to North Vancouver and then all of the activities at Grouse Mountain. The skyride up to the lodge was fantastic. It was another wonderful day in Vancouver. We saw big and beautiful chainsaw carvings, a lumberjack show, the bear cub habitat, an eagle's eye view video presentation (all aerial shots… neat), and we rode the ski lift to the summit and back. The views were SO wonderful!!!
We were exhausted when it was over, and got back to the hotel and checked into our rooms just in time to sit and watch Star Princess back out of her spot and proceed out under Lions Gate to begin her next week's cruise. A very perfect ending to a wonderful cruising week!
MONEY SAVING OPPORTUNITY
If you are comfortable booking your own transportation and excursions, I suggest you look into the coupon book called The Great Alaskan TourSaver. http://www.toursaver.com/ My Mom had one, and she saved a lot just while she was with us. There are lots of 2 for 1 excursions, hotels, car rentals, transfers, you name it. My Mom used the 2 for 1 Alaska Sealife Center and 2 nights for 1 at that wonderful Windsong lodge in Seward. There are also coupons for the Alaskan Railroad, which is a great way to get from Anchorage to Seward if you like trains. Using one of the coupons on an expensive flightseeing tour or fishing trip will pay for the coupon book all at once.
Also, I booked my hotels and some other things in Vancouver by using links from the Vancouver tourism site. http://www.tourism-vancouver.org/docs/visit/index.html . Hotel rooms are hard to come by in cruising season (May thru September) unless you book way in advance. The cruise lines block huge chunks of the available rooms so if you don't want to pay them for your room, you have to plan way ahead. I booked my Pan Pacific room for this June last October, just FYI.
Vancouver airport
The airport is not near downtown Vancouver, so give yourself time to get there. I suggest renting a car and driving yourself to avoid the bus transfer lines.
There are many lines to get on a plane in Vancouver, so for your sake I hope you don't have to do the airport lines after the disembarkation lines!
Sun Princess vs. Star Princess
Through a strange quirk in my schedule, I cruised on Princess in back-to-back months. I did a short 3-day repositioning cruise in May on the Sun and this long-planned Alaskan adventure in June. In many ways, my experience on the two were distinctly different and I enjoyed the Sun better. I will point some of them out here, just in case you aren't yet booked on Star and are trying to decide which one is for you. I also suggest you read my Sun Princess review as I went more in detail about my PC Dining experiences. Sun-class = Sun, Sea, Dawn, Ocean; Grand-class = Grand, Golden, Star
Service… the service in general was better on the Sun, but that is crew-specific so I can't really say much about that. The room service and the room steward on the Sun were not intrusive as they were for us on the Star.
Atrium… I wholeheartedly agree that the atrium area of the Sun class ships is bigger and more beautiful than on the Grand class. Strange but true!
Spa… On the Sun there were discounted spa treatments on all in-port days. There was a big list of them, in a whole separate brochure. When I inquired about this in the Star they looked at me like I was nuts. On the Sun, they also seemed to follow what the brochure actually said, which was good!
Laundromat… You still had to buy the soap, but using the washers and dryers was free on the Sun, not so on the Star.
Pools… The Star wins hands-down here as the design is much more beautiful and there are more of them on the Star.
Layout… Both were similar in total layout, with the Star just being bigger with a longer walk from one end to the other. If walking is an issue for you, you will probably enjoy the Sun-class just as much or more than a Grand-class.
Unique to the Star… Sports bar and Skywalkers Lounge. On the Sun you can find no public TV to watch a big sporting event, which bugged me on Sun because I wanted to see the hockey playoffs. They were over by the time we cruised on the Star, so I never hung out there. Go figure! The view from Skywalkers is just wonderful and unique to Grand-class ships.
Please remember to contact me, Suzy, if you're interested in booking a cruise. Not only do I write detailed reviews, but I take care of all the details when I book your vacations as well. Please hit "Contact Us" at the top of this page.