Cruise Line: Royal Caribbean
Ship: Vision of the Seas
Sailing Date: October 28th, 2002
Itinerary: 4-night Baja Mexico
Pre-Cruise transportation

We flew down the morning of the cruise to Long Beach Airport on JetBlue airlines. JetBlue has a very limited service area, but is cheap and comfortable. All seats are comfortable leather (like first-class), wider than a standard seat, and have a private television. The television has 24 free channels and they give you disposable headphones to use. Pretty cool. I would recommend them if you were flying from the bay area or from the East Coast.

For some reason, the cruise lines think folks only fly into LAX for cruises out of San Pedro and offer no transfers from Long Beach Airport (even though its closer to the pier than LAX). Therefore we had to find other transportation and we chose PrimeTime Shuttle. It competes with the SuperShuttle, but has the reputation of being more on-time. They were on time for us, and we would recommend them also.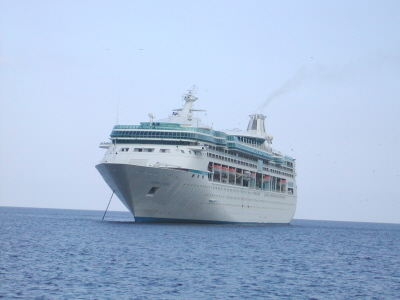 Embarkation

We arrived at the pier around noon and walked right up to the security x-ray machines with no lines. They had a table to take your alcohol, but we didn't have any so we proceeded to check-in. At that hour, there was no wait and we checked in within five minutes.

Apparently they had just changed the tickets and embarkation forms, as the check-in lady said the form we had was new and it was only the second one she had seen. We had filled in our information online before our tickets were printed and the abbreviated embarkation form was already preprinted. She just ripped it out of or ticket booklet, along with the credit card sign-off form and gave us our cards in a jiffy. Very smooth.

The only bad thing I could say about the whole embarkation thing was that there were no porters outside to take our luggage due to the recent port / union issues. Therefore, we had to carry all of our bags onboard with us. Also, they had no helpful folks there to assist you and point to where to find your room once you were on the ship.. so we had to find it ourselves. I had no problem as I already had the general idea in my head, but I heard others complaining. I suggest carrying a brochure with you and ripping out the detailed deck plan.

Muster is held at 4:15pm, giving you plenty of time to partake in sail away and get ready for early dinner seating.

Our Cabin – Superior Inside Category J

When we arrived in our cabin, we had the general impression that it wasn't very clean – even though it was made up and there was no papers or miscellaneous "stuff" there from the prior occupants. There was a wet, dirty towel in the closet on the rack and all the flat surfaces on the dresser and night tables seemed dirty. They had coffee rings and drip stains and the carpets didn't look very vacuumed. With a quick wipe with a damp washcloth I felt much better.

We LOVED our cabin. It was the highest inside category you could get, and these rooms are up on the Bridge deck with the suites and other larger rooms. It was 174 square feet and VERY spacious. Upon entering the bathroom was on the right and the closet was on the left. In the center of the room was a full length comfortable couch on the right, with a glass coffee table in front of it and the vanity table and some drawer space and TV across the room. It felt like a big spacious living room.

Beyond that, at the back of the cabin was our queen-sized bed with a night table on each side and plenty of room to walk around. There was also a curtain between the bed and the sitting area, which made it feel like a suite to us, as compared to other inside rooms we had seen before. In comparison, the outside cabins we could have been "upgraded" to were 154 square feet… 20 square feet less. No thanks! We loved this category and would highly recommend it to others.

The room came with a built-in safe and a loose 'plug it in yourself' hairdryer that worked great for me.. and I have long thick hair. There were also two outlets there at the vanity, but none in the bathroom. The closet was plenty big… it had two shirt-height bars on the right and a bar on the left to hang full-length clothes. Each side of the vanity had three drawers, plus there were some shelves above the TV, two drawers in the night tables, and three shelves behind each side of the vanity mirror. Unfortunately, there was no fridge and the steward put the "minibar" items up in half of my vanity spaces when I asked him to remove them. (He would not take them from the room.)

The bathroom came with a shampoo dispenser in the shower, bath gel, soap & lotion. The shower was small, but ok. It was laid out well, with the toilet on the opposite side of the bathroom from the vanity so you didn't bump into it when brushing your teeth. The storage space in the bathroom consisted of three shelves in the medicine cabinet above the sink. We thought the space was adequate.

If you decide to go for one of these cabins, just be forewarned that you will be able to hear any loud music at the pool area directly above your room. Every afternoon at sail away music could be clearly heard, especially in our bathroom, but it was no big deal.

The Vision of the Seas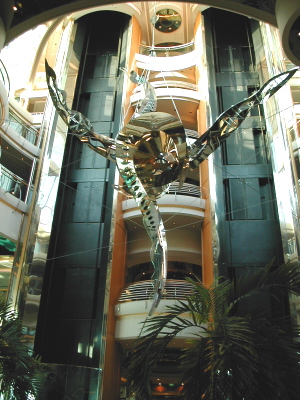 I was very impressed with the ship itself. I loved the six-story Centrum. I thought the public rooms up on the higher decks 7 & 8 were especially neat.. this is where they had located the library, card room, Internet café and future sales lounge.

We spent a lot of time in the Wheelhouse Bar, where they had a wonderful lady who played the piano and entertained most evenings. We also liked the Viking Crown Lounge, but felt that it was in a weird spot. Basically, the view was of the pool area and not so much the ocean. (The focus of all the windows seemed to be toward the ship itself rather than the surroundings.)

Entertainment

In the four nights of the cruise, we attended the main entertainment show two nights, and just relaxed elsewhere the other two nights.

We thought the production show Rhythm Nation was fun and we highly recommend the Singer Impressionist Martin Dube also. He could make his voice do the most amazing things.. even though the beginning of the show was a little slow he really had us rocking in the end.

We also will tell you not to miss the game of Quest, which is an audience participation game that I can't tell you much about… you need to experience it yourself!

The Casino was open nightly once we sailed, but we didn't spend too much time there. To our surprise, there were no tournaments during this sailing.

Spa

I love spa treatments, so that was one of the first places I went when boarding. If you don't know this trick I will let you know…. Most ships have specials on some or all port days. I inquired when boarding and found that the specials day was Wednesday, so I made an appointment for a "Spa Taster". The Spa Taster is a back massage and a mini-facial combo. Although I thought the back massage was nice, the facial as NOT worth writing home about. They just slapped one goop after another on my face, and didn't even massage my neck or shoulders while the mask was setting. She left the room! After the facial, I didn't even feel like my face had been "exfoliated" and smoothed… which is the reason I usually go for the facials. The spa taster was $89 on sale from $99 regular.

Also, there was NO price list of spa treatments available, which I thought was very strange. It seemed to be a mystery what was available, and at what prices. It could be that they are much more helpful if you do the spa tour on the first afternoon, but I didn't go so I was clueless. I thought they were very unhelpful in the spa.

Food

We felt the food and service in the dining room was great. We had a wonderful waitress named Gloria and her assistant was Leonardo for dinner. As we booked last-minute we seemed to get one of the last tables, by the door, but we didn't mind. We sat at an 8-person table with a very nice couple all four nights. One other couple showed up the first two nights, and two chairs were empty every night. One thing I will mention is that on the four-night there is no lobster on any night. We didn't mind, as the other selections were great. However, we heard some folks complain as if this was the very end of the world, so I wanted to let you know. No lobster on less than seven dayers! We had lunch and breakfast in the Windjammer buffet, which was fine. We also had breakfast in the dining room two mornings, which was better than Windjammer in our opinion. We also tried room service for coffee and fruit one morning and the service was very prompt and good. We also had lunch on the Solarium café once.. the burger and pizza we tried were fine, but it was disappointing that they had NO 24-hour buffet on Vision.

On the second night they had a midnight dessert buffet. Unlike some cruises that let you take photos for a half hour and then let people tear into the stuff… RCL lets folks grab as they go so if you want photos show up early. There were two very nice ice sculptures and some chocolate and pumpkin carvings as well. (We were onboard Halloween week so there were beautiful harvest decorations all through the ship.)

Soda Card

My boyfriend got the soda card when we boarded, which was $19+tax (around $23) for a four-night cruise. We felt this was very overpriced and it was NOT convenient. We would not recommend it. The card was good in the dining room and at the bars only. In both the Windjammer buffet and the Solarium grill they had a guy selling CANNED sodas there and the card is not good for those! If you wanted a soda with your card, you had to hike to a bar to get it to have with your food. What a pain!

Shopping & Photos

I thought the shopping mall was well laid out. We looked around, but waited until the final night when they had a big sale in the logo shop to buy some stuff.

As usual, the cruise line took many photos of us, but we didn't buy any. The one photo we really liked, which was our dinner seating photo on formal night, we didn't buy as they only had it available as a package deal for $15! We just wanted the one 5x7, but they wouldn't sell it to us separate.

Ports of Call

As with most folks who cruised this itinerary, the ports weren't the reason we were cruising. The ship was the main attraction, along with just plain cruising. We got off the ship only briefly in all three ports.

In San Diego we walked into downtown and shopped at a big multi-story mall there as I forgot a handbag I needed for my evening attire.

In Catalina there is a map given to you on the ship which you can take to five shops along the main strip in Avalon. These shops have winning cabin numbers and give out prizes, and also there is some kind of grand prize for having your map stamped at all of these stores and turning it in at the end. This makes for a little adventure and fun, and also gets you into these cute little shops.

We did the glass-bottomed boat tour in Catalina, which was fun and only cost $9.50 per person. It was great to see kelp and fish under the boat… but we think we will try the boat with the underwater viewing windows next time along with a city tour as it was too far to walk to the circular "casino" building down the waterfront. We will do that next time.

In Ensenada, we suggest not paying for a tour through RCL, but instead buying the blowhole / open market tour that is offered at a discount on the shuttle bus that runs from the ship into town. We plan to do that tour next time. We had fun taking the horse-drawn carriage back to the ship (there are many lined up there to choose from.) My main activity in Ensenada was going to the optometrist and getting my eyes checked and new glasses. If you want more information on that you can email me. It was very safe and I saved tons of money.

The ship docks in both San Diego and Ensenada and we had to tender in Catalina. The tendering was efficient and there were no problems there.

In summation

This was my first Royal Caribbean cruise, and I would go again. I am actually planning the three-day cruise next year from LA to Ensenada as it's convenient to me and my family on the left coast. I thought the Vision was beautiful, and would highly recommend her or her sisters for both her size and appointments. She makes for a great cruise. On a five-star scale, I would give her a three.

In comparison – my personal preference

Through a stroke of luck, good prices and scheduling, I actually cruised three times this year. I cruised on the Sun Princess 3-day, Star Princess 7-day, and Vision of the Seas 4-day. In comparing Princess to RCL, I much prefer Princess. There is an intangible higher level of service there that my boyfriend and I both like. It's the fact that the room is clean when you arrive, that employees all smile at you a lot and the soda card actually works at all the eating venues (what a concept!). Robes are available for your use while you cruise on Princess whether you are a first-timer or in the smallest inside cabin. The buffet is open 24-hours. Little things that mean a lot…not that RCL was bad, just that Princess is more my style. In a market where they competed head-to-head I would pick and recommend Princess every time.
Please remember to contact me, Suzy, if you're interested in booking a cruise. Not only do I write detailed reviews, but I take care of all the details when I book your vacations as well. Please hit "Contact Us" at the top of this page.