Princess Rail – Sun Express:
Most of the train rides folks do are about 4 hours long. Ours was 3.5 hours from Talkeetna to Anchorage. Of course, we had the 1.25 hour coach ride from the McKinley Lodge to Talkeetna to start with, and then the train ride.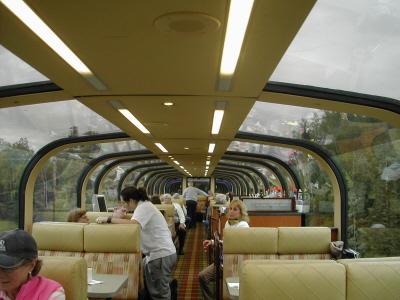 Riding the beautiful luxury Princess rail cars with the glass-domed tops is something many folks look forward to. Here is how that works ~ If you've got train tickets, you'll be assigned to a 4-person table in the upper level where the glass dome is. This is your seat for the duration, and two will sit forward and two backwards with a table in-between. You'll have no overhead storage, so you'll just want a small carry-on of your most important things and valuables with you on the train that you can stick under your bench. Your bags will be trucked separately. There is a bar Upstairs with you, so you can buy drinks there as you please, with table service.
Downstairs in the cars each has a dining room where they sell "fine dining" type expensive food, but we didn't find it to be all that great. Compared to the fabulous foods we had at the lodges' fine dining, we were not impressed. You might want to just grab a deli sandwich and take it with you to have on the train. Also downstairs is a tiny gift shop that sells Midnight Sun Express logo items and such, and the outdoor viewing platform where you can take photos and feel the fresh air.
The rail cars were the nicest I've seen. The bathrooms downstairs were impressive, all granite and other fine textures. Even the circular stair leading from the upper to lower levels was made of fine materials. And the view out of the glass dome was great, but I was disappointed I couldn't hear what the car steward guy was saying when we were downstairs eating. I'm sure he was pointing out interesting things.
A word of warning about the Denali Express. One of Princess' new "WOW" features is that you can take the train directly from the cruise ship to the Denali Princess Wilderness Lodge (well to Talkeetna and then the bus anyway). It can be a long day, even though that's cool. It's nice to skip the overnight in Anchorage in between the two, but, on the other hand, Anchorage has a lot to offer, and a stop-over might not be a bad idea to get a little extra rest.
Anchorage, Alaska:
We pulled into Anchorage after , as planned, and were shuttled to the Hotel Captain Cook. This is Princess' primary hotel in Anchorage, and it's a big, nice one. I'd stayed there before in 2004 when I visited my Mom. Since we arrived late and left early the next morning there isn't much to say here. There are lots of shops in the lower level, one that's a typical gift shop, and others with art and such that are privately owned. There is also an Alaska Airlines flight check-in machine down in the lobby, and I'd suggest you do that before going to the airport. Sure made me check in fast. Just dumped my bags at the bags check and off I went to security!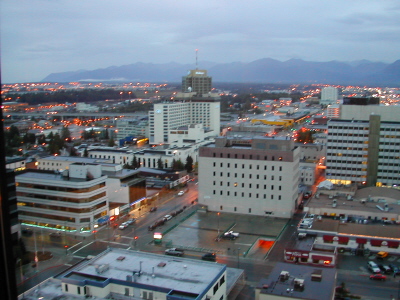 The restaurant in the lobby surrounded by plants is good. The rooms are comfortable and there is a very cool restaurant and bar with a view of the city on the 20th floor of Tower 3. The photo to the right is Anchorage at night as taken from the bar. (The Captain Cook has three hotel room towers, all good.)
There is lots of town you can walk to from the hotel, and you can take a quick tour around in a horse-drawn carriage as well if you want a little outing. That looked fun, but I decided to just walk into a couple of the touristy stores and then head to bed. It'd been a long day starting with the "Mountain Call".
The other Princess Wilderness Lodges:
I did not visit the Copper River Princess Wilderness Lodge, or the Kenai Princess Wilderness Lodge. The Copper River is REALLY off by itself east of Anchorage near the Wrangell-St. Elias National Park. You've really got to be adventurous to go there, as I've hard its 10 hours one way on the bus. If you want to go WAY off the beaten path, and you've got time to spend getting to and from it, then, by all means, I'll help you plan a vacation there.
The other one I've not yet been to, but I've literally driven by it is the Kenai Princess Wilderness Lodge. Now, if you're doing your own thing, or you've got the time, I really suggest this one. It's south and west of Anchorage, the opposite way from Anchorage as Denali and everything folks head for that way where I've just come from. However, it's extremely beautiful and lush there. There are lots of great activities. And if you're pressed for time, and you want to spend only a few nights in Alaska pre or post cruise rather than a week, maybe going JUST to Kenai is a plan. Since my Mom lives near there, I've sent lots of folks to that lodge on the Princess 3-night pre-cruise hotel plan and they GUSH about it. The rooms are huge and fabulous with their own fireplaces. And since it's on the Kenai Peninsula, it's somewhat kinda sorta convenient to the cruise port of Whittier.
How to book the lodges:
Obviously, I want you to call or Contact Me to book these lodges, but there are more choices than you probably realized!
Most folks visiting the properties will be on a Princess Cruisetour. They'll be doing some nights on land with busses and trains connecting their days either before or after a 7-night Alaskan cruise. I strongly suggest land first, followed by cruise southbound if you plan to do a cruisetour.
A second option is to book a pre-arranged land-only tour package. This is what I had. I had all the things a cruisetour passenger has, without the cruise. And I loved it. If you've only got one week, do the land only! And there is a "rail only" option if you want to do all the transfers via train rather than coach.
The third option is to go on your own on the land, and have me just book the lodges as stand-alone hotel nights for you. After experiencing the land myself, I'd love to put together custom land packages if nothing out there appeals to you that is already pre-packaged.
Whatever you decide though, please give yourself TIME on the land. Multiple nights in one location is the best idea. Otherwise, you're just traveling ALL the time. Two nights in one place, giving you a full day in that place, is the best. 6 or 7 nights (or longer) would be ideal. Also, when looking at the pre-packaged tours and cruisetours, take a moment to realize that the train takes a lot longer than the coaches. Whereas the train meanders leisurely for 4 hours, you could get between the same two lodges in 2 hours on a coach. You'll need to decide whether the train and more possibilities to see wildlife off the beaten path is more important, or just getting to the lodges and getting on with your activities is more important. That's totally your call. If you're short on days though, remember the coaches are faster, and very comfortable luxury busses!
How the cruisetours/land tours work: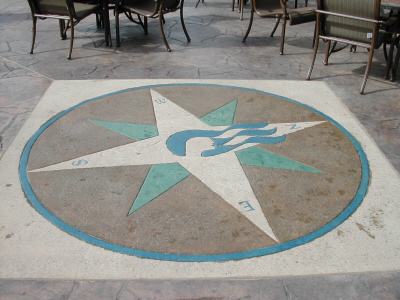 Your documents will come with luggage tags, all different types. There is a large tag that is green that says 'travel with me', and if you're cruising, you'll be offered a bright pink tag that says something else, but means it's just your cruising clothes and it won't be hauled along with you. Remember to pack your bags that way if you're doing a cruisetour. There could also be a smaller luggage tag for the specific first lodge you go to, but there might not be.
When you arrive in Alaska, at each resort, you'll already be assigned a room, and you'll get a packet with your room key and info of the resort. What it will also have in it is a baggage tag for your NEXT resort, and instructions about what time to have your bags out your door for pickup, and what time and day you're leaving that resort and where to meet. What Princess does is haul the baggage along separately from the people. At each resort you'll need to have your suitcase outside your door for pickup at the time specified with the proper small tag of the next resort on it along with your 'travel with me' tag that says on for the whole tour duration. These luggage pickup times ranged from to , depending on where we were and where we were going next. Then, of course, you also have your small carry-on always with you. On your coach, on your train, etc.
Each resort also has a bag check area for you to leave your carry-on if you need to check-out before going on an optional tour. There is no charge for this.
The cruisetours almost ALL have the same excursions pre-included. These are the three I did Fairbanks and Denali – City of Gold and Discovery Riverboat in Fairbanks, Natural History Tour in Denali. Of course it would always be your option to skip anything that's included, but why would you unless you'd seen it before? Because of the pre-arranged travel times and pre-arranged tours, you'll be busy and make the most of every day. My advice is to NOT pre-plan too many optional activities. I know everything sounds fabulous and wonderful, but everyone needs some downtime or you'll get burned out. Be sure to keep this in mind when you're planning ahead! The resorts are fabulous. Give yourself some time to just enjoy them in your schedule.
Most Princess cruisetours are not escorted. What that means is that they're a combination of pre-planned hotel nights, day tours and transfers via coach or rail, but do NOT include the food on the land unless it's just part of a day tour. (A salmon bake obviously has food included, and most tours offer a beverage and small snack if they go a while.) You will not have an assigned tour guide. You'll just be on your own for meals, and getting yourself to the proper meeting area for any busses or trains you need to catch, etc. Many folks like this, which is why Princess does it this way.
Dining, and escorted touring:
What I experienced is a fully-escorted tour. My group of 24 had our own tour director, the fabulous Jill Burnett, that was with us ALL the way. She met us in Seattle and gave us our first packets. We had a private motor coach for all coach transfers (escorted groups are usually 50 people which would more completely fill a coach than our group did). On each coach transfer, she had the option of talking or having the driver/guide talk. Since she lives in Fairbanks, she had a lot of extra info to give us there.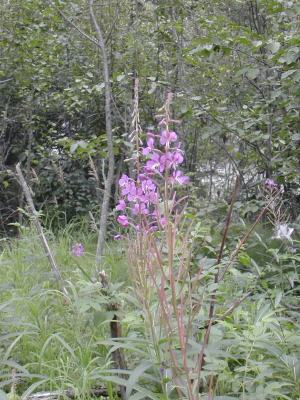 On each coach from place to place she gave us a personal daily itinerary with all of those bags out and leaving times, and she also gave us a list of the optional tours at each lodge before we got there. THEN we'd turn in our top choices, and she'd pre-arrange them for us via phone without us ever having to walk up to a tour desk and inquire once we arrived at the lodge. If we had a problem, we told her and she did what she could. She worked constantly. She gave us candy treats and made us fell all loved and well taken care of. And, despite all that wonderfulness, I'm going to recommend you consider an escorted tour vs. the usual "on your own" type for one reason – food.
Princess only offers a couple of escorted tour options, and they're usually the longer tours. If you're thinking of doing one of the longer ones anyway, give a second look to the escorted options. They do cost more, but you get all that extra service AND ß breakfast and dinner included, plus an occasional lunch. I'm saying this because the food can really dent your budget if you're not careful. The packets I got at each lodge contained my meal vouchers for that lodge. The vouchers offer you the option to have unlimited food a non-alcoholic beverages for the meal they pertain to. You can order everything you want, and the best stuff on the menu, and it's all covered, including a 15% tip for your server. The only thing you pay out of pocket is the alcohol. If you're planning on doing the fine dining restaurant in each lodge, you'll pay $50 per person easy for dinner at night. Of course, you can absolutely budget yourself and eat in the deli or burger place in each lodge and plan ahead. But do keep this in mind. I had Alaskan King Crab TWICE on the tour for dinner, and just that entrée was $42 per plate. (Of course, it was the most expensive thing on the menu!) On top of that I had an appetizer, salad or soup, and a fabulous dessert nearly every night. Kind of like a cruise actually. My fellow agents and I estimated that someone eating fine dining every night could spend $100 per day on food, and with that in mind, the escorted tours are a VERY good value. Don't let the price scare you.
Conclusion:
I know I'm repeating myself, but I just loved this land tour. If you don't want to "rough it" in Alaska, staying at the Princess Wilderness Lodges is the best way to go. It's a great vacation. It's great to do it on it's own without a cruise. The only downfall is the packing and unpacking, but it's a small price to pay. I'd LOVE to help plan a land trip to Alaska for you!
And, lastly, if anyone at Princess goes the extra mile for you (as I strongly felt Jill did), be sure to grab a 5x8 form on the registration desk, from your room, or anywhere else you might see one and write up a recognition for that employee. Princess' credo "Courtesy Respect Unfailing In Service Excellence" instills the desire to be really helpful in all employees. If anyone does something really great for you, be sure to fill one of these out to let the organization know! It'll mean a lot to that employee!
To view more photos go to Suzy's Photos-Only Site. (There are 100's of photos, so it might take a while before I can load them.)
You might also want to read the Alaska Cruise Review from my 2002 trip where I did the Voyage of the Glaciers, plus spent time on the Kenai Peninsula pre-cruise.