March 5-9, 2005
Well, I'm going to try writing this in real-time, so ALOHA!
Before I begin, let me first say that I don't vacation like most. I'm a lily-white girl who burns fast, so lying in the sun for a day doesn't appeal to me. I'm not a shopper. And I'm only somewhat adventuresome. What do I do then you say? To me, vacation is just about getting away from the housework, cooking, relaxing with a great book and spas. And I love wildlife, especially whales and dolphins.
Flight to Hawaii
Do not expect a lei greeting upon arrival! That's either a tradition of the past, or a Hollywood misconception we all have. You can purchase one in advance and then take your voucher to the 'lei stands' area of the Honolulu airport though. It's near the car rental area. Just follow the signs!
We chose to fly transpacific on Aloha Airlines. I thought the flight over was great. Aloha has direct service from Oakland (my closest airport) to the islands, so I chose that.
Our direct flight included beverage service, breakfast (decent), a movie, and freshly-baked chocolate chip cookies and milk. The only complaint I had was that they charged $5 for headsets. Don't forget yours if you want to save this fee.
The Honolulu Airport was nice to arrive in. While in flight they make you fill in a form declaring that you're bringing no mainland plants. The Hawaiian ecosystem is quite fragile and they severely monitor incoming animals as well. Don't plan on taking your pet unless you're moving to Hawaii.
Outbound back to the mainland, they also have an agricultural inspection, so don't plan on taking anything from Hawaii unless you're sure it's allowed.
We flew Aloha inter-island as well. That was fine. They have nice 737 jets. The seats are narrower than the big flight, but it's short and livable. I do have to say that they don't seem to have assigned seats on these short ones, so folks tend to line up early.
Hotel Room Types - Warning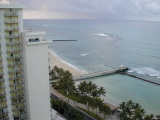 Most beachy hotels (Hawaii is one location that does this, but any beach town would be the same) have weird room categories.
Expect garden/city view to be the cheapest without much to write home about.
Expect Ocean View to be an unimpressive sliver of ocean viewable from the left or right of a lanai (balcony) or ocean slivers seen through trees. (Our Ocean View from our WAIKIKI BEACH MARRIOTT RESORT is shown here, as viewed to the right from our balcony.)
What most folks envision as ocean view is a window or lanai that is completely facing the ocean. What you want is the Ocean FRONT. Of course, if you book your vacation with me, I'll ask you these questions to avoid disappointment. It's all those folks that book without an agent's assistance that end up with the super huge disappointment upon arrival. The view to the left here is the Ocean Front view from the Sheraton Moana Surfrider Tower Deluxe Ocean Tower room. (Read about this hotel on the more Oahu Hotels page.)
Of course, there are exceptions, but be sure to keep this in mind when shopping around.
OAHU
Car Rental
Catch the car rental shuttle bus for your company right outside baggage claim in Honolulu. Your bus driver will give you more specific instructions as to how to return your car when you come back.
Obviously big in Hawaii, the airport road clearly marks where to go when returning with bright yellow signs.
Honolulu is a nasty place to drive. Be ready with maps! The city was built with one-way streets everywhere. There is often streets in pairs. One block goes North, the next South, and so on. It's also not a perfectly square grid, so when the one-ways start turning it's a real pain. You'd get used to it if you stayed a while, but on your first day, be sure to find your hotel in the daylight or consider not renting a car at all. Oahu has a great bus system, so I'd say a car is optional. And most daytime activities will pick you up at your hotel.
Activities
The "must-see" thing on Oahu is the Polynesian Cultural Center (PCC). It's on the opposite side of the island from Honolulu, and it's closed Sundays. You should give yourself a full day for it if possible.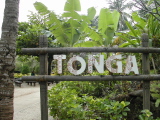 The PCC has sections representing various Polynesian cultures, with educational demonstrations presented on the hour or half hour. They also have an IMAX theater that showed a great film on coral reefs that we viewed. Each of the Polynesian cultures represented had their own "area" marked by a neat sign.
If you're interested in seeing a luau while in Hawaii, the one at the PCC is supposedly the best. We didn't have time to partake in it, but I do recommended it. When going to the PCC, planning way in advance is suggested. There are tons of ticket packages available. We chose general admission to see the cultural villages plus the IMAX. One that includes the luau and/or the spectacular evening show is the most popular.
Activities we did in Waikiki itself were a whale-watching tour through Dream Cruises (arranged in advance with our package). The tour was 1.5 hours, and they picked us up at our hotel. We were on the early morning tour, departing the pier at , arriving back around . It was wonderful and suggested. There were a total of 8 total passengers and we saw lots of whales.
The same tour leaving at regularly has 100+ passengers!
The tour comes 'cruise-only' or with breakfast added. It was quite a bumpy ride, so I think without breakfast would be best! :)
My husband went scuba-diving with a company called Island Divers. He said it was fine, but they didn't do any challenging dives. There were a lot of beginners in the group. He had a fun time though, and it was great for him since he hadn't dived for 1.5 years. He saw moray eels, eagle rays and sea turtles, as well as tropical fish on the coral reefs they dove. It was a 2-tank dive that lasted most of the afternoon, and the ride was very rough between dives. They dove out off of Diamond Head, which was also where we saw the whales on the whale-watch trip.
On our way to the PCC on the opposite side of the island, we took the scenic route through the center of the island on the way to the North Shore. It was high winter wave season and we hoped to see surfers on some big waves. Unfortunately, there were red flags on the beach meaning the waves were unsafe so there weren't any surfers to see.
We did think the North Shore was much more idyllic and peaceful than Waikiki, which had a packed city feel to it.
They have just finished a major redo of Waikiki beach, creating a beautiful stone-looking walkway meandering all along the beach that is great for an evening stroll. There are also tiki torches all up and down the beach and on many hotels. Around sundown native dressed boys run up and down the beach lighting all the torches by hand. It's quite a spectacle!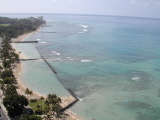 Waikiki would be a great place for families with kids, as they have a few cement piers creating rectangular wading / swimming beach areas free from the big waves and undercurrents. There are 'normal' sections of beach too, providing lots of surfing opportunities. You wouldn't believe how many surfers were out there!
I spent much of our free day checking out various hotels along Waikiki Beach. You can read about those on the more Oahu hotels page.
Hotel
General comment about Oahu hotels - everything was built up long ago on the precious small amount of real estate. It seems like the important thing to know is that your hotel has been renovated. Something original might be something you might not want to stay in.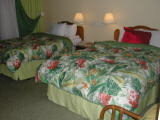 We stayed at the WAIKIKI BEACH MARRIOTT RESORT during our brief visit to Oahu. It's very nice, I'd say 4*, with two beautiful gardeny open lobby areas and two towers. There is even a waterfall in the main lobby that shoots up a geyser periodically.
We had an ocean VIEW room, meaning we looked straight out at the rooms of another high-rise hotel. If we stepped out onto our lanai and looked to the right we got a good view of a section of Waikiki Beach. (See above.)
Our room was spacious, comfortable, and clean but had one MAJOR drawback to me. The bathroom had two sections--an outer vanity & sink area with the coffee pot and hair dryer, and an inner room with the tub/shower and toilet. There is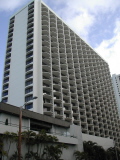 a door on the inner room (a normal door on some, a 'pocket door' that slides out of the wall on others). The big, bad thing I didn't like was there was only one bathroom light. If you turned on the light, it lit up both the sections, and flooded the bedroom part of the room with light since there is no door on the vanity section of the bathroom. Since my long hair takes so much time for combing and drying in the morning, I always get up a half hour before my husband and let him sleep. Needless to say, he was really unhappy when I put the light on in his face and I was not pleased there was no door for me to shut. If you stay here, be sure everyone in your party wants to greet the sun at the same time!
Also, note that there are two towers to the WAIKIKI BEACH MARRIOTT RESORT. They are not next to each other, they are one behind the other. The Kealohilani Tower is the one we stayed in, and that's the one closest to the beach. The Paoakalani Tower is behind it, so from that one you have even less of a sliver of an ocean view from your lanai. Try to get the Kealohilani Tower when you make your reservation!
Kauai
Car Rental
Lihue is a very small airport and is very easy and convenient in every way. Walk out of the baggage claim and across to the car rental area on the center island. DO NOT get in line at the counters you see if you already have a reservation. Walk behind those to the shuttle busses that will take you to the real check-in where the cars are.
Activities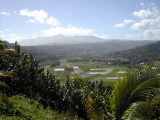 Kauai has a lot of unswimmable beaches. The islands are new (relatively speaking) and there are many beaches on all the islands that aren't for swimming. As a matter of fact, there are many places on the islands where the islands jut straight up out of the ocean with no beach at all. Be sure to inquire before you book a hotel if a beach experience is important to you.
We had only one full day on Kauai after arriving inter-island midafternoon from Oahu. On that afternoon we shopped for matching aloha print clothes at the original Hilo Hattie's.
On our one full day, we first drove up to the northern side of the island to see the beautiful lush green of it. WOW! It would be a crime to stay on the south side and never experience the beautiful lush green of the top side of the island. It rains almost nightly up there.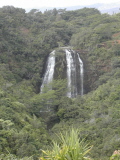 After taking in the scenery of the drive and valley views, we headed back down the main highway and stopped at two waterfalls. The first one was Opeakaa Falls. It's big and gorgeous, but a long view across a green canyon.
The second waterfall you can see up much closer, Wailua Falls. These are the falls you used to see at the start of Fantasy Island. Be prepared for a rough ride (paved, but bumpy) on and old sugar cane field road to get there.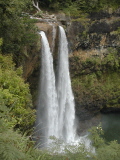 One of the fun things we did on Kauai was visit the Kauai Coffee Company. I'm a coffee lover, and I like flavored coffees the best, so I was in heaven here. We learned all about how coffee is grown, and the meticulous way they at Kauai Coffee Company process all the different coffee beans to make sure they're perfect. I have NO IDEA why Kona Coffee is more expensive, but if you ever get a chance to have Kauai Coffee, take it. They are often mixed in when you see brands in our own mainland stores touting "Hawaiian Coffee". I bought some for me and some for my family and clients and we've all enjoyed it immensely. I even considered joining their "coffee club", where you get a different flavor every month, but that's not practical since I drink only decaf and all of the shipments are normal coffee. BUMMER! J
Rain began as we were approaching the falls in the afternoon. It didn't seem bad, but our last activity planned for the day was really hampered by it. We drove to see Waimea Canyon. They call it the grand canyon of the pacific and it's supposed to be spectacular. The road leading up is long and winding and we did it in the rain.
We got to the famous lookout, donned our rain ponchos, and headed up to the viewing platform. We saw only a sea of white clouds. My husband was really disappointed. He wished then that we had gone our first afternoon instead of shopping and relaxing. I guess my advice there is to go when you have a sunny say, don't delay to another day. The garden isle takes a lot of rain. Tropical rain is far from uncomfortable, but it happens often!
Our Hotel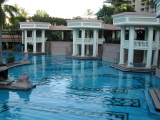 We stayed at the KAUAI MARRIOTT RESORT in Lihue. There is no reason to go anywhere but here! It's right by the airport, but you never hear planes. It's right in a protected bay, so the beach is swimmable and there is a company right next door that rents sailboats, kayaks, and lots of other great equipment. It has one of the biggest, most beautiful pools you've ever seen. And that was only on one side of the resort! More towards the front was a pond area with fish and walkways and bridges that was very beautiful. The food is great. The evening music is great. They have some planned activities and a kids program. Just wonderful.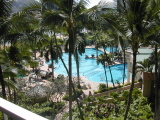 The room category we had this time was the unique 'pool ocean' view. The room was so fabulous we didn't really care, but FYI this is a pool view. Technically, if the palm trees swayed right we could see the ocean/bay, but not really. The pool is great to look at though, and at night we could open our sliding door and hear the music drifting up from the verandah above the pool.
The room itself was large, with a nice lanai. The bathroom was very big, with a marble countertop and a marble shelf next to the large tub. (Bath products were provided.) The toilet was in it's own alcove of the big bathroom, specifically behind the bathroom door when the door is open. This made for interesting navigation at night, but it was fine other than that.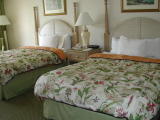 THE BEST THING though was that this Marriott was built as a Westin originally. What does that mean? Heavenly beds of course! Wow. SO comfortable! I was pleasantly surprised when I laid my head down to sleep the first night.
We ate once at the hotel's breakfast buffet, which was good, but $20 each or so. And the last evening we had dinner at Duke's Barefoot Bar. Don't be fooled by Duke's. They've got a nice restaurant upstairs, but a fun reasonable bar/restaurant downstairs at beach level. And if you're interested in golf, there are two courses adjacent to the resort.
Here is a BIG TIP about staying at the KAUAI MARRIOTT RESORT in a hotel room though. Most of the resort is condos/timeshare. This doesn't ruin your time at the resort at all, but your room is likely going to be in the Ha'upu Wing of the resort if you're there in a hotel room. To get here, do NOT pull into the circular drive at the front of the resort.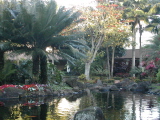 That's WAY FAR from where your room will be. You might want to drop someone off there to check in, but keep all the bags with you and continue up the drive from the circular drive towards the golf courses. Watch for a small sign that says "Beach Access" and go to the right (this is the first drive you can turn right on after the circular drive I believe). Again, you'll come to another fork and go right and down toward "Beach Access" again and you'll find the parking lot you really want that is right behind the Ha'upu Wing. This small parking lot is jam packed frequently, from those staying in the resort AND those using this lot to access the beach. The resort will give you a sign to hang in your car that let's them know you're a hotel guest that's got permission to park there overnight. From the Ha'upu Wing, it's an easy walk up along the Aupaka Terrace above the expansive pool area to the turn towards the main lobby in the middle of the resort. (The lobby is not close to the main entrance either, just so you know. You could take your whole party to the parking lot and then go check in from there.)
Remember, there are many more hotels reviewed on my next two pages, More Oahu Hotels, and More Kauai Hotels.
Please remember to contact me, Suzy, if you're interested in booking a vacation to Hawaii. Not only do I write detailed reviews, but I take care of all the details when I book your vacations as well. Please hit "Contact Us" at the top of this page for personal service, or just go to our main Vacations page and click on "Book your Dream Vacation" for live online booking!