Day 4 Sunday - Jasper all day between two overnights

Included breakfast starts at either Cavell's 6a or Moose's Nook 7a. The bus left at 8:30am. Since we thankfully had two nights here, there was no 'luggage out' time.

This morning we took a ride out to Maligne Lake. Along the way we made a couple of scenic stops. The main activity though was an included Maligne Lake boat tour. This is an enclosed boat with lots of windows that holds about 50 people each boat. The narration and scenery were great. About the middle of the trip we stopped at Spirit Island for a stretch, a 5-min viewpoint walk and a restroom break (none on the boat itself).

After the boat cruise, its about 45-min to an hour back to Jasper Lodge. Some of the group got out there to spend the free time at the hotel. I personally had arranged a spa treatment and then nothing after.

The rest of the group stayed on the bus and continued on to Jasper (the town) and had lunch, shopped, whatever they wished. Others had a rafting trip during the afternoon, did other tours on their own such as the Jasper Tramway, or did an evening nature walk with dinner in town included before the walk.

Globus offered two 'optional' tours this afternoon. One was a rafting trip (think white water, medium difficulty, get very wet). The second was a nature walk with dinner, where you eat in town and then are bussed to a really great hike area on the hill. Since it started pouring down rain that afternoon, the hikers who were set to leave at 5:30pm didn't actually end up going. Many from another Globus group in the area that day DID go and said it was still awesome.

Dinner was not included with the tour today. This turned out to be quite a hassle for us. The two nicest restaurants require a reservation, but the casual sports bar restaurant, Tent City, was amazingly NOT OPEN on Sunday evening. We had scoped out an entree we really wanted to try there, but then couldn't eat there because it was closed. The Emerald Lounge only had a few items, which were WAY overpriced. (Think $28 for a burger!) We determined the best value was going back to our room and order room service. We got a 14" 3 topping pizza for $28, and this wasn't including tax and tip. We then went to the Emerald Lounge much later and had a $14 banana split. Can't wait for a healthy breakfast tomorrow!
Another side tip – our upgraded room category had a fireplace. Nice for sure on a rainy afternoon we had during our free time. HOWEVER, the woodpile provided within our cabin had green wood stacked on top, where we grabbed it first of course. Dig to the bottom of the pile and grab yourself some of the dryer pieces if you attempt to start a fire. We ended up giving up after a while.
Jasper Lodge has an award-winning golf course. If you love golf, you might want to spend your free time playing a round there.

Day 5 Monday - Jasper to Banff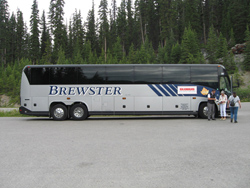 Again, wake up 6am, bags out 7am, breakfast somewhere in there, depart 8:30am.

This morning we had buffet breakfast in the Moose's Nook as opposed to Cavell's and it was actually better. Less crowded and they had an omelet station which the Cavell's didn't have. Also, Cavell's is on everyone's paper list as open, but Moose's Nook is only verbally told by our tour director. Whereas we could barely get service in Cavell's on Day 4 for breakfast, Moose's Nook was nearly empty today. I strongly suggest you do the Moose instead! It opens at 7am, which was plenty early for us but later than Cavell's.

Today was a long driving day between Jasper and Banff. The schedule officially called for a stop at Athabasca Falls, but we did that on the way up since our schedule was good, so we got to fit in other stops instead.

Right outside of the Jasper Lodge we saw and elk and a bear. Literally, within the first 30 min of the day! And right after that we saw a big horn sheep. Obviously, we stop for wildlife whenever possible. On that note, I want to say that on this trip so far we have TWICE seen a bear, elk, big horn sheep, and mountain goats. This is more large wildlife in three days than I saw in my entire trip to Alaska the last time I went!

We had a couple of quick photo and bathroom break stops enroute to lunch in Lake Louise. This time we didn't continue up the mountain to the Fairmont Chateau Lake Louise, but just stopped in the main town shopping center to get lunch, shop and check out the visitor's center. There is a great paper guide here called the "Mountain Guide" you can pick up at any parks office. I suggest you get one.

Then we had another unscheduled stop at the Spiral Tunnels because there were two trains coming through. This is an interesting contraption built by the railroad engineers to help the train track rise in elevation without being too steep. They built a circular tunnel through the mountain (kind of reminds me of something a roller coaster would do at an amusement park) that allows you to see the train go in one hole and out another on the same side of the mountain. You can see both parts of the train at the same time. It was a special treat because you never know when a train is coming and we got to see two! It really made the day of our train buffs onboard.


On to the two major sights of the day which were in the Yoho National Park - we stopped at the Natural Bridge, which spans the Kicking Horse River. You can no longer walk across it, but they've built great observation platforms so you can get great pictures of the water rushing under the rock arch. In some number of years that will fall and it will be JUST a waterfall. For now its a cool feature within a pretty waterfall type area already.

We also made a stop at Emerald Lake, which was nice, but not the most beautiful we'd seen on the trip. I'm sure part of the reason was that most of the lakes we were able to view in full, glorious, sunlight. And today was partly cloudy with off and on rain, so the clouds made the water color a bit darker with shadows.

I do have to say that this facility has the nicest outhouses though. Don't follow the leaders...the best ladies facilities were on the BACK SIDE of the first green roofed building marked for Men on the high traffic side. Walk around and avoid lines ladies!

Some highway construction delayed our arrival into Banff, so we got there about 4:45pm. The delay was rather enjoyable though as our fabulous tour director Joyce played us a History Channel DVD on the coach internal TV system about the history of the Canadian National Railway.

Dinner was 'on your own' again tonight, but the Banff Springs Hotel has a lot more facilities than the Jasper version. There is a convenience style little store where you can get snacks 24 hours. However, it was still overpriced BUT town was a 15-min walk, free community bus, or $10 taxi ride away. Charles went to town and had sit down food, but I wasn't feeling 100% so I had cereal from the snack place. We probably both paid $14 for dinner.

The next day we did realize that there is a convenience / grocery store across the parking lot from the hotel that has everything cheaper. There is also a business center there where you can print boarding passes and such. These would be on the bottom level of the Conference Center building you can see across the circular driveway from the hotel. Can't miss it.


Day 6 Tuesday - Banff all day


Today we had an 8:45 am departure for our included tour to the Sulphur Mountain Gondola. Of course, with two nights here, we had no 'bags out' time, and we could eat the included buffet breakfast whenever we pleased.

The Gondola ride was fabulous! At the bottom they had a Starbucks and a store in the big lower building, as well as a snow bus on display like we rode on the glacier in on Day 3. Then the gondola cars themselves hold four people, two each facing one another. Each party could have a car to themselves, but most of our tour group piled in two couples per car. Only those not with our tour didn't join our cars.

The ride is 8 minutes each way and very scenic. We were lucky to have another clear day on our gondola day, so it was very enjoyable going up and down. You need to keep your ticket handy as its good for a round trip and if you lose your ticket you'll have to walk down (there is a trail). No, I honestly doubt that. They didn't even check our ticket on the way back, although this is the story that Joyce told us before sending us off up the hill.

At the top there are outdoor viewing platforms in a bunch of places. The biggest platform was on the main level the gondola comes in at, with a gift shop on the main level, a cafeteria style stack bar with tables next to viewing windows on the next level up, and then UP from that is a very nice sit down restaurant. Then out the top from that is another outdoor platform with higher views and really cool signs that told how far from various world cities in the various directions from the top you were.

Another thing that was there that we did NOT do was a steep steps hike up to the top of a natural hill about a half mile away. We decided to skip this because hiking in the high altitude was really challenging and we were already tired from the multiple days of touring.

After about an hour and a half total at the gondola location, we went on a quick bus ride around Banff with a couple of very scenic stops, and then were back in town. Some group members got off the bus in town and shopped or had lunch or whatever they wished. We got back to the Banff Springs Hotel a bit after noon.

There were two optional tours again offered by Globus. One was a 'float' trip on the river, which was a quiet and scenic ride enjoyed by all that did it. The second was a helicopter tour that Charles did. Both the rafting company and the helicopter touring company had their own busses that came to the hotel to pick people up. Joyce our tour director met both groups in the lobby and took them personally out to the bus they needed to meet. The Banff Springs Hotel is very much a maze with a lot of entrances, so this was a fabulous service.


For the helicopter tour, Charles rode the bus to Canmore, about a half hour away from Banff. Then he had a 30-min ride through the mountains called the Three Sisters, over some beautiful lakes, and very close to one of the glaciers. He said it was one of the highlights of his trip and took some great photos. The helicopters Alpine HeliTours uses hold five. If you want to get the front near the pilot, try to place yourself fifth in line.

During the free time afternoon when Charles did the helicopter tour I went to the Willow Stream Spa at the hotel. With this hotel, the spa facility itself is the best of all the hotels we stayed in. Its worth it here simply to get the day pass to use the mineral pools and the steam room and saunas and locker room facilities. The price for a day pass is $69 per person if you aren't a Fairmont President's Club member and $49 if you are. However, joining is free, so there is no reason not to join and get the free stuff you have access to in all the Fairmont Resorts.

I personally did an actual massage treatment (which was great), so that gave me access to the mineral pools, etc. without having to also get the day pass. The mineral pools are one large one that is swimmable size and warm, with three smaller pools that have waterfalls going down into them that are three different temperatures. They suggest you 'take the waters' by doing the hot pool, medium pool, cool pool, and then lounging in the big mineral pool. Ten minutes each for the first three, then however long you want in the big mineral pool. Its a beautiful area with glass walls to the garden and loungers around half the pool.

The hotel itself also has regular indoor and outdoor pools that were quite beautiful we didn't try.
Our last day in Banff concluded with the Farewell Dinner in the Conservatory room in the hotel at 6pm. Everyone had to pre-order which entrée they wanted on the bus in one of the prior days, and then during dinner we had that. We were seated at four round tables of 10 and had a great meal. Joyce gave us all a copy of the group photo we had taken on Day 2 at Lake Louise, and we exchanged email addresses and names of the group members we liked. Please note that Joyce said she is no longer allowed to share a list of the group's personal info, so if you want to get that, you need to designate someone to collect the info.


Day 7 Wednesday - Tour officially ends Banff to Calgary


Some members of our group had the Rocky Mountaineer Train extension to Vancouver for a couple days. They had to get up early and departed the hotel at 7:45am.

The rest of us on the basic 6-night tour either had our tours conclude today or we added on a hotel night in Calgary post-tour. We had bags out 8am, hotel departure 9:15am. Then it was a quick bus ride down to Calgary where the tour bus takes guests to the Calgary Airport first. Globus says no flights before 1pm, and I'd say that was very accurate. We had no traffic and got to the airport around 11am.

FYI if you're going on a USA direct flight from Calgary, you'll go through USA customs as you're departing the Calgary airport. Our bus driver Lorene had immigration forms for us so we could get them done at our leisure on the bus before our airport arrival. If you connect through another Canadian city such as Vancouver, you'd do customs there.

After the airport where are Tour Director got off and flew home, the bus driver took us back to the Westin where we started originally. We arrived around 11:30am. Joyce had called ahead and the hotel made an effort to have our rooms ready. There were three couples that had the add-on hotel through Globus and one that was staying there but had arrangements on their own. All of the Globus guests' rooms were ready to be checked into.

We decided to go up the Calgary Tower for the view in our free afternoon in Calgary. The interesting thing about that is there is a restaurant at the top called Sky 360, and if you buy an entree for lunch or dinner there you don't have to pay the $15 or so fee to ride up the elevator. Something that IS important though is that you have a reservation before you go - either at lunch or dinner.

We showed up down there (only a few blocks walk over to Centre St and then a few blocks into downtown) shortly after noon, but they had no lunch reservations available until 1:45pm. We then took a bit of a walk through the Stephen Avenue Walk pedestrian shopping area and went back for our reservation.

The views were nice. I don't see the point in adding more than 5 min time for 'viewing' level on top of your restaurant reservation. The food time was plenty. And you can go out on the clear glass section of the observation level for a novel view straight down before or after eating and then you've seen it all. The lunch food was pricey, about $20 per person, but it did taste good and it was fun to be up there as the restaurant rotates. They do one revolution in 45min for lunch and 1 hour for dinner time.

On our way back to the Westin Calgary we stopped at the Core Downtown Shopping Center, which is huge. We just wanted to stop in one Canadian store we love and then go back to the hotel to rest. The Core is two blocks wide between 7th Ave SW to 9th Ave SW and three long 5th St SW to 2nd St SW. Its three levels with the second and third levels over the street. There is a huge selection there if you want to shop. They have a lot of directories available, and we were able to find our preferred store quickly and get back onto the street.

That concludes our tour. Westin has free boarding pass printing in their business center, so we did that when we got back to the hotel and put our feet up for the rest of the night.
Westin also has a rooftop enclosed pool on the tower closest to the Shell Building, so if you want a good view OR to swim, you might want to check it out.
The post-tour hotel night at the Westin was $117 per person, so $234 total, and included breakfast. Comparing this to going rates for that same property on that day, the Globus price was a better value AND I'd suggest getting it simply because of the Tour Director making the request to have your room ready early.


Commentary about room categories -


I'd say its no big deal if you stay in a standard room at the Westin Calgary (other than the lousy bath in the rainshower rooms). However, when you stay at the three iconic Fairmont Resorts in Lake Louise, Jasper and Banff, you should take some time to consider upgrading - OR I at least want you to know about it. This is a once-in-a-lifetime type bucket list type trip. Most in our group didn't even know upgrading was an option.

In all properties, if you book the tour in the normal price, you'll get a standard Fairmont Room. This is going to be as basic as it gets, no view, etc. Globus holds higher room categories in their block of rooms as well, you simply need to use a good agent to suggest them, or know to ask your agent yourself. The upgrade cost is minimal and different in each property.

Since I AM an agent, AND it was my birthday trip, I researched the categories in the properties and made specific requests of Globus. First, at the Fairmont Chateau Lake Louise I simply wanted a lake view. Why go to the Lake for just one night and not be able to gaze at the iconic lake in the evening and when you get up in the morning? The upgrade to lakeview was only $58 per person.

At the Fairmont Jasper Lodge there are cottages spread over 60+ acres, and some far from the lakeside and far from the main building that houses all the restaurants. Ask for more choices! Since we did spend my actual birthday there, we upgraded to a 1-bedroom suite with a fireplace that was in the building closest to the water's edge. It had a partial lake view, but it was large. The upgrade from basic to this very highest room category that Globus offered was $60 per person. We actually wanted a Junior Suite with a lake view, which is a category higher than Globus offers. Even though I had requested this upgrade direct with Fairmont and was willing to pay that upgrade, there were none available.

In Banff, we did not request an upgrade, because we thought we'd be happy with mountain or town views (both sides of Fairmont Banff Springs are great). We never considered we'd have NO view. Turns out we were upgraded a tiny bit anyway, so we had a small room but a bit of a view on the second level of the back side. Others in the group had a view of a roof (no view) but a larger window and room. Each room in this resort is unique, but a room with a view for a small price would be worth it. I would absolutely return to THIS resort for a weekend getaway it was so fabulous. And if I did that, I'd pay a few dollars for an upgrade for sure.


Overall Impression and Comments -


Touring the Canadian Rockies in this area is VERY similar feeling to doing an Alaskan land tour. And its a much closer flight for most in North America than Alaska, so I do strongly recommend it.

This tour would be something you do once in your life most likely. During our tour, we saw nearly every significant sight and there would simply be no reason to do it again as an overall tour. I WOULD go to Banff again, simply for the beauty of it and the wonderful spa and a relaxing vacation. But Not the full itinerary up to Jasper and back. Once should be on your bucket list though.

If you're planning on going, realize you're staying in some iconic historic resorts, and the rooms are potentially small and/or weird. You're there for the experience and not so much for the perfect bedding or the most hotel amenities.

FOR SURE do an organized tour as we did. There are a lot of folks that vacation in this area independently. And you know what? If they stayed at the same great Fairmonts we did, they paid a lot more for their vacation than we did. The resorts are expensive in both the cost per night as well as the cost of food. Also, the excursions we did were really pricey. We started adding up the separate components and the food cost and the going rate promotional hotel cost and there was just no comparison. The Globus Tour is a great value.

And then add on top of that the exceptional perks of just being on a tour that don't have a monetary value. Our fabulous tour director, Joyce Ambrose, had us pre checked-in at every hotel. As we arrived she went inside and got our ticket packets and handed them to us and off we went. No standing in line.

At the organized tours, we went to the front of the line and got on the bus / boat / etc. ahead of others. And at the quick stops that were technically free National Parks sights, motor coaches had preferred parking. At some of them, regular visitors with cars found no parking or parked far away due to the crowds. It was like having a permanent 'cut to the front of the line' pass.

And then the immense wealth of knowledge both Joyce and our great bus driver Lorene had was "priceless". On your own, you wouldn't have learned all the cool little historical tips we did, nor be told great tips on where to find specific souvenirs, the best food, or other inside stuff.

The ONLY downfall of doing any escorted tour is the tight nonstop schedule and the early morning wake-ups we had to endure. It was constant go go go, but on the other hand, we didn't miss a single significant site and every site was breathtaking and SO worth going to!

I thought Globus did a great job and be sure to call Suzy to help arrange your next trip! (Or hit Contact Us in yellow at the top right of every page on this site.) And be sure to search the site for other great Globus Tours. They cover the world, so you could tour with them to almost any destination you're wanting to see!