Great things said by traveler's who live nearby
"Suzy ~
Just wanted to get a note out to thank you for all your effort in getting our cruise put together. You had a lot of people to deal with in our group and it all went off perfectly.
Thank you for the wonderful shipboard credit as that was really nice! Thank you also for the lanyards and pre-cruise card you sent!
We had a remarkable time on this cruise and especially liked the adjoining balconies as we did spend a lot of time out there and it gave us easy access to each other. Of course the food was wonderful and we were impressed with how clean they kept everything on the ship.
Thanks for all you did for us!
Love, Jeff & Jackie & Family"
Orange County, CA (as well as other locations)
"Suzy:
Thank you for all your help in our vacation of a lifetime!
~Toni"
Mountain View, CA
"It was the last minute. My husband and I couldn't decide where to go or what to do. We threw around choices, Mexico (too hot). Las Vegas (way too hot). Then I remembered how Suzette talked about cruising. We'd always wanted to go to Alaska so on the off chance there might be something at the last minute, I asked Suzette to check it out for me. Not only did she book us on a cruise and get us a great price within 7 days of sailing, but she held my hand every step of the way with suggestions on clothing, what to take, what to do (and what not to do!) all the way to the day of the flight up to catch the ship. She is a walking encyclopedia of information for travel! If you look up "cruising" in the dictionary, you'll find her picture. I'd use her again and again!"
Rosie Simms
Danville, CA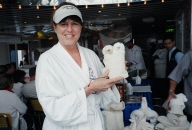 Rosie on her Carnival Cruise with her prized towel "chicks"