Cruise Line: Princess
Ship: Star Princess
Sailing Date: September 24th, 2003
Itinerary: Coastal - WITH DETAILS OF PRINCESS AT SEA WEDDING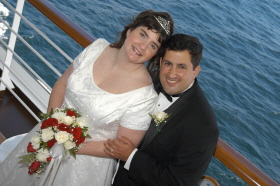 General – This review will not be my standard, detailed, cruise review. This entire cruise was all about getting married on the ship. So, I will briefly describe the cruise and our cabin, but mostly give info to help others with Princess weddings.

The Cruise – We cruised on a short coastal repositioning cruise from Vancouver (Canada Place) to Long Beach – 3 nights, two sea days only. No port stops.

Pre-Cruise - Flying into Seattle for any Vancouver embarking cruise is much more cost effective than flying into Vancouver. Therefore, we flew into SeaTac the day before, and stayed the night at the Hilton Seattle Airport & Conference Center. We got this hotel by using Priceline - $49 + tax. Great hotel, only 3 years old or something. 3 stars.

Having cruised in and out of Vancouver a few times, I've come to learn that the best way to cross over the US/Canada border is on the train (not a plane, bus or car). We boarded the Amtrak Cascades train at 7:45 am and had a leisurely trip up the coast to Vancouver. There was no customs boarding the train, and no stop at the border on the northbound trip. (Taking this same trip southbound, we were boarded by US Customs officers who collected our declarations and checked passports.) We arrived slightly late, but not terribly so, into Vancouver's central train station where we claimed our bags and headed quickly through Canadian customs. The train takes about 4 hours.

Embarkation – Canada Place
Upon arrival at Canada Place (I had arranged for a private van to shuttle my party of 8 all together), you get in a line to go through security.

After security, you are directed to the check-in for your ship. It looks like a standard Princess check-in, with booths marked with the decks. Each deck had a regular check-in booth, and express check-in. There is also a Platinum check-in booth.

After check-in, you go through US Customs before boarding the ship. When we disembarked in Long Beach, all we had to do was turn in declarations' forms in case we bought anything onboard, but we didn't have to show passports or anything. Very cool.

Our cabin – The Grand Suite B748
For the wedding, and expecting to entertain our traveling companions, we reserved the Grand Suite for the cruise. There is only one on the whole ship, so it's really special.

It's about 1,300 square feet, with its own living area, dining area, bedroom with King-sized bed (twins not an option), vanity room, private toilet with sink room, and large bathroom with two sinks, a 9 head shower, and a corner Jacuzzi tub. There is also a walk-in closet, a stocked mini-bar and fridge with sodas and beer, a desk and mirror in the bedroom, 2 TVs ( one in bedroom one in living room) and an internet café station. The TV in the living room has a DVD / CD player and a VHS player you can use. The internet costs the same as if you went to the public internet café. Princess.com is free though!

The balcony for the suite is very shallow, and the right side is open to above, the middle / left is covered. There are lots of sitting chairs, and two lounge chairs, but no sitting table out there. The balcony extends for half the ship, and includes the very center of the ship as you can look straight down on the wake from your balcony.

They had a complimentary hairdryer, but it was in a drawer rather than being attached to the wall. It worked great, and I have very long, thick hair. The soaps and shampoos were in generous sized plastic bottles, rather than the throw-away paper containers. There was lotion, shampoo, conditioner, & bath gel. No shower cap though! There was also an emery board and plastic packets with q-tips and cotton balls.

The suite has the heavier white ribbed cotton towels and robes for your use, as well as free Princess slippers you can take home. And, I STILL didn't think there was enough electric outlets. There were none in the main bathroom, although there were some near various vanity areas. Not too many considering the size of the place.

Some things to keep in mind if you are cruising in the Grand Suite:
-The doorbell has a funny, chirping sound. Be sure you listen to it so you know what the heck that noise is if you hear it.
-The right hand corner of the balcony gets soaked with the early morning deck washing every day. You might want to move those two chairs in the far right corner in the evening if you don't want them to get wet.
-The shower pan/drain isn't big enough for you to have all three showers on at the same time. It overflows. If you try all three sides at once, be sure to keep an eye on the water level. Two is fine though!

The Wedding "Experience"
Pre-Cruise Planning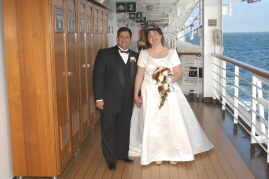 Princess has a two-pronged approach to weddings. First, they use an outside company called the Wedding Experience to handle all the details of planning the weddings.
You can have any of three choices, an "AT SEA" wedding, an "in port" wedding on embarkation day where you can invite folks to come onto the ship to attend your wedding and then they get off and you sail, or an "in port" wedding at one of your ports of call stops. I chose the "AT SEA" wedding, as that was the whole point as far as I was concerned!

We chose the short, 3-night cruise specifically so that family and friends could get away to our wedding time-wise and $$-wise much more easily than a 7-day. Princess only has these coastals in the spring and fall.

In the Spring of 2012 Princess changed the outside company they had running their Tie The Knot weddings to Royal Ocean Events. You can find details of the packages here on Princess' Website.
http://www.princess.com/learn/onboard/gifts_services/celebrations/wedding/index.jsp
Even though the companies they work with change, my feeling is you'd still have the same overall procedure happening that I experienced. You'd work with a land-based person for most of the time, and then you'd be handed off to the same person onboard as has always done them. (Assistant purser.) Therefore, I'm leaving most of my review intact here, and just letting you know there is a different contact now.

Part of your on land coordinator's job is to SELL you the "extra touches". These are, videographer, extra photo packages, flowers beyond what the bride and groom need, cake beyond the two-person bride and groom "included" one, reception, etc.

We chose the ULTIMATE photo add-on. This is the biggest one you could get, costing $950. It has ALL photos taken by the photographer on CD, as well as a bunch of 8x10s and 5x7s, and a large canvas print. To me, the wedding cruise was all about the awesome photos, so we wanted this.

We passed on the videographer, as they just record from the fixed cameras in the chapel and the price is outrageous. We had a friend videotape it all for us.

We also passed on having a "pay for it" reception, although we did buy a wedding cake. Lisa insisted that the cake cutting is one of the standard photo shots, so we had that done. We had 13 guests attending, so we wanted something to share with them, even though we will have a big land reception in a couple months.

And we bought corsages for our Moms and boutonnieres for the best man and dad. They were pretty pricey, as you can't exactly choose your florist, but it was livable. Boutonnieres cost $15 (roses or carnations) and corsages $20 (for carnations). You can request other flowers, prices vary.

On-Cruise actual wedding experience

When we arrived onboard, we had a letter from the onboard coordinator, whose name was Vivianne. We were instructed to meet with her at 3pm. This was a little tough, as we didn't get onboard until 2:15 and we needed food, but we made it.

Vivianne is a Senior Assistant Purser, and a wonderful person. However, although she is the designated wedding coordinator onboard, she is not entirely knowledgeable about weddings. Seems she gets LOTS AND LOTS of two-people only weddings, and didn't really know what to do with the rest of our party or guests. Lisa told us we would have a rehearsal onboard, NOT! We got a brief tour of the chapel, as part of meeting with Vivianne, just so she can show the bride her wedding day "route" and look inside the chapel. She didn't know what to tell me when I asked what my Dad should do giving me away, or even know what side the Maid of Honor or Best Man should stand on our how that should work! Thank goodness we did! You should get tips on this in advance if you are having any of these things.

So, Vivianne basically goes through the computer wedding order with you, word for word. She makes herself notes of all your special requests, so she understands everything. (She did a great job with this by the way… everything we requested was done.) She made plans for us to give her the sheet music we had brought special, my list of what photos we wanted from the photographer, as well as the list of whom gets what flowers that were ordered, etc. If you have such things with you, don't forget to bring these with you so you don't have to make a special trip to drop them off to her later.

There is no table for a guest book, although you could probably request one and they would add one for you.

The bride can pre-arrange through Lisa, which is confirmed with Vivianne, any hair or spa treatments the bridal party wants. By requesting them in advance with Lisa on your wedding order, you can be sure to have a slot saved for you. I had made a hair appointment this way, but decided at the last minute to get a manicure, and I almost couldn't get in for the manicure before the wedding. They charge $55 for makeup application, and you have to bring your own!!!, so I passed on that. I had my maid of honor do me up. ;) Your hairdresser will want to discuss your style with you the day before as well. So make plans to stop by the salon to speak with him/her. Bring photos if you want something specific.

We planned on getting married at 11am, and we asked Vivianne to make reservations for us at 12:30 in the dining room for lunch. The Star had ONE table that held 16, so for our group of 15 it was SO perfect. We also had dinner there on the first night of the cruise. Vivianne made both reservations for us when we were in the meeting with her.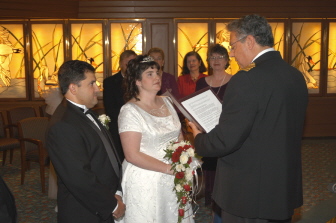 The wedding started on time, but with a little chaos, as can be expected. My Dad and I still wondered what we should do at the end of the aisle, and no one had anything to tell us. So, we winged it. We (bride and groom) also didn't know which direction to stand when we got up there. (Facing the Captain is the answer.) We had a hard time understanding his heavy accent, so you might keep this in mind when selecting your vows. We purposely chose the "standard" vows, with just a slight modification, so we would have less trouble. Good thing! My husband was still confused at one point.

Anyway, first the Captain reads a love poem, then he asks you if you are who you say you are and if you want to get married (he has to do this for legality sake). Then you repeat vows, do rings, kiss, and then you sign the log book. You have to designate in advance who your two witnesses will be, and we chose our two Mothers so they could participate in the ceremony. After the log signing, you go back to the middle, you are pronounced husband and wife, and you walk out. Then you walk right back in for photos.

I will say Lisa and Vivianne both told me photos on the bridge were not possible, but I said to please beg and we did get invited by the Captain to go up there immediately following the ceremony. After that, we returned to the chapel and had a few more photos, then went to the atrium and had some portrait shots with a standard background, then some on the stairs, the photo op with the cake cutting that was set up in the Promenade Bar, then outside on the Promenade, by the pool, and finally out to the aft for some "wake" shots. The photo taking took HOURS. Even though we were only supposed to have the photographer for an hour, we had him for much more than that. I think it was after 2pm when we finally joined our group in the dining room for lunch. I felt terrible for making them wait. Keep in mind all the neat places you want photos before making a post-photo reception time.

Also, if you have guests, make sure they add something in the Captain's verbiage that requests the guests please sit after the entry of the bride. Since they only seem to do 2-person weddings with no guests, everyone stood for my entry and was never invited to sit! The entire group stood at their chairs for the ceremony! I felt bad when someone told me this after.

All in all, it was a joyous, fabulous, experience. Not to be missed. The fact that we couldn't understand the Captain made me laugh instead of cry, which I was worried about. We beamed and everyone who attended thought it was just wonderful. Even my Mother-In-Law who was really sad we weren't having a big church wedding. She loved it.

The "bummer things" about the wedding that maybe you can do differently:
-If you order a cake, be sure to request it be "alcohol free" of you don't want a rum-soaked cake. I don't like alcohol at all, and our cake was soaked in rum like a sponge and very gooey. They might have done this to preserve its moisture. I don't know how fresh it was, but I hated it. We complained and they baked us a fresh one that we served in the suite the next day. Some of my guests are in AA, and thank goodness other guests warned them before they took a bite!
-Check your flower order and how many photo prints you paid for. I had to give the photographer a specific list of photos for all of the # I paid for, so I didn't miss out on anything. However, be sure to know what you ordered/paid for. The photographer won't know (I'm guessing as I had to tell him I paid for two albums.)
I had ordered a boutonniere for my Dad to wear on the wedding day, and I only noticed later that he didn't have one on in the photos. Since the bride is not there with everyone in the chapel before the wedding starts, she has to rely on others to be sure all the flowers purchased get delivered and to the right people. In this case, Vivianne let one slip, as my Dad was never offered one after I had paid The Wedding Experience in advance for it. I have requested a refund, so it's not a huge loss. It's a bummer he didn't have one though. Vivianne had me give her the list, but I would suggest you have a guest be in charge for you. The flowers are delivered to the chapel about 15 minutes before the wedding.
Our actual marriage license says "C L" for my husband's first name, instead of Charles because he does such a scribbly signature. Coincidentally, his middle initial is "L", but he wasn't / doesn't sign that way. His signature is just unreadable. We were amazed to learn that someone actually read the signature on the wedding license, or certificate, or some paper we signed (there were many) and picked the name off the signature for the license rather than our neatly typed paperwork. They say we can't change it. Just thought I'd mention that, so you might sign very neatly when you sign your wedding papers.
Please remember to contact me, Suzy, directly to help book your wedding cruise. (Contact Us at the top of the page.) Not only do I know what you're going through with regards to the wedding, but I can get you great prices and help you plan your actual cruise bookings for your family and friends if you're inviting any. Groups are my specialty. I have preferred prices on hundreds of Princess sailings whether you're a group of one cabin, or many!

Disembarkation in Long Beach – painless. The usual disembarkation colors and numbers, etc. The Long Beach terminal in the old Spruce Goose dome was cool. Very smooth. The security there is like drill sergeants though, wanting to keep you moving, and in the designated areas. There are multiple pick up lanes at curb. One for private cars, one for cabs, and a center island area for shuttle vans. Busses are in their own area, so if you have a transfer, you'd go there. There is a shuttle "coordinator" or something after you disembark, and if you want to ride a SuperShuttle or PrimeTime shuttle, you have to check in with him. The order that folks are transported has everything to do with that clipboard and nothing to do with pre-arranged pick-up times. So, be SURE you find that transportation coordinator and check in as you disembark. He will be past the busses, straight ahead.

I had a reservation for a PrimeTime shuttle, but the time I had reserved seemed to make no difference. We just caught them in the order we were on the clipboard. Can't stress this enough.

Post-Cruise - And, as always, I suggest JetBlue out of Long Beach airport for anyone cruising out of either Long Beach or San Pedro. The convenience of the small airport, and the great features and price of JetBlue can't be beat!