Get help organizing a destination wedding from a destination bride!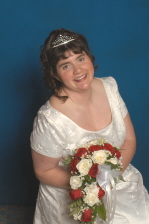 Destination weddings, as opposed to weddings near your home, are gaining in popularity.We're working full time jobs, we're getting married later in life, many are marrying for the second time.. all these things make the traditional wedding seem "not for us".
I, Suzy, fit this exact description! I didn't marry until I was 35, I worked long hours as a professional already, my family was scattered, and the whole "church" wedding was definitely not my style. I personally chose to get married on a cruise ship, which is one of the destination wedding "types". And once I returned, boy did I just want to tell EVERYONE about it and help out other brides and grooms. For that reason, I created this page specifically discussing cruise weddings.
However, the bug to assist in more weddings was stronger than the cruise wedding assistance that was being requested of me, so I completed a training course in 2006 to be a "Certified Destination Weddings Specialist". In that capacity, I help with more "beachy" weddings that ship ones, and I LOVE it. I've got a lot of experience with both types of destination weddings now, so please contact me now to talk to me about any type of destination wedding. It doesn't have to be a cruise! And, remember, most land vacation packages I do are "custom" so they're not going to be found by searching this Website. We just need to talk about it to figure out what's best for YOU!
That said, one of the FASTEST growing segments of the destination wedding boom is a cruise ship wedding though.
Many cruise lines offer weddings on ships, while the ship is docked in port. This is great for you if you want to have guests on a ship in a convenient US port for a couple hours, and then kick the guests off the ship and begin your honeymoon immediately!
Still another option is getting married while in a port of call, so you might cruise with your closest family so that they can attend the wedding with you.
However, the "crème de la crème" on-ship wedding is getting married while sailing at sea by the Captain. Only Princess Cruises, can perform the weddings at sea. And they've just expanded this service to be on ALL ships. Of COURSE, you're going to sail with friends and family with this type wedding, because if they aren't sailing with you at sea, they won't be there for the wedding ceremony!
I was married at sea September 25, 2003, sailing on the Star Princess. I can tell you all the ins and outs of dealing with the outside company Princess and most other lines use -- "The Wedding Experience". Not only that, but since my agency sells a lot of Princess, I can get your wedding group great prices on their cruise cabins and take care of all of the travel details for you! You take care of your wedding details, I'll handle your guests for you! I know how stressful a wedding can be in any location, so I'm here to relieve that stress!
Contact Suzy for the special attention you deserve!