Cruise Line: Norwegian Cruise Line - America division
Ship: Pride of Aloha
Sailing Date: June 11, 2004
Itinerary: Round-Trip Los Angeles to Catalina
Note as of 10/07 the service on the Pride of Aloha has greatly improved over her first few days when I sailed on her and wrote this review. For a good review of what her 7-night Hawaiian cruise is now like, please read my NCL America Hawaii Review from my actual Hawaiian cruise this month. This review will still be useful if you'd like to read about Pride of Hawaii - the actual ship, but the service and crew have changed considerably over the years.
Review of Pride of Aloha 2 night cruise for travel agents only
The Norwegian Sky was taken out of service, refurbished, re-flagged with an American Flag, and re-named Pride of Aloha at the beginning of June, 2004.
I had the opportunity to sail on her on a two-night cruise from Los Angeles to Catalina Island and back solely for the purpose of getting to know more about her before she headed to the islands. Therefore, nothing I could say about embarkation would be relevant to her embarkation in Honolulu beginning July 4, 2004, and going forward. My main goal is to explain a little about the ship and what you might experience on her.
The Crew:
First and foremost, this newly-flagged ship has a brand new American crew. Since most foreign-flagged ships have foreign workers, when NCL or other lines have put a new ship in service in the past, they could cull experienced workers from various ships to staff the new ship. Not so here. 95% of the crew is new, not only to this ship, but to service on a cruise in general. It's therefore important to give them a little more tolerance than usual in their first few months as they 'get up to speed'. Beyond that, I think they'll be excellent. I can tell you its GREAT to be able to clearly understand what everyone is saying to you!!
Also, I think the crew will be humming after about six months, and not long after that Norwegian Cruise Line will put the Pride of America in service in June of 2005. [update 4/05] Because of the problems NCL had when Pride of Aloha launched with service issues, they have taken the HUGE step to fully staff the Pride of America a few two months BEFORE it even leaves the shipyard! They want to be sure the crew is humming along as soon as she sets sail with passengers, so expect a good experience on both ships when she launches in 2005.
Another issue Norwegian is having is that they can't just hire crew off the street when they need someone new like a regular business. All of their crew has to be cleared through some kind of US Maritime agency for security before they can work on a US flagged ship. It's a huge process that is really slowing down their ability to hire new people to train to serve us cruise passengers. This agency is not meant to handle thousands of requests, its meant to handle less than ten that would be on a freighter or something.
Food / Freestyle Dining:
I thought the food was most excellent in the dining room, terrible in the buffet. However, the biggest issue with the dining on Pride of Aloha so far is the service. The ship as completely understaffed as it starts out, and waits are very long to be seated. The buffet is only half of the upper section of the ship, on one side, instead of spanning both sides of the Pool deck. It was just WAY to small, cramped, and uncomfortable. They have two entrances, one coming from the aft and one coming from the pool area. Be sure you don't get in the lineup coming from the pool where there might be no line on the other side. Both have the same food and dump you into the middle salad area. Also, there is an abbreviated version of the buffet at the aft, accessed from the outdoor seating deck. Most folks don't realize this is there, so you might try there too for quick access to drinks and food.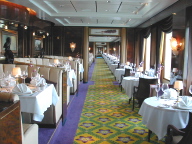 I loved the Freestyle dining concept. There were restaurants all over the ship you could dine in at whatever time you chose. Reservations weren't necessary, and very few had a surcharge. The Kahili Restaurant is a hidden-away pretty little place (photo on right). Check it out – go straight down some stairs on the opposite side of the Blue Hawaii nightclub. The Royal Palm Bistro also looked really neat, but they had special events taking up that facility most of the time we were on our special cruise, so we didn't try it. The Pacific Heights Asian restaurant also looked good, but we didn't' try that one either (only a two night cruise remember). J
Of the two main dining rooms, I really liked the Crossings Restaurant on the aft the best. The lobby area called Neptune's Court where you wait to be seated is beautiful in itself, and since this restaurant is at the aft you get some great wake views as you dine. We liked it so much, we didn't try the other main dining room for a main meal (Palace
Restaurant in the center of the ship).
For general tips on Freestyle Dining on all NCL ships, click here.
Cabin:
The cabins on the Pride of Aloha are pretty small. They are also minimally redone, with new carpet and bedspreads only. All the rest of the hardware is still what the ship had when it was NCL Sky. So, don't expect to be dazzled. That said, you'll be spending SOO little time in your cabin, I don't think it matters. Folks going on any other cruise always make this argument "I don't spend that much time in my cabin anyway….". However, on the Pride of Aloha's itinerary there are no sea days. You basically sail at night and enjoy a Hawaiian island port in the day. So, in this case you REALLY don't need to worry about anything but sleeping in your cabin. All of the cabins had a mini loveseat that sits two comfortably, a coffee table, the bed, TV, refrigerator, and vanity with a COFFEE MAKER (yeah!) and loose hair dryer that you can plug in at the vanity. The vanity has both 110v and 220v adaptors, and the coffee maker and hair dryer are both 220v (foreign).
Another thing I had to get used to was that there is a soap dispenser at the sink in the bathroom and a conditioning shampoo dispenser in the shower. There are no bar soaps given, although they do give you small bottles of lotion, a shower cap and a shoe shine cloth. They did not offer bathrobes to us in our inside cabin.
The Pride of Aloha: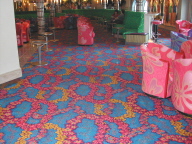 The Pride of Aloha has BOLD, BRIGHT, Hawaiian-themed décor. Although I usually prefer the more subtle, earth-toned décor with lots of glass and brass, I LOVE the Pride of Aloha for Hawaii! I think you're going to be in Hawaii, in your swimsuit and cover-up or in your Hawaiian shirts all the time, why be sailing on a fancier ship?
Speaking of that, I wanted to just add something about Norwegian's Freestyle Cruising. Its so much more casual and comfortable than other lines. If you don't like getting all dressed up for dinner, you don't have to go through as much on Norwegian as other lines. Every night is dressy casual at dinner. They'll have an optional formal night, so if you like to get dressed up, you can do that and go to the dining room set aside especially for the dressed-up crowd on that night. BUT you don't have to if you don't want to! In a hot, tropical locale… pantyhose and neckties are uncomfortable. Don't you think? I think Norwegian's Freestyle Cruising is especially perfect for Hawaii!
Norwegian took out the casino when they converted the Sky to the Pride of Aloha (Hawaii only cruises don't allow gambling) and put in a great educational area about Hawaii. It's called the Kumu Cultural Center. Its a wonderful place. Make time to read and enjoy the exibits instead of just walking through it on your way from one place to another. Its a story of the Hawaiian islands through time.
Excursions / Golf Program:
Of course Norwegian has great shore excursions for you to do in Hawaii. They have all the usual stuff, and a discover scuba diving program and all that. However, if you want golfing in Hawaii, this is especially a perfect cruise for you. Norwegian put together their own comprehensive program that includes a pro shop on the ship, top-of-the-line Calloway equipment for you to rent or buy (or they'll store your own clubs for you), and tee times all over the place! The ship will have a bus that goes to each course with a slug of prime, AM, tee times. Everyone goes together and does their rounds and then goes back to the ship. This gives you time to do other excursions on the island in the afternoons, plus your golf! There is even a way for you to sign up for your golf online before you go, so you can pick particular courses you want for certain days (tee times are not pre-assigned, only the courses).
The Spa:
We didn't try out the spa, but it had a traditional Steiner menu of items. The facilities looked nice. The waiting area was really pretty and had ocean views.
The web:
The internet café is in the hallway in front of the shops on Deck 7. I thought this was really weird. They were still working on the prices when we sailed, so if anyone comes back with the list of the costs, please let me know!
Tipping:
Norwegian does their tips automatically – they add it to your bill as a "service charge". Don't give cash as well unless you want to give someone special recognition. You don't have the option to "opt out" of the automatic tips because of the nature of Freestyle Cruising. You're going to be eating at different places on the ship every day, not getting service from just one person, so they need to pool them money and share it amongst the crew.
Disembarkation:
Freestyle Disembarkation… THE BEST. If you carry your own bags off the ship, you'll be invited to disembark at your leisure as soon as the ship is ready. If you have big bags that you put outside your cabin door to be collected the night prior to docking, you'll be invited to leave in groups after that. They'll be putting the bags out for collection by you in the pier in the order that the colors are called, so if you get off before your color, your bags might not be ready for collection yet.
They don't kick you to get out of your cabin or off the ship at a super early hour. Its all laid-back and casual. Take your time. That's what Freestyle Disembarkation is about. LOVED IT.
Immigration Requirements:
There are none. This is a US-flagged ship. You're not going to any foreign countries. You're on a day trip the winds around one of our own states for a week. According to my Norwegian Sales Representative, all you need is a Driver's License so you can prove you are you. Within Norwegian it took them a long time to decide what they were going to require, some reps we call will still mis-quote and say we need passports or birth certificates – the usual cruise thing. Heck, if you have them, take them to feel extra safe. However, you're not going to need them. As soon as you see your documents, you'll know I'm right. The docs say right on them that you just need a photo ID.
In Summary:
I think this cruise is perfect alternative to a Hawaiian land vacation. Its more cost-effective because the food and entertainment are included. Its great you'll get to see many islands instead of just one. And after my quick land vacation where I felt like I spent all of my vacation getting there, and getting from island to island via plane, the "sleep while the ship moves" concept has an even stronger appeal to me!
Norwegian will be putting lots of ships in Hawaii, so there are going to be a great many ways to see the islands by ship. The Pride of America joined service in Hawaii in 2005, and the Pride of Aloha joins in June of 2006. Ask Suzy for the differences and which ship is best for YOU.
The Aloha was the first of three NCL America ships. After sailing on the other two, I wrote a review of the third ship, the Pride of Hawaii, and then did a summary of the three ships at the end of that Pride of Hawaii review. Click here to go to the Pride of Hawaii review.
Please remember to contact me, Suzy, if you're interested in booking a cruise. Not only do I write detailed reviews, but I take care of all the details when I book your vacations as well. Please hit "Contact Us" at the top of this page.
Aloha!