Cruise Line: WindStar
Ship: Wind Star
Sailing Date: November 14th, 2003
Itinerary: Tahiti - Society Islands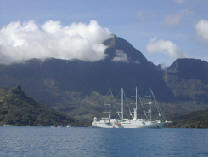 This cruise was my honeymoon, so I took a cruise, like I love, but to a new, exotic place and on a cruise line that is much different from the mainstream. After cruising regularly on big ship Princess, RCL, Celebrity and HAL cruises, this one needed to stand out and be special. That it did!
WindStar proclaims itself to be "180 degrees from ordinary". And that it is! On this cruise, there are no formal nights, there are only 150 passengers, the ship has sails, and you can walk into the bridge and talk to the captain or whatever officer is there, whenever you want! I thought the clientele was much more professional/upscale than some of the mainstream lines I've been on. A refreshing change!
PRE-CRUISE
FLYING
To get on the Wind Star in Tahiti, for its nice little sail around the islands, you have to fly a LONG ways. 8 ½ hours direct from LAX, plus whatever you personally have to get to LAX. Give yourself 2 ½-3 hours to check-in, go through security, and get to the gate for Air Tahiti Nui (ATN). They don't use the main gates and you have to take a bus from the main Bradley International terminal waaayyyy out to a little building that has the ATN plane parked next to it.
ATN handles most of the people-moving duties to and from Tahiti, but some other airlines also fly there once or twice a week. Air France, Air New Zealand, Hawaiian Air, etc. Most flights return from Tahiti in the middle of the night, so be prepared to take a red-eye.
We took ATN coach LAX to PPT (Papeete), and returned in business on the red-eye. We had only good things to say about ATN. They have modern planes with personal TVs for everyone. The TVs show movies (5 at each showing time to choose from), have video games, music, regular TV shows, and educational shows about Tahiti. I thought the coach was fine for the daytime flight outbound, but even in business I couldn't sleep well. The food was typical airline food, not too great, but edible. The service was much better in business, and the food was fancier. There is also a nice lounge at the Papeete airport (Faaa Airport) for folks flying business or first class on any of the airlines. ATN gives little care packages to each traveler in coach and business, as well as a pillow and a blanket wrapped in plastic.
CUSTOMS
ATN will give you a couple of forms to fill in when you begin your flight to Tahiti. It's best if you take the time to complete these before you get to Tahiti, and a friend of mine suggested you do them right away in case you fall asleep. US Citizens don't need any kind of advance VISA to get into Tahiti, so don't stress about that. Just have your forms filled in when you get to Faaa.
Upon arrival there will be a small line for folks holding European union passports to the left, and a big line for those holding every other kind to the right. I suppose it depends on the hour of day how many immigration officers are working, but we had 3 handling our flight. It took us an hour to go through this line and get to the baggage. We sat at the back of the plane and were literally the last through customs. It will be to your best interest to get a seat closer to the front if you can. J
When you enter Faaa, the immigration folks will stamp your passport and tear off the bottom of your form that you have to keep in your passport. When you depart the country they will collect this stub so be careful not to lose it.
Sheraton Tahiti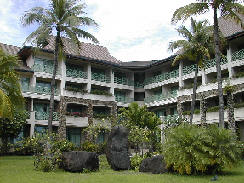 We arrived late in the evening, but had pre-arranged a room at the Sheraton on our own. They also signed us up for a shuttle from the airport, at our request. It was a very efficient shuttle arrangement, and it was welcome to see our names on a board waiting for us when we arrived. The shuttle service cost us $13 per person, which was a little more than a taxi would have cost.
The room at the Sheraton was nice, clean, spacious, and had a nice view of their green landscaping and a not so nice view of the industrial port. It was quite comfortable though, and we are happy to recommend it.
The food costs are outrageous in Tahiti hotels… basically $30 each for a breakfast buffet that was just OK. They didn't have enough cooks putting the food out, so things ran out. We checked out at normal check-out of 11am, but we would suggest you did as a couple others on our ship did and ask if you can have a later check-out. I am used to ships where you can go straight there and get onboard for lunch at noon, but not so the Wind Star. We had a taxi called for us by the Sheraton and we were at the port by 11:30am, where they were happy to check in our bags and guard them, but wouldn't let us on the ship.
The port is right next to the town square and the Visitor's Center, which was quite informative. We went there and hung out for a while in the air conditioning (it was very muggy), and then we decided to walk into the town and visit the pearl museum. We thought the museum was very enjoyable and worth the $6 entry fee and it helped us pass the time. We ducked into a couple shops too, but didn't really want to buy anything. If you are a shopper, you could have totally spent your time shopping in the market during this time.
CRUISE
Embarkation
Embarkation is at 3pm. Don't even bother showing up earlier. Don't bother complaining that the tickets say 2pm. They don't care and just tell you its 3pm. All you need to do is show your tickets and your passport and up the gangway you go. Well, actually you had to meet the ship's Doctor before going up the stairs and just let him know you haven't been having any SARS symptoms.
Once you go through x-ray, they hand you papers to fill out and funnel you into the "lounge", with free drink in hand from a bar attendant. The paperwork is a disclaimer form about getting injured using their water toys, and they ask you to turn in your credit card charge authorization form for your onboard account. And, oddly, they collect all the passports and keep them for you for "safekeeping". I guess they don't want you to lose that little stub you need to have when you depart the country or something. Anyway, they give you your room key and off you go. Note: Room keys are Ving cards (hard plastic with the hole pattern), not credit card things. To charge to your room throughout the trip, you will just be verbally providing your room number.
WARNING>>> WIND STAR HAS NO ELEVATORS. If you don't do stairs well, this is not a cruise for you. The whole ship is only a couple decks high, but you will spend a lot of time going up and down those stairs…especially from the lower deck cabins.
The lifeboat drill isn't until Saturday morning at 9:45am, so don't worry about that on the first day. And you muster inside in either the lounge or reception area, so its very pleasant.
Ship Refurbishment
The ship will be refurbished next week, so by the time anyone reading this review goes on her she will have new everything except structure. They are changing all carpets and décor, beds, adding flat-panel TVs and DVDs to the cabins, new teak decking, etc. I had no complaints about her the way she was when I sailed, but it will just be even better for those going on her now.
Meals
Room service is available until midnight, but it's limited. You can order what's on the menu at mealtime into your cabin, but, of course, you don't know what that is unless you look at a menu. I guess they would tell you on the phone.
There is continental breakfast available from a "door hanger" thing, but we put that out the first morning (with great service and good coffee I should add), and never got another door hanger to use another day. We didn't need one, so I guess it makes no matter… but you might want to ask your steward to leave you one daily if you want to order your coffee in.
Continental breakfast is served by the pool for the early risers from 6am – 10am.
Regular breakfast, where you have lots in a buffet, some items you can order, and an omelet station where you can get eggs of your choice, is open in the Veranda from 7:30am – 9:30am.
Lunch, also a buffet, menu items, and a live cook person that usually has very good pizza, is open 1pm – 2:30pm. This is also in the Veranda.
Afternoon tea is served by the pool from 4pm – 5pm.
Most evenings there is some kind of hor'd'ouevres in the Lounge at 6:45pm.
Dinner is served in the Restaurant from 7:30pm – 9pm.. walk in anytime and ask for a table for just your party or ask to be seated with others.
The food is fabulous, a limited menu of very gourmet things. I like plain food, so finding something I like to eat every night was a challenge. Everything I did eat was really wonderful though. Their Chef Zomie was a great guy. He gets to put a couple local dishes on the menu daily, but most of the menu is designed by some fancy chef in LA that I don't remember the name of. (Forgive me.) Anyway, its like 5 star stuff, but I'm not going to go on and on about it because everyone has their own personal taste.
Dining highlights – On the full Bora Bora day, Wind Star rents a private motu and has a BBQ on the beach lunch. This was FABULOUS and not to be missed (of course, you will starve if you miss it … so why would you?).
And, once per cruise they have dining under the stars, where they put tables out on the pool deck area and have a buffet outdoors. They had this on our Moorea overnight in Cook's Bay. I don't know if its always that day, or it just happened to be the only night on our cruise it didn't rain. I know they always do one of these, and it was also wonderful.
Another note.. skip the galley tour unless you are a chef and are REALLY into the food and cleanliness explanation. We did this and just about died from the heat. There isn't much "touring". You just file in and listen to Zomie talk abut how he orders all the food from the US except a couple local fruits and fish.
Entertainment
The Wind Star is not the place to go if you need the cruise line to constantly entertain you. It's more of a private yacht feeling, where you are expected to just entertain yourself. They have the library with some books and games, an extensive video and CD music collection you can "check out" and take back to your cabin. (After the refurbishment, they will have DVDs to check out instead of VHS tapes I presume.)
Lots of folks just enjoy their time reading. SPECIAL NOTE ABOUT THE LIBRARY >>> There are not a lot of books in there. This is not a cruise like a normal line with a big, well-stocked library. Bookstores in FP are, naturally, French. So, they don't get much opportunity to add new English books to their library because the ship never leaves FP. At the end of the cruise they ask that anyone who has a book they've finished and would like to donate it to the library, they would be delighted. With this in mind, be sure to take plenty of your own reading material, and also consider taking some books you don't want if you'd like to donate them. I can see how taking some books with me on a future Wind Star cruise, and then having that space in my suitcase for my purchases on the way home could be quite a good plan!
In Raiatea they had an anthropologist come onboard and give a lecture, and then a Tahitian dancing group. Both were before dinner in the Lounge.
In Huahine there was a champagne cocktail reception in the Lounge before dinner where we were introduced to the heads of all the important ship departments.
In Moorea on the first night, Cook's Bay, there was a lecture by Dr. Poole the marine biologist and another local dance troupe came onboard. Both before dinner again.
And every night, at 7:15pm before dinner, the "Host" (think, cruise director/purser that has no activities to direct but is very helpful and answers all your questions and passes out movies at reception) gives a very informative port talk on where we are going to be the next day.
There is a small casino, one blackjack table and one Caribbean Poker table, and about 10 slot machines. Most are quarters, a couple are dollars, and some don't take paper money anymore. If you want to play them, you have to put your money in another machine, that will give you the tokens, and then take them to that machine you wanted. The casino staff can take your money, but not give it back. Meaning, they are not the cashier also. You have to cash your chips or tokens at Reception when it's open. And they have two blackjack tournaments during the week. The casino is open nightly from 9:30 pm, and also sometimes before dinner and in the afternoon. The schedule is sporadic, so I can't really give more detail than that. I think it's open in port some days too.. so it's not completely a sea day/port day thing like other cruises.
Spa & Salon
Wind Star has two ladies working the beauty area. One does massages, and one does hair and facials. They have a tiny little establishment, one salon chair and one little room off that for the massages. It's a fabulous little arrangement, and I enjoyed my visits there. At the beginning of the cruise there will be posted times in the daily newsletter for you to go and sign up for your spa and hair appointments for the week. Like all cruises, it's good to do this early.
There are two facials.. a full hour facial for $79 and a 30 minute face and scalp massage for $50. I thought the facial was great.. lots of massaging goes on, plus the usual rubbing of stuff on your face. They don't try to sell you ANYTHING afterwards though. Isn't that a joy?
There are 4 different massages to choose from… couples training 80 minutes $149, 65 minute full body $119, 55 minute full body $99 and 30 minute ½ body $65. I did the full body 65 and it was quite wonderful. The ladies are great.
In the salon, there are lots of choices for hair cut, style, color for both men and women, as well as manicures $39 and pedicures $55 and a pressure point foot massage $39.
Internet Access
Email access is available on the Wind Star, but not your own email address. Internet is N/A I think. You have to set up one of their @cruisemail addresses, and then you send and receive on that address. There is a fee for setup and a fee for sending and receiving. We had someone send us an incoming email (as I gave the email address of the ship for an emergency), and we were charged $5.00. The emails aren't sent or received in real time. They hook up to the sat phone and send and receive in batches. (We didn't use this service, except for that one incoming, so we're really not an expert on it.) The one computer is in the library.
Water Sports / Scuba
The ship has two people that are dive masters that are in charge of the water sports program. On the first morning of sailing, you should go to the water sports deck (2 aft) and "check out" snorkeling gear that you will use for the whole week. They give you a very STINKY mesh carrying bag, mask, snorkel, fins, & snorkel vest. If you have a better bag of your own, I would advise you to bring it with you to keep your snorkel stuff in, as that bag will smell up your bathroom/cabin. You keep your checked out snorkel gear all week, as you will need it on many of the excursions.
SCUBA – they offer a "Discover SCUBA" thing you can do for the week, which doesn't certify you, but lets you dive shallow for the week. And they have a great dive program. My husband is an advanced, certified diver, so he dove while I read and spent time in the spa (a great arrangement methinks)!
All folks wanting to dive meet by the pool on the first morning at 8:45am for an informative talk about how it all works. Then at 10:30am there is a MANDATORY pool check-out where you are required to get in the pool and show that you can take your mask off and put it back on and clear it underwater.
After that, it's dive-away! Each day there is a certified dive at 8:30am (except one day when they had to travel far to see the Manta Rays, it was 7:45am). Then, there is the shallower dive at 10:30am (except for one day when it was 10am for the shark feeding). The "Discover SCUBA" folks get first dibs on the second dive, and the certified folks can fill in the empty spaces on a first-come, first-served basis (there is a wait list). There is also one night dive in Bora Bora.
After the mandatory pool check-out, the signup sheets for all the dives for the week are posted in the water sports area. They also have a discount program for the certifieds where you can pay $300 for a 5-dive package, or $60 per dive. You have to sign up before Sunday at noon for this. Otherwise, the dives are $70 each except for the Manta Ray dive and the night dive, which are $80 (the ship teams up with TopDive with bigger, faster boats on these two, so there is a premium). The deadline to sign up is 6pm each evening, and after that you can't cancel. Occasionally, you can walk up in the morning and get added if they have space though.
My husband dove 4 times, two mornings he did two dives, and would have done the night dive if it hadn't been canceled due to high winds on the water. He thought it was just THE BEST. The convenience of going off the boat was fabulous, and its only about $10 more than if you arranged all your dives independently with an outfit in Tahiti like TopDive.
You are welcome to bring your own gear, and they will store it for you and prep it for you throughout the week when you dive. Or, they will outfit you fully using their stuff. He thought it was just so neat that the dive masters got everyone's rigs together, hauled them to the boat, etc. He said all you had to do was get to the site, put your arms up and they would slip the rig on you, and flop over into the water. Sounds dreamy, huh?
Other water sports – most afternoons the water sports platform was down for use of the water toys. They had a banana boat, kayaks, and a windsurf sail for experienced sailors only. You could also swim off the back if you stayed close to the ship.
EXCURSIONS
The only thing I found really irritating about this cruise was that all the activities were in the morning. First, breakfast was served so late that if you chose to dive, or had an excursion, you were really pressed to eat the full breakfast and make your activity. Pretty much you needed to have the continental and get on with your day.
Next, all the diving AND all the excursions were in the morning. Nothing except the water sports platform were available in the afternoon. Also, this makes you choose between diving and excursions, rather than doing both. The shore excursion book we got with our cruise documents said "morning and afternoon" on some excursions, but when we got there only morning ones were offered. This was TRULY a bummer. If I had known it was going to be this way, and that the dives would only be in the morning too, I would have arranged more independent tours before going to Tahiti in the afternoon.
OK, enough of that gripe. We had a great time, so I'll just continue on with my review now. I need to let you know that my husband is a water baby, so we personally wanted the water and lagoon excursions and not the land/island ones. Lots of folks did the 4x4 excursions, and they all said the excursions were GREAT. Just remember to bring your bug spray if you venture into the jungle, k? Also, if you are the "explore on your own" type, wanting to rent cars, bikes, or scooters and shop…. Listening to the host's evening talk is invaluable. He will tell you which rental companies are there, how much they are, and if he suggests that over a taxi. They drive on the right, so it looked really easy to me. Lots of folks did that.
One more disclaimer about the excursions… unless you did the 4x4 excursions, EVERY SINGLE excursion had snorkeling involved. If you don't like to snorkel, be sure to bring a book or something. I prefer not to snorkel, but I tried it because I wanted to participate with my husband (it was our honeymoon after all!)
Excursions WE did:
In Raiatea we did the Taha'a Discovery & Pearl Farm. Taha'a is Raiatea's twin island. They share the same reef, with a lagoon in between. It's about a 30 minute boat ride from Raiatea to Taha'a, which would be nice on a sunny day. It was cold and windy on our day, which made for a not as fun ride. The Pearl Farm was REALLY neat, very educational, and we bought a Tahitian black pearl there. Of course, after the lecture all about pearl farming, we had lots of "time on our own" to shop for pearls. We had read that the unset ones were cheaper than those in settings, and also that you can bargain a little at a pearl farm but not at a retail store. At a Tahitian retail store, they will be offended if you bargain.
After the pearl farm we stopped off at a motu for snorkeling and for some fruit and punch. I would have preferred this excursion more if I could have done JUST the pearl farm, but that was mostly because of the weather and the fact that I hadn't snorkeled before. The water is REALLY salty there in the lagoons! Yuck!
Raiatea is the only island you can dock besides Papeete. All the rest are tenders. Tenders leave the ship on the hour and half our, and leave the shore a quarter past and a quarter to.
We did no excursions in Huahine, as Charles did scuba diving instead that day.
On our first day in Bora Bora we did an excursion we arranged on our own.. but it was the same as the Wind Star's "Shark's Breakfast" tour. You get in your tour boat and go out to the lagoon where the tour guide "chums" for sharks and stingrays. Once he has some in the water, he ties a rope from one place to another so you will stay behind it and have something to hold onto. Then he tells you to hop in, and you can snorkel and look at the sharks, rays and lots of tropical fish. We thought this was really enjoyable. The water isn't deep, maybe chest high, so you can always put your feet down. The color was the prettiest blue/green (Bora Bora has the nicest lagoon of all the islands).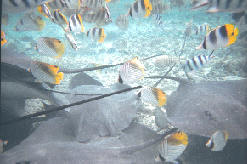 The black-tipped reef sharks are timid, and they have never had a biting incident, so no need to worry. The stingrays are friendly and just want the food. A note about stingrays >>> If you touch their tail accidentally, or it touches you when they swim by, it won't hurt you at all. Their barb stingers are retractable things that they really have to make an effort to get you with and you would have to REALLY piss them off to get stung. Just be careful not to step down on them, because I presume that would hurt them and could possibly be a way to upset them. Otherwise, they are as fun to play with as dolphins are! And they are STRONG little guys. If they don't want to be near you, then just whoosh.. one flap of their wings and they're outa here!
After time here, we were dumped off to snorkel a big coral reef. I did NOT enjoy this, as the coral was very close to the surface and there was no place to put your feet down. It was about a 25 minute snorkel. Of course, some folks really liked it. Just not me. There were some that came back from this with bloody knees, etc. from scraping the coral. I was glad I had the snorkel vest on, as my husband said it was quite a workout to keep yourself going without touching the coral while swimming. The water is so buoyant though, I don't know if I believe him fully on that. ;) At the end of that, the boat was waiting for us on the other side and they gave us bread to feed to the fishes and it was fun to have them swirling all around us.
NEXT, we went to another place that was the true place we were going for stingray feeding (the first stop was for shark feeding, but there were rays there). This was very shallow, chest high or less. Here the guide had fish to feed the rays and the rays were all around us and on top of us. This was REALLY fun, as it was just a hop in the water with your water shoes on, no snorkeling gear please.
We booked our tour through TopDive, one of the biggest and the best tour operators in Tahiti. http://www.topdive.com/index.php?p=activ You can email Freddy Tupuai directly - and make your tour reservations and requests. He will want you to call in your credit card to him once you have arranged your excursions via email. Its very easy.
On this particular excursion we didn't save a lot of money booking independently (only $3 less, or $55 per person) than the boat's excursion with "Shark Boy", also a reputable company. However, what WAS great about our tour was that there was a total of 8 of us on our tour / in our boat. There were 35 on the same excursion booked through the ship! We had a much better experience. Also, both excursions dropped us off at the private motu for the Wind Star's picnic lunch at the end of the tour about 12:30. This was a long tour…. 9:15 is when we had to meet Freddy at the pier and he chatted with us and then passed us along to Raanui Tours.
Besides our tour, TopDive offers lots of things, including scuba diving of course. If you are going on any of the cruises to Tahiti, you can feel confident booking with them for all your excursions if you wanted.
Our second day in Bora Bora Charles did two scuba dives again, and we sailed at 1pm from Bora Bora.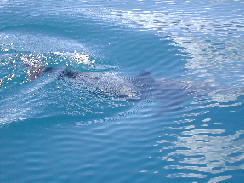 Our first day in Moorea was next, Cook's Bay. On this day, we did the Dolphin & Whale Watching expedition with Dr. Poole the marine biologist. We saw spinner dolphins up close, very neat, but no whales. Whale season was pretty much over by the time we got there, but we had hoped to see just one or something. Some of our shipmates saw a whale from the ship at breakfast, but it was nowhere to be seen when we went whale watching. Apparently, when you do this excursion during whale season you can hop in the water with the whales sometimes. Dr. Poole said some Wind Star folks had gotten to do this not three weeks before we were there! But, anyway, we watched the dolphins for a while, then looked for whales for a very short time, and then Dr. Poole took us to the shallow lagoon to snorkel. (Remember how I said every water excursion has snorkeling? You thought I was kidding, huh?) Dr. Poole is an interesting fellow. He is very knowledgeable, a great resource, but a little arrogant. At one point he said he "was a marine biologist not a tour guide". Funny, we had paid for a whale watching tour, but whatever. Not that he is a bad guy. I would recommend this tour highly for those who like dolphins and whales, and the snorkeling was the best we had so far! Woo Hoo!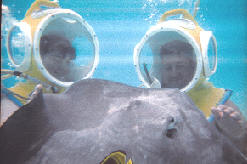 During the night the ship moves to the other beautiful bay, Opunohu Bay, and we spend a day parked here. WE HAD OUR BEST BEST BEST EXCURSION here! We did helmet diving (walking along the bottom of the lagoon with deep sea type helmet on). No snorkels! No scuba gear! Awesome! And this lagoon was THE BEST! It's out between those two islands you see in the Moorea map. http://contact.aquablue.free.fr/ And it was cheap too! Only $60 per person, pay when you get there. You can email Vincent Lelong to make a reservation. Vincent personally picked us up from the pier and took us to the Intercontinental Beachcomber where their operation is, and took us back afterwards.
I'm so glad I did this. I had heard the helmet diving was great, and you can tell by now my opinion of snorkeling isn't that high, but I do love water animals. So, I wanted to try this helmet thing where you could be almost any age, any size, wear glasses or not, whatever, it's great for everyone! They can only have 4 helmet divers go down at once, so I think they take a max of 8 on the boat (we had 7). One group goes down and does the helmet thing for a half hour, while the other half can snorkel. Then it switches. In this excursion it is basically another fun stingray feeding opportunity. Vincent gets in the water with scuba gear on, and assists you the whole way and takes your picture if you brought an underwater camera, etc. There are some specific rays that know him, so they are all over him, but he gets the rays to come right onto you, as well as lots of fishies, by having a little tube thing with food in it. He clips the food thing onto someone's helmet and it makes the animals come right to you. Its truly great.
During the snorkeling time you can tool around and look at coral and fish, or you can look down on the helmet divers and the rays. It's a total blast, as the rays will come zooming by you while you are snorkeling if that food is nearby. Also, the water is SO salty, that you stay buoyant without even trying. As a matter of fact, we COULDN'T go down when we tried! The location is what really makes it here though. Just gorgeous. Even I liked the snorkeling here.. and I used their equipment instead of our own (we have our own masks) because we didn't know there would be snorkeling involved and we didn't bring it with us!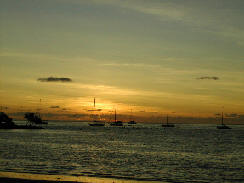 On the final day in Papeete, you can buy a couple of tours from Wind Star. Almost all the flights out are red-eyes in the evening, so when they kick you off the ship at 10am or so, you have to entertain yourself all day. I heard that one of the tours was cancelled due to not enough folks signing up, and I don't know how the second one fared. Most folks who use Wind Star's air have a "hospitality suite" at the Sheraton Tahiti for the day. Its not your own room, but for $60 per person you can buy your transfer from the ship to the hotel, from the hotel to the airport that evening, and a place to hang out and store your luggage with refreshments provided. We thought the Sheraton was nice when we did the pre-cruise, but we really thought not having a room to shower and change in would be a bummer. There is also the opportunity to buy a day room at the Sheraton (a hotel room of your own to hang out at the resort and sleep or shower at your leisure before the bus ride later on). The Day Room costs $98 per person.
POST-CRUISE
We met some nice folks on the ship that had stayed at the Sofitel Maeva Beach Resort pre-cruise, and were going back for one night post-cruise. Since we wanted to try something new, instead of the Sheraton even though we had liked it, we decided to "hang out" with these folks all day. We arranged for a taxi together and my husband and I got a day room at the Sofitel, with a promised check-out of 7pm for our 10pm flight home.
We thought the Sofitel had much more of a local flavor. They also had a big Polynesian show there on Friday night, with the big pit to cook the pig in, etc. We left before that, but I'm guessing it's a good show as folks were pouring into our hotel as we were leaving. Also, the Sofitel has a beach, which the Sheraton and the Beachcomber don't have. So, you could hang out on the beach, on the grass between the beach and the pool, or at the pool. Whatever pleased you. We hung out at the beach and on the grass and just relaxed all day. The Sofitel was much older than the Sheraton, but it was clean and well-maintained and we were quite pleased with it.
The Sofitel had a decent restaurant, with service near the pool bar for those not fully clothed. We had $10 each burgers, which was far better priced than what we experienced for breakfast at the Sheraton. After all that, we retired to our room to shower and change and repack our stuff. A wonderful day to be sure.
Flight home
Just wanted to add that the 10pm flight seemed much less packed (according to the length of the check-in lines) than the 11:15pm flight. I thought it was funny that they had two flights and they left so close to one another. Anyway, there are separate lines for business/first and coach, and also separate lines for the two flights.. meaning there were four different check-in lines you could get into. However, the 10pm flight was pretty full, so go figure. Maybe the 10pm folks had checked in earlier. We got to the airport about 8pm, and there was hardly anyone already waiting in the gate area when we arrived.
After checking in with ATN, you can hang out in the outer part of the airport where the food and duty free shopping are, or you can proceed through security and immigration. After that, it's just like a normal air terminal, except there is just one big waiting area with all the gates. The planes here are parked on the tarmac with stairs you have to walk up into the plane from. There are two sets of stairs, one for first/business class, and one for coach in the middle of the plane. There is a first/business class /frequent flyer lounge upstairs, as well as a bar.
Upon arrival at LAX you have to do that same bus ride from the back 40 to the gate on the main terminal, then you go through immigration (there is an express line for US residents), then you get your checked bags and you turn in your customs form on your way out of the secure area.
We had business class on the return and it was TRULY dreamy on the ground. No line for checking in. No line for getting off the plane. First through immigration. Bags have priority to come off the plane first, so we were first out the door and looking for our airport hotel shuttle.
We got a post-cruise hotel on Priceline at the Hilton LAX. We had gotten the Sheraton Gateway LAX last time, but the Hilton was REALLY nice. We were quite comfortable there and would suggest it to anyone looking to sleep over close to LAX and who doesn't want to take the Priceline gamble. The beds were very comfortable, and they let us check in early (9am) when we got there from the flight and sleep all day!
That's it folks! Enjoy your Tahitian vacation! Its truly a wonderful place! Wind Star is TRULY 180 degrees from ordinary, but its such a refreshing change from the normal. I hope she goes back to Tahiti some day. In the meantime, I suggest the Regent PG ship.
Please remember to contact me, Suzy, if you're interested in booking a cruise. Not only do I write detailed reviews, but I take care of all the details when I book your vacations as well. Please hit "Contact Us" at the top of this page.